I've discovered that it is critical - absolutely positively I
cannot
put enough of an emphasis on just how critical it is - to get out of the house first thing in the morning with our children.
Right after breakfast.


The energy levels are high, all around, and we cannot stay inside.
We. CANNOT. Stay. Inside.
Some days we go for a walk, some days we go to the park, some days we have play dates, some days we go to the zoo, and some days, I'll buck up and we all go to the store. But
only
if we are running out of critical items. After my past few shopping experiences, I've decided it is less painful having a toenail removed than going shopping, by myself, with all four children.
One of the great challenges in my life, is to find things that will keep the kids positively entertained and won't cause me undue stress or bore me to absolute tears. It might sound surprising, but there are only
so many times
a person can go to a park, walk around the block, or go to the zoo, before they have the urge to walk off a pier. Being a stay-at-home parent can be an extremely rewarding experience. But it can also be terribly mundane and frustrating if you don't plan your day appropriately.
Suffice to say, I'm always on the look out for new things to do.
*******

I don't think I've mentioned it, but I recently canceled our gym membership. At least a year ago, I decided that bringing the kids to
Kid Kamp
while I tried to work out, was more of a hassle than a convenience. And since I could never get myself out of the house early in the morning before everyone woke up - and didn't feel like going in the evening after a full day with the kids - I stopped going.
But, I held on tightly to the hope that I might
one day
return. So tightly did I hold on to that hope, that I never
once
touched the contents of my
gym bag
.
For twelve months, we continued to pay $59.98 a month, before finally coming to our senses. If our gym had been more family-oriented, with classes geared towards children, I might have stuck it out. But because our gym was strictly a place for adults to exercise, Charlie and I ultimately decided that we needed the commitment of a gym membership about as much as we needed another
dog
.
Lately, I've been thinking about signing the kids up for swimming lessons. I had considered teaching them myself, because one of my very first jobs was as a swim instructor. Although taking all four of the children, on my own, to the pool seemed a little daunting. Even though I could handle the triplets just fine, I would worry about Henry sitting in his stroller while I was in the pool blowing bubbles.
Because three is a great age to start swimming lessons, this morning I decided to go on a fact-finding mission at the local YMCA.
Some of my fondest childhood memories are from the days when I was enrolled in gymnastics and tennis classes at the YMCA. At least two summers were spent at the YWCA's Camp Burgess Glen in the mountains of North Carolina where my mother was camp nurse.
Oh, I'll never forget ...
"Bickety Burgess glickety Glenn is mickety mighty fickety fine and wickety we are glickety glad you're here, here, here, here! So wickety what care we how noisy we bickety be, for bickety Burgess Glenn will cheer, cheer, cheer, cheer!"


For several years, it seemed that I spent
every waking hour
at the YMCA. Until my sixth grade year when I dove off a diving block during a swim meet - hit my face on the bottom of the pool, sprung a bloody nose - and embarrassed myself in front of God and creation.
And, the cutest boy in school.
That put an abrupt end to my YMCA experience.
But that was over 20 years ago.


Once we arrived at the YMCA this morning, I felt a surge of energy. I don't know why I hadn't considered this before!! Our children would grow up knowing and loving the YMCA just as I had, as a child!! They would take classes and it would give us something new and exciting to do each week!! This is a
much better
alternative to me walking straight off a pier!!
I strapped Henry in to the Bjorn while the kids climbed out of the car. I gave everyone instructions. We need to hold hands and walk nicely. Once inside the building, we need to keep our hands to ourselves. There is to be no pushing, screaming or yelling. Everyone needs to pay attention to what I say and stick close with me.
Sounds easy enough.
Holding hands we all walked carefully across the parking lot. We walked in to the lobby and up to the front desk and I told the clerk that I was interested in their swimming lessons. She handed me a brochure on the various classes and aquatics, but it was at least an inch thick, if it wasn't a foot.
Almost instantly, the kids laid down on the floor, blocking the entrance in to the facility. When I finally got everyone to stand up, they started pulling things off the counter. Hitting the lever on the drinking fountain. Banging on the fish tank. Opening the glass doors to the exercise class. Taking off their shoes. Running in three separate directions.
It would have been easier to corral feral cats.
I tried quickly flipping through the pages of the brochure to find out when the classes were meeting, what was the age range, dration and cost. There were words on the page,
I could see them
. But they held absolutely
no
meaning because I was so preoccupied trying to keep my children from destroying the front half of the YMCA.
I wanted to ask the front desk clerk to just sign me up for something.
ANYTHING.
But I knew that she couldn't do that. Only I knew what time and day of the week worked best. So while I stood with the brochure in my hands, wishing that the
exact class
I needed would magically POP out of the page at me, the kids started disrobing and manically laughing.
Grabbing for little hands, I pulled everyone outside and tried to speed read the brochure while standing on the front lawn. Children were running wildly around me. One was trying to climb a tree, one was trying to pick flowers from a pot and one was trying to climb in to the trashcan.
Finally, I herded everyone back inside and said to the front desk clerk
"Hey, I know! Where's your kid center? You have one, right??"
The clerk hesitated and said
"Well, yes, but it's for
members
only and
members
need to make a reservation 24 hours in advance to drop off their child. "
In a previous life, I wouldn't have pushed the issue. But as I stood in the lobby of the YMCA with my children that were now trying to climb over the counter and grab the telephone, I responded
"Well, that may be. But if I'm ever going to become a

member

, I really need a moment of peace to read your brochure."

While the clerk made a few calls, I stood thinking about what I had said. At no point had I considered
membership
. My
only
goal had been to sign
our children
up for a class or two.
Yet within 30 minutes, I had signed up our
entire family
for membership. I also signed our children up for gymnastics that begin in three weeks and soccer, T-ball, basketball and swimming lessons that start in January. There is an additional charge for each of the classes the children take, but the cost for members is substantially less than for non-members.
The more I thought about it, the more I decided this is a good thing. Not only is our monthly "family" membership a dollar less than what we were paying to the gym (or, $31.00 less from what I had been paying when the kids were signed up, too), I will have the opportunity to exercise.
Provided I have any energy left after the daily power walks I've been taking with the kids.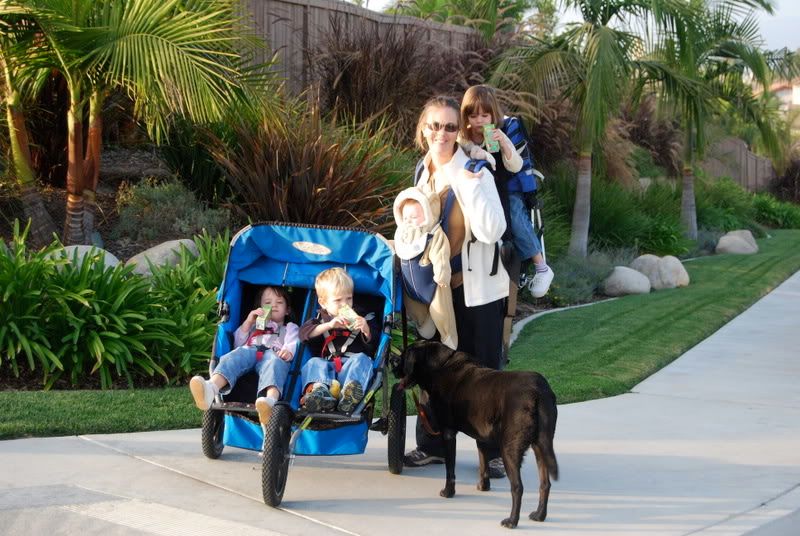 Now, I'm off to go get another dog.