I was up until almost 2 AM this morning preparing for my very first deposition.
I was reviewing documents, printing various information from my computer, and making sure that I had everything that I would need. This morning was rather rushed as I tried to pack up a box full of reports that I needed to provide to the attorneys, while also helping Charlie get the children prepared for school.
Charlie's birthday is in less than two weeks and because it has been 14 years since he has had a photo taken for his driver's license, he is required to have a new picture taken and a vision test administered. But since the only appointment that he could schedule to renew his license would be
after
his license expired, and he needs a photo ID for the trip he'll be taking to Washington, DC in a few weeks, and he
still
hasn't located
his passport
, my husband was planning to spend an entire morning at the DMV, today.
So while Charlie took Henry and left for the DMV, I loaded the children up for school.
Now, because I was going to be spending an
entire day
sitting in an upscale attorney's office where I was questioned on everything I've ever done in my professional life, as opposed to sitting at our dining room table electronically approving invoices ... I decided I'd swap my exercise apparel for business attire.
On the way to school, Elizabeth, who is sitting in the seat directly behind me, sneezes. It seems that she's battling
another
cold, thus allowing her to sustain a nearly perfect record of sickness ever since she has been in school. When I hear her yell "OH NO MOMMY!" I glance in the rear view mirror and see that she is coated from her nostrils to her chin in
mucus.

O
f course
there are no tissues in the car.
Or paper.
Or anything that weighs less than a floor mat.
And
of course
I don't think about my fancy business attire ... or where I am going ... before I lean back and using the sleeve of my blouse, wipe my daughter's nose.
monstrosity
that is Charlie's Toyota Tundra truck. The only place I can find is a spot that would be tight for a Miata so I climb out the
2x2
back window
and make my way to the elevators.
I take the elevator to the very top floor of a very tall building. On my way up, I notice that the entire building is constructed of granite. The floors. The walls. There are sweeping views of the bay and ocean. Just before I step out of the elevator, I check my reflection in the mirrored doors. I fix my hair, straighten my shirt and smile. As my teeth are bared, I see that my Revlon Lipstain is
coating
my top teeth.
My teeth are blushing mauve.
And it is barely coming off.


When I step out of the elevator, I am hit with the smell of subtle potpourri. In the lobby, there are pots of fresh brewed coffee, pitchers of fresh squeezed orange juice and packets of imported tea. There are fresh pastries. Donuts. Croissants. Muffins.
On opposing walls, there are 50-inch wall mounted plasma televisions, tuned to CNN. As I am escorted to the conference room, I spot that there are identical plasma mounted televisions - at least two - in
every
office.
I am introduced to the people who will be participating in the deposition. The court reporter, paralegal and attorneys. I am doing my best to smile with my lips hiding my teeth so I don't reveal the flecks of blushing mauve that are adhered to my enamel.
I extend my hand to shake the opposing council's hand and I notice that the entire fore arm of my moss green shirt is
coated
in boogies.
Noticeably coated.
Like someone took a hot Krispy Kreme and smeared it all over my sleeve.
He smiles warmly and asks if I had the box of documents that I needed to produce for trial.
OF COURSE NOT.
They are still on my dining room table.
So I call Charlie, who had just arrived at the DMV and ask if he could
please
go home, get the box of information I had forgotten, drive to downtown San Diego and drop it off.
And
of course
he said yes, no problem.
And
of course
he'll bring me a new shirt.
And a toothbrush.
And again I am reminded that my Charlie is the best man alive and if not for him, I would be nothing more than a boogie coated expert witness with pink teeth.
And
of course
, tonight, when I'm mentally drained from a full day of being grilled by attorneys, Charlie selected the new i-Pod winner. This was no easy task for my husband. While I sat on the couch savoring a bowl full of Peppermint Stick ice cream, Charlie read through the past month and a half of Wednesdays, narrowed it down to four and then asked for my opinion.
My opinion was that we giveaway four.
But
of course
that opinion was rejected.
So please give it up for KATHY!!
The thing that stands out from all of Kathy's comments is that she is trying
so hard
to lose weight and get off a CPAP. She seems to get on a good path and then, have a set back. It is my (our) hope that in winning this iPod, Kathy will
remain inspired
and achieve her goal of improved health. You can totally do it Kathy!! We're rooting for you and we want to be kept apprised of your progress!!
This will not be the last giveaway, nor will it conclude the weekly weigh-in.
The next iPod giveaway will be at the end of December. With the wonderful holidays bearing down on us with the candy and carbs and tendency to over indulge and cold(er) weather that may inhibit getting outside ... having a physical goal to strive towards will make a BIG difference for me. And really, how awesome would it be, if I could START out the New Year without having one of my top resolutions be "GET IN SHAPE!"?
Kathy, please send me an e-mail with your address and I will get your
engraved
Product Red i-Pod off to you, post haste. Unfortunately, your new iPod won't be pre-loaded with songs since it will be shipping out directly from the Apple Store, but according to Charlie, uploading is easy.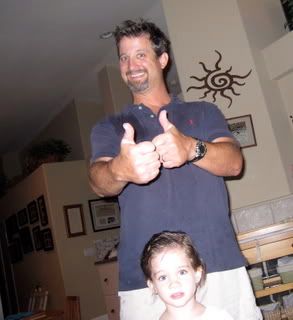 Although I don't know how to upload music,
of course
my husband does.