Yesterday was Charlie's birthday.
My gift to him was a cooking class.
But it's not just any cooking class.
It's a cooking class that the
two
of us will attend,
together.
This is monumental for several reasons.
I'll be the first and last (after everyone in between has toppled over from food poisoning) to admit that I'm not a good cook. My husband, however, is a wonderful cook. Anything that he puts in the oven or on the barbecue will come out incredible. Whenever we go out to eat, I'll always tell him
"
You
could have made this and it would have tasted ten times better."
And I'm not just saying that so he'll keep cooking and I won't have to. It's the honest truth.
Watching him take a bunch of things,
groceries if you will
, and transform them in to a delicious and visibly appealing meal - is quite a sight to behold. Charlie just
gets
the art of cooking. He loves cook books. He loves cooking supplies. He loves cooking stores.
The guy loves to cook.
I love to eat.
We're a wonderful match.
When left home alone for the evening, Charlie will grill tri tip and red pepper brochettes and serve it with dill yogurt sauce and garlic flat bread. When left home alone for the evening, I will hope that there are some of Charlie's leftovers ... or ... I'll snack on a bag of granola and top if off with a quart of Ben & Jerry's.
Several months ago, the culinary store near our home announced that they were offering cooking classes. I watched Charlie flip through the brochure with wide eyes and excitement, like a child would look through a toy catalogue. He flagged the pages of interest with a Post-It note and highlighted all the classes that he would enjoy taking. And then, he left the brochure on top of my day planner.


Because that's how my 41-year old husband operates.
I'm sure that Charlie knew the likelihood of taking one of those classes at any point in the near future, was probably slim to none. Since I'm still on maternity leave, I'm home all day with the children while he is at the office and when he rolls in at the end of the day, I'm gasping for breath and asking what he's planning to cook for dinner. Or, requesting that he salvage the mess that I've created in the pan on the stove - that doesn't look nearly like the pictures.
But for his birthday, I surprised him.
Not only does he get to take a cooking class, he gets to bring
me
- his culinary challenged wife - along with him. I suspect it will be kind of like a coloring book illustrator going to a conference on astrophysics. Or, a person whose gaming skills don't exceed Candy Land participating in a Scrabble Championship ... where they'll be serving pomegranate balsamic pot roast with cremini mushrooms and cipollini onions. Whatever those are.
So, between now and December 14, we need to find a babysitter.
Over the past three years, we've had a few date nights ... but we've
never
left the children at home with someone who wasn't directly related to us. I'm a little (oh, who am I kidding?) nervous about leaving our offspring at home with a person we have to
pay
to be here, but I figure a month is enough time to find someone responsible. Actually, we'll probably have
two
babysitters, because I think that feeding the children dinner, getting them ready for bed, and putting them down for the night might be too much for one person to handle alone.
Especially since we're planning to leave Henry.
And a bottle.
I think that four weeks should provide us adequate time to find babysitters ... complete blood screens, urine tests, background checks, run their fingerprints and call all of their references. It should also be enough time to convince our 4-month old son that taking a bottle of expressed breast milk isn't
nearly
as bad as what he might be subjected to once his teeth grow in.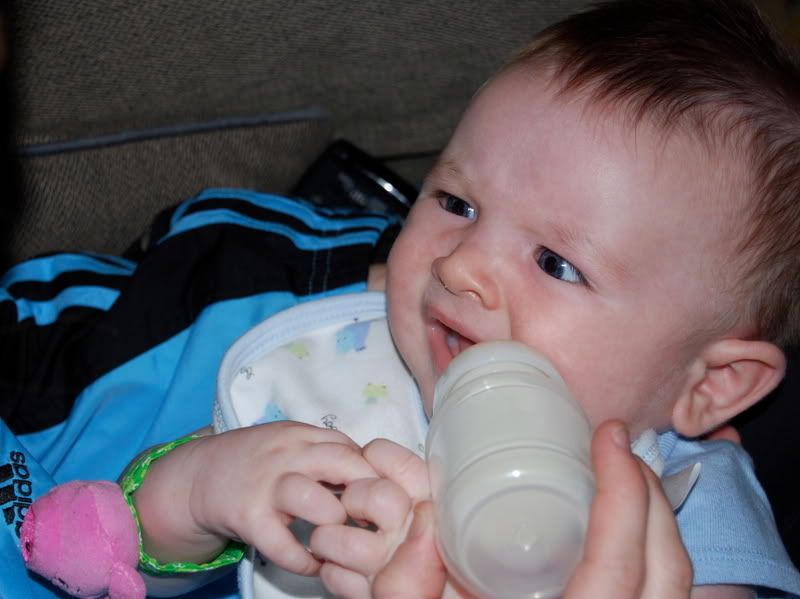 Provided his mama doesn't hurry up and learn how to operate a stove.