This has been one heck of a week. We have had a child vomiting - usually two, sometimes all three - every single day since last Friday.
That would be...
Friday, Saturday, Sunday, Monday, Tuesday, Wednesday, Thursday, Friday, Saturday, Sunday.
For 10 days ... we have been cleaning up children, doing massive amounts of laundry, rinsing out emesis pans, washing our furniture, scrubbing the floors, holding our breath every time a child wakes up crying - and making sure that the dog doesn't come in to the house when the children are awake because she has an affinity for vomit.
Please don't ask how I know this.
My roommate from college was planning to visit us from Georgia and was scheduled to arrive Friday night. When I spoke with her on Wednesday, I gave her a full disclosure on the bug that had hit our house. It had been 15 years since I last saw my roomie, I didn't want to go another 15 years - or more - because we transmitted this monster virus to she and her husband ... which they might bring back to their three children, at home. Amy told me that she was coming to visit -
regardless
. If nothing else, she said that she would sit up at night with a vomiting child and let me sleep.
What a beautiful woman.
Because Amy and her husband, Rob, would be staying with us over the weekend ... Charlie and I exerted our best effort to clean up the house on Friday. While the children napped, Charlie did load after load of laundry and I cleaned the bathrooms - vacuumed - mopped - dusted and washed windows. I also baked a white cake ... and decorated it with white frosting, because that was Amy's favorite treat all through college. If my dear friend was going to stay up all night with our sick children, making her a cake was the least I could do.
During this burst of "get ready for company" cleansing and baking ... I started to feel a bit off-color. I was nauseous and couldn't stop burping. Thinking that maybe we needed some fresh air, when the children woke up from their nap - I loaded all three of them up in their stroller and Charlie and I set off around the neighborhood for a walk. As soon as we left the house, we noticed that someone had tried to break in to Charlie's truck. The lock was completely smashed out and there were scratches all over the driver door.
FABULOUS.
We need to call the police. We need to call the insurance company. We'll need to get this fixed. Should we call now? Or should we wait until after Amy and Rob leave, and file the report next week? I started to have a panic attack - while burping - thinking how we were going to manage the simple task of getting Charlie's truck back in order.
The problem is ...
I
we have very little free time. For a multitude of reasons, our schedules are more packed now, than they have ever been. I'm not complaining - just stating the facts.
Over the past two months, my job has transformed in to a full-time position. Not because I necessarily wanted it to, but because I have been nominated for a number of special projects that all came due at the same time. As an example, between now and the end of the year, I am scheduled to fly back to the east coast twice and there is some kind of meeting or teleconference (sometimes two or three) penciled in to my calendar
every single day
from now until December 22nd. Considering Charlie works, too ... and we have no outside assistance raising our 2-year old triplets ... a day around here resembles a blender without a lid.
I started to cry about the broken lock. I cried some more about how overwhelmed I am with work, and the fact that I hadn't been to work all week - meant that I was falling further and further behind. My nausea continued. My burping continued. I sobbed to Charlie that I was feeling cruddy and maybe the horrific bug was finally catching up to me. I also mentioned that I hadn't burped this much since I was pregnant with the ...
Before I could finish my sentence, I stopped in my tracks.
I haven't felt this weepy, this nauseous nor had this kind of burping since I'd been pregnant with our triplets. When we arrived home, while Charlie ran to the store to buy ingredients for dinner, I grabbed a calendar off the wall and looked at the date.
Friday, October 29th.
I did a quick math calculation and ran to the bathroom. On my way, I picked up a left over home pregnancy test that we had remaining from our IVF cycle in March of 2004. According to the package, the test expired in October of 2005 - one year ago. Hoping that it might at least give me a preliminary indication, I ripped it open and put it to use.
Almost instantly, two lines appeared.
This couldn't be right.
We have been married for 12 years. We have always wanted children and have never done anything to *prevent* children. We have spent tens of thousands of dollars on fertility treatments. We have both had surgery. We've had more IUI's than we can count. I have had more needles stuck in me than a pin cushion. More than any of that - several years ago, one of our doctors, after reviewing our case history, told us that Charlie would have better luck hitting the moon with a slingshot, than he would getting me pregnant.

We have triplets that just turned two.
The test had to be wrong.
I called Charlie on his cell phone and told him that I, uh ... I, uh ... I had a suspicion. While he was at the store, could he perhaps pick up a new test? There was a big gasp and lots of questions. Twenty minutes later, Charlie arrived home.
Guzzling down 16-ounces of water ... I wandered back to the bathroom with an LL Bean catalogue in hand. While the test worked it's magic - and gave me a surely negative result - I would peruse the winter line up for flannel pants and snow boots.
.... fast forward ....
Yesterday afternoon, while Charlie and Rob stayed home with our sick children, I took Amy to our new church. Following the sermon, I sought out our Pastor. Even though I had met Pastor Mike a few months ago, I doubt he remembered me. I reintroduced myself and told him that we had triplets who had just turned two. He chuckled and said "Wow! What a handful!!"
I also told him that Charlie and I really are enjoying the church. We've been coming every weekend for the past several months and have even started our own "Small Group." Pastor Mike was very pleased.
I then told him that we were at his service earlier in the month where he made the suggestion that in order to keep the love alive in a marriage ... couples should sleep with as little clothing on as possible. He laughed. I laughed, Amy laughed.
I then told him that it was because of
that service
and the fact that my husband I were practicing what he had preached ... my husband
threw his back out
so badly that he couldn't walk for four days and my mother had to
fly in from South Carolina
to assist with our triplets. He chuckled and said "We don't teach technique!!"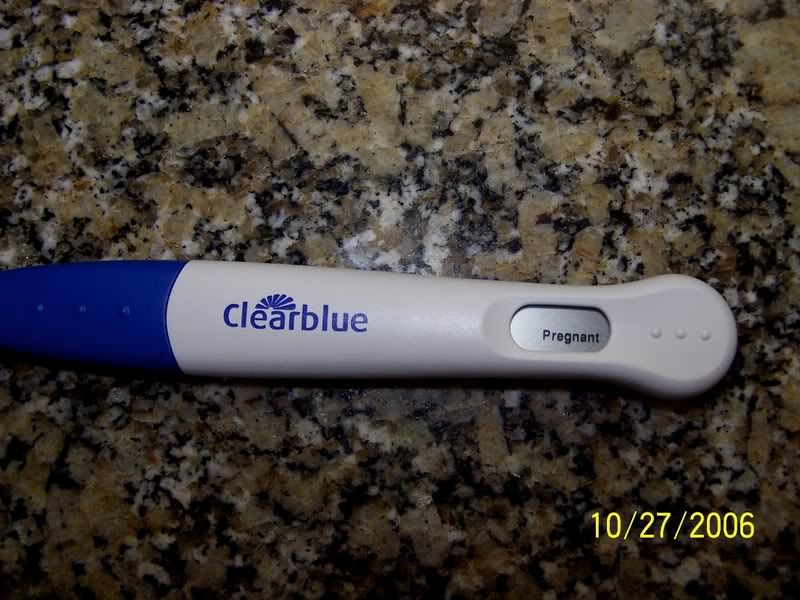 I then told him that it was because of
that
service and the sermon we heard, that we experienced a miracle. After all that we have been through - Charlie either had a damn good shot, or this was a case of Divine Intervention. Pastor Mike's eyes flew open, his jaw dropped open and he reached out for my arm. He asked if once we pass our first trimester, if Charlie and I could be the subject of a sermon?
I smiled and said ABSOLUTELY.
He just needs to help with the college fund for our fourth child.



Our fourth child, who is due in July of 2007.



Once again I am reminded we never have complete control of our lives. This month in particular, has been especially out of control. I am also reminded that life is an amazing trip ... best enjoyed when you relax and enjoy the ride. But, you better watch what you ask for!

I just wish that we could have some Divine Intervention for the healing of our three toddlers. I will surely melt if there is one more day of vomiting.