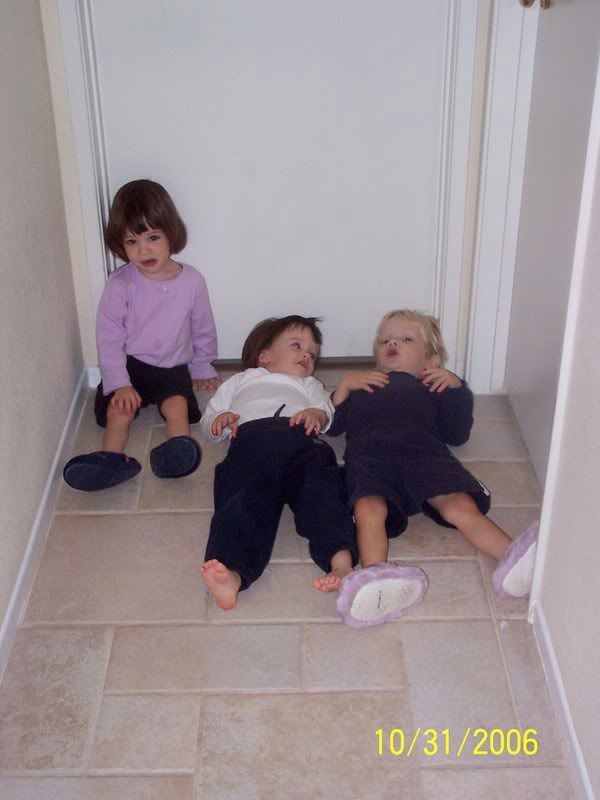 It is only appropriate that I was getting to the "preemie shuffle" of my triplet pregnancy story, when I have to take a big step back in life.
I cannot even begin to put in to words just how hectic our schedules have been ... but if you know us, or especially if you are one of our co-workers ... you might have a pretty good idea. I've eluded to it before ... life is getting increasingly crazy at the homestead.
Currently, we're both working full-time. When we're not working - our minds are consumed with what else we have to do. Because our work hours aren't 9 to 5 ... they usually are squeezed in when the kids are napping, late at night, or on the weekends. This leaves very little time for "other things" - but we're trying to squeeze those "other things" in to our schedule whenever we can. "Other things" that might include hosting a small group, brushing our teeth, attending play dates, going to the bathroom, having dinner with friends, taking a shower, exercise, doing 10 loads of laundry, getting dressed, and cleaning our house once a quarter.
We tried calling for reinforcements, but the woman we had hired to come assist two days a week (for four hours a day) wound up accepting a full-time job and wouldn't be available. This would have been good reason to start drinking heavily, but this happened about the same time we learned I was expecting our fourth child.
Right now it's just me, Charlie and our two-year old triplets that are hell bent on turning their parents prematurely gray. These are a few of the reasons Charlie and I look like we could be card carrying members of the AARP:
Toddler knock down drag out fights, daily. Culprit? The pink sippy cup. I am prepared to replace every single non-pink sippy cup in our sippy cup arsenal. Apparently, milk is rancid if it comes out of the blue, green, orange or purple cup. But tomorrow, the magic color might be green. Or blue. Most likely not purple - that was the magic color, yesterday.

Poopy diapers. At least three, per child, per day. This is undoubtedly due to their huge appetites since coming out of their vomiting epidemic for the past two weeks. Poopy diapers aren't the main problem. My issue revolves around our adorable children sticking their hands in their poopy diapers and then running their fingers through their HAIR.

Going out. Our children have taken to laying down flat on the floor when they don't want to do something. If I'm lucky, only one or two fall down at once, but sometimes, it'll be all three. This usually happens as I am preparing to load them in to the car. But then - once I finally get everyone safely secured in their carseat - and we are already late on our way to something important - that they inform me, "Mommy!! Poopy!!" In the time it takes me to change someone's diaper and get them back in the carseat, another child will have pooped ... or ... they will have started to remove their clothing and shoes. Whereas it use to take me 15 minutes to get the kids out of the house ... it now takes six hours.

Election Day. Within the past week, we have received perfectly timed phone calls, moments after our children have fallen asleep, from every single political candidate and overzealous Hollywood actor in California. Maybe they knew that I needed a reminder, because I actually loaded all the kids and took them with me to vote today. My current political awareness is a far cry from what it was 15 years ago when I graduated from college, one class shy of an unintentional minor in Political Science. Today, I barely had an idea what or who I was voting for, but at least I was there and I've got the sticker to prove it.
Lack of sleep. Last night, I went to bed at 1:15 AM. Elizabeth was awake at 2 AM. Elizabeth was awake again at 3 AM. Elizabeth screamed in her crib from 3 AM until 3:30 AM because she wanted to come sleep in our bed with her little toes up my nose. Oddly enough, I have a difficult time sleeping this way. Charlie finally caved at 3:35 and slept with her on the couch until 6:15 this morning, when William woke up. By 6:30 AM, all three children were running through the house while their bleary eyed parents tried to prevent each other from jumping off the roof.

This weekend. I am suppose to be in Virginia on Monday morning (6 days from now) for a business meeting. Charlie's 40th birthday is on Sunday (5 days from now). As of this writing, I have yet to book my plane tickets nor, make any plans for my husband's birthday. Instead - I'm thinking that it would be a wise idea to fly the entire family back to South Carolina. Here's the logic: I can spend Charlie's birthday with him and take a puddle jumper to Virginia Monday morning. Otherwise, I have to leave Sunday afternoon from California to get to my meeting on time. Charlie will have the support of my mother and family for the week I am in meetings. We will have the opportunity to see family and friends we haven't seen for over a year and celebrate Thanksgiving together. Our flight to SC leaves from Los Angeles on Saturday morning at 6:30 AM. The reason we're flying out of LA and not San Diego, is because I'm so behind the 8-ball booking our tickets that there was no way we could use of frequent flier miles unless we wanted to take a red-eye with a 3 hour layover in Chicago from 4 to 7 AM. (I don't know who would enjoy that experience more ... us, or the other passengers that would be waiting at the gate for three hours with us.) We have to leave our house at 2:30 AM Saturday morning in order to get to the Los Angeles airport on time. Now we just have to figure out what to do with Molly while we're gone for 2.5 weeks and we're golden. Considering my overwhelming fear of flying and the challenges of a cross-country plane trip with three toddlers, this should be quite an adventure.
The reality is - Charlie and I are in dire need of a vacation. I am so overwhelmed at the moment that I am incapable of doing anything. Which is why I'm updating my blog instead of making travel arrangements for my business meeting ... or writing 3 overdue thank you notes for birthday presents, or .... finalizing our
Wills
.
We are so far behind that if something were to happen today, we wouldn't have time to think about if for four weeks, and then - it would take us a minimum of six hours to do anything about it ... provided we needed to pack the kids up and leave the house. Since we are so far behind "reality" ... I suspect that within the next couple weeks, it will finally register that we have another baby on the way.
Wait a minute. Was that a dream??
We'll be back in about 3 weeks. Maybe sooner, but probably not.
Until then - please take a nap for me. And ... please say a prayer that our plane behaves itself.