Several times throughout this past month, I've reminisced what I was doing a year ago at this time. Your father and I went to church. We heard a good sermon. Your father threw his back out and couldn't walk for a week. Noni flew in to town to help. Your siblings came down with a stomach virus and threw up every single day for two weeks straight. For almost the entire month of October, I was in complete oblivion that you were on your way.


It's absolutely amazing how much can happen in 12 short months.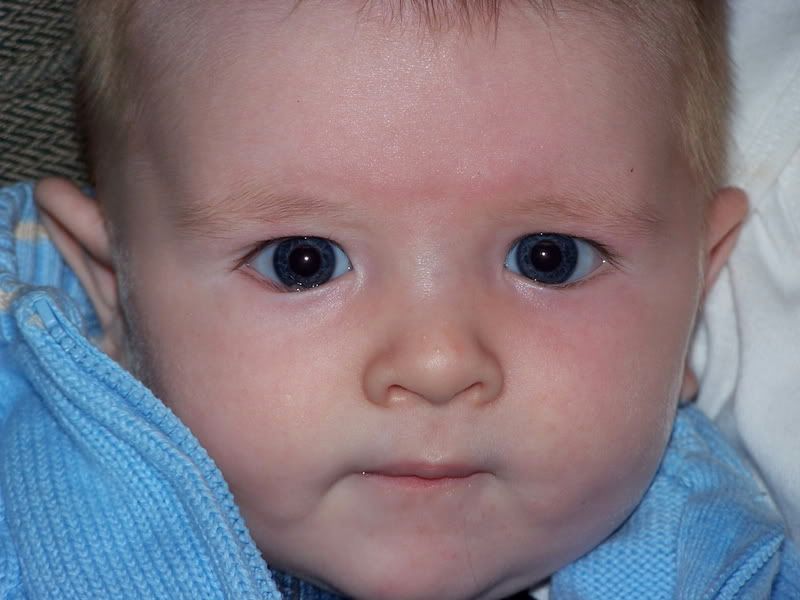 One year later, you have been here for four months and your personality is in full bloom. You are the happiest baby I have ever seen
in my entire life
. You smile almost constantly. It makes my heart flutter, like an eighth grade crush, when our eyes lock and you let out a deep sigh of pure contentment. You are smothered in kisses no less than a million times a day.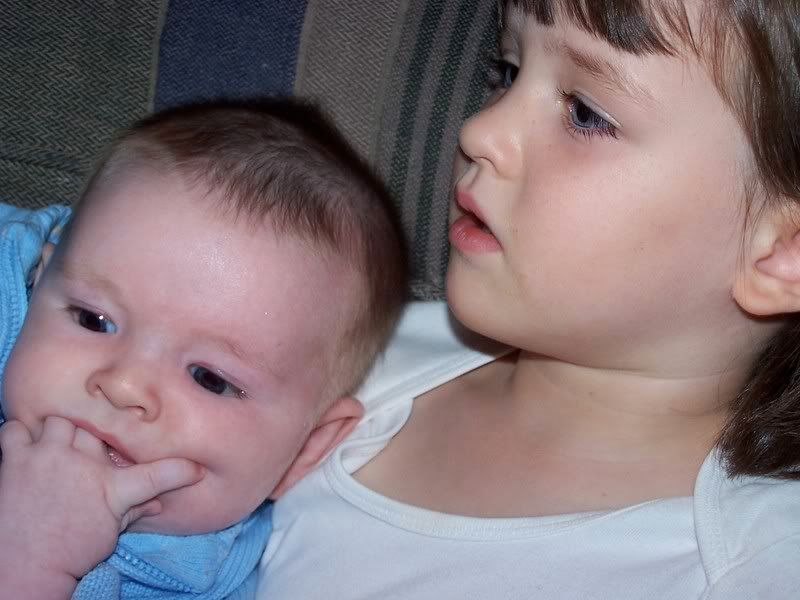 You are holding your head up remarkably well and will spend 30 minutes or more, sitting in your Bumbo chair looking at the world around you. You are pulling your hands up to your mouth and are grasping at toys and bringing those to your mouth, too.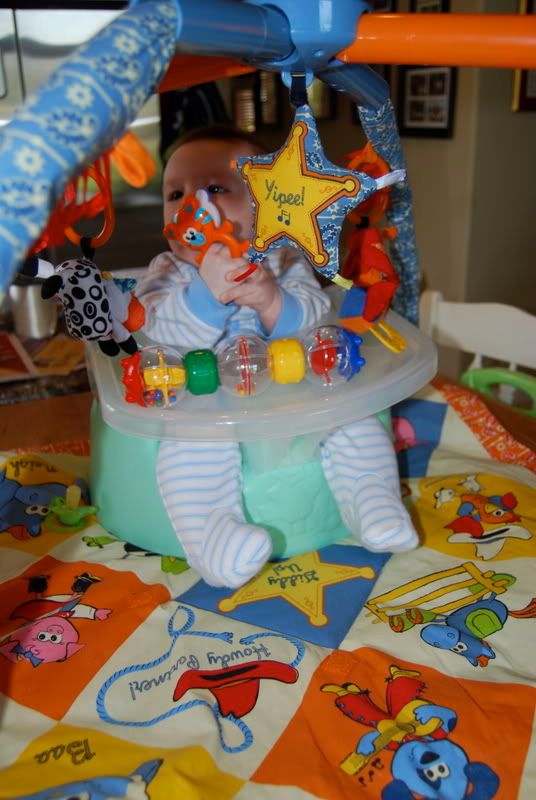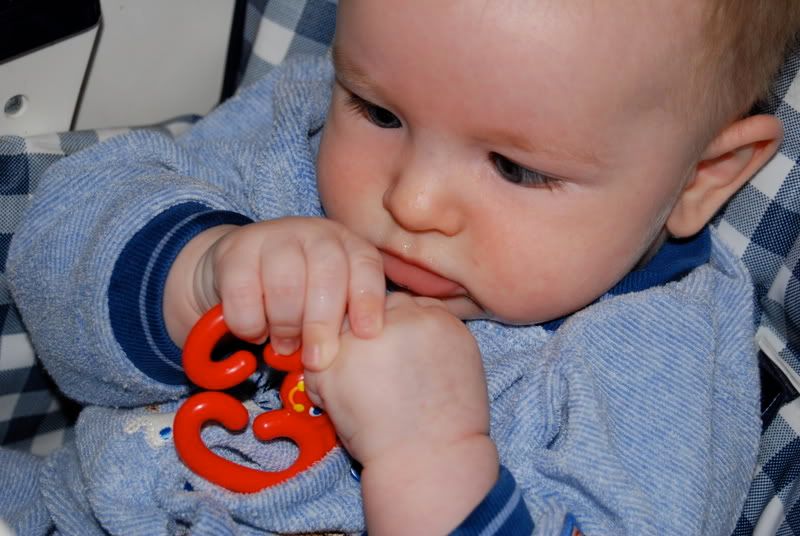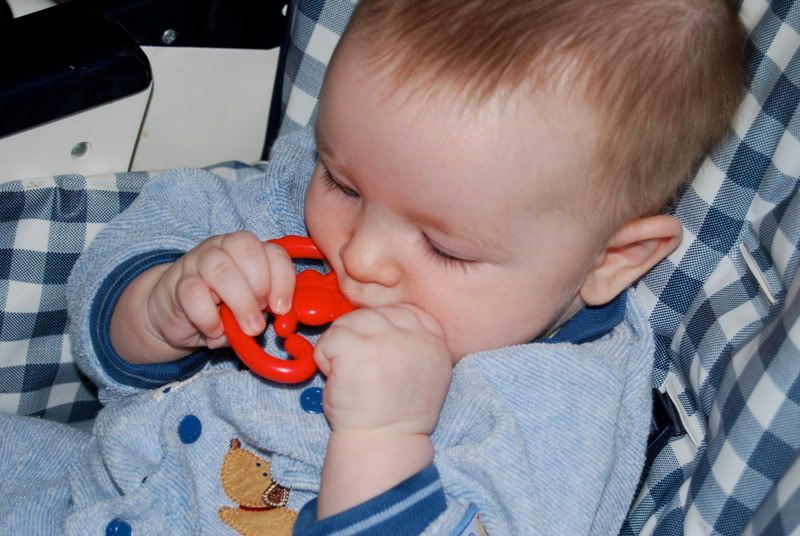 You love looking at books and will carefully examine the objects on each page that I read to you. If you are sitting on my lap, you will put your head back to look at me and smile, and then quickly return your gaze to the story.
We have started to think about feeding you solids, but during a recent discussion with your pediatrician, have decided to hold off for another month or two. It is extremely gratifying for me that you have received all of your nutrition thus far from nursing - and the doctor does not see any need to rush. So, we won't.
Like everything, it will happen (too) soon enough.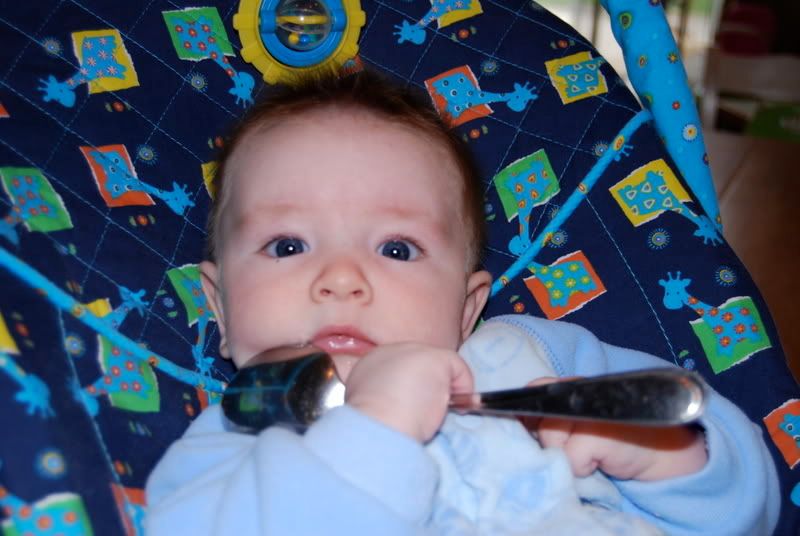 You love to be a part of the action. So long as you can see your siblings - or see me - you are entertained. You enjoy your bouncy chair, but you prefer to be held. You still spend a large portion of the day being totted around in the Baby Bjorn - but that's because I'm addicted to having you close.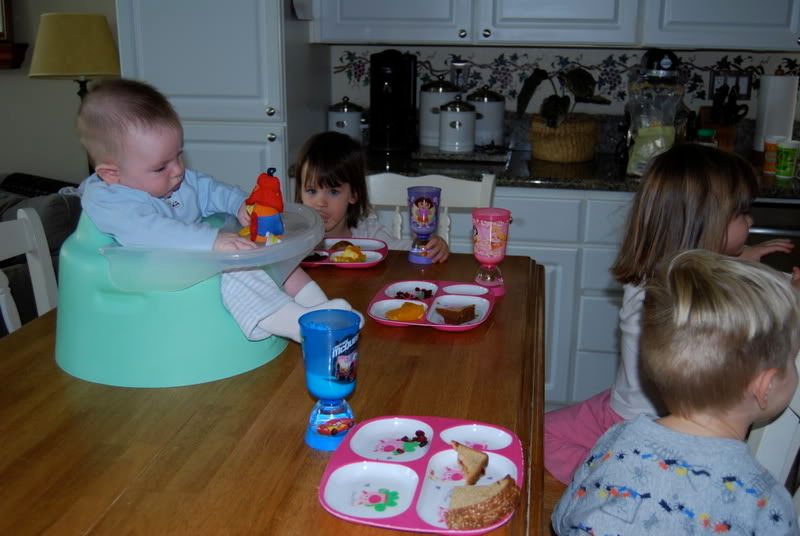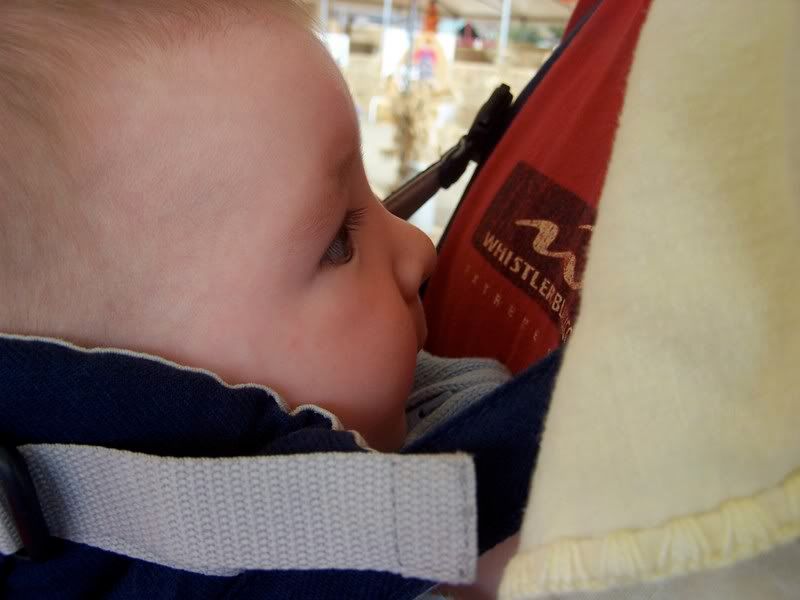 Your siblings adore you. Throughout the day, I will watch them drop whatever it is they are doing and run over to plant a kiss on top of your fuzzy head. They will also take toys away that you might be looking at and jam your pacifier in to your mouth, but they're three.
Please don't hold it against them.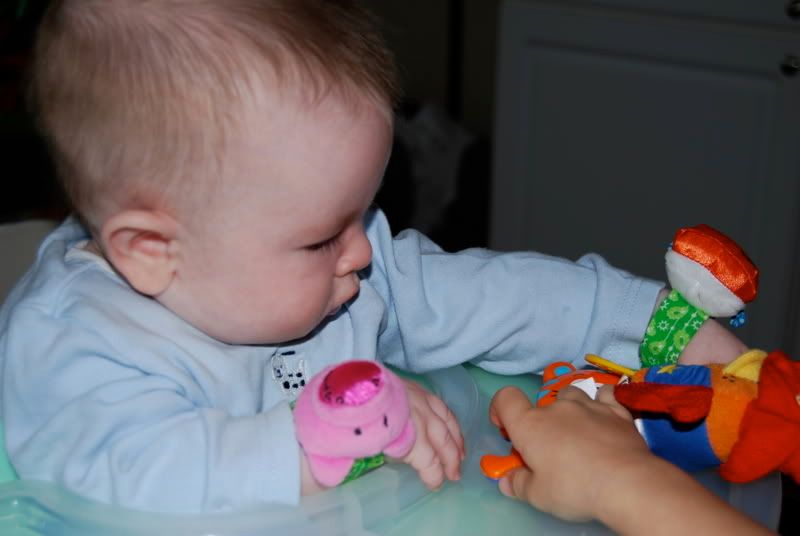 This month, we have started to transition you from the bassinet in our room to your very own crib in the room you are sharing with your brother. You are still nursing every 3 to 4 hours, round-the-clock but I don't mind in the least. Whereas I have bragged that
when your triplet siblings were your age
, I had them sleeping 12 hours through the night and napping three times a day, it is different with you. I'm not adamant about having you on a strict schedule because
my survival
does not depend on it.


You eat when you need to eat, you sleep when you need to sleep.
You are happy. I am happy. Nothing else is important.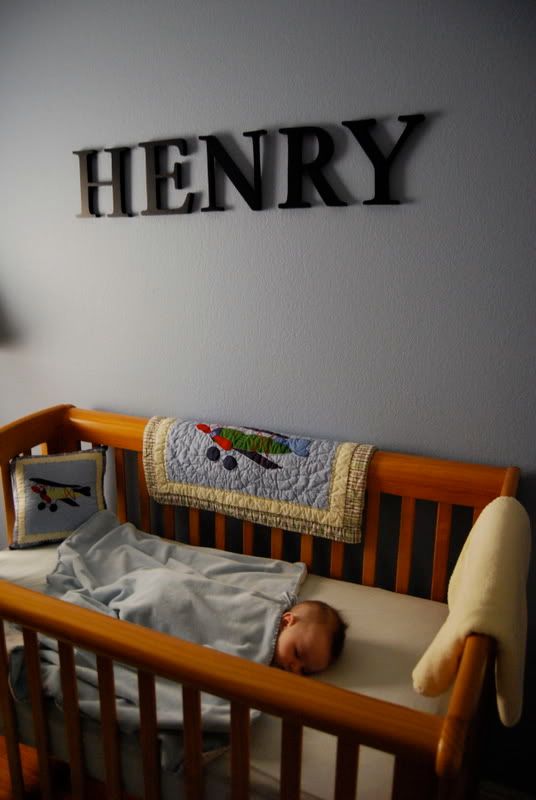 You are waking up at least twice during the night. I'll typically bring you in to bed to nurse and then fall asleep for an hour before you wake me up with your kicking and squirming. I'll then return you to your crib,
run back to bed
, and wake up again - an hour or two later to feed you. I have yet to sleep more than five hours at a stretch, but I sincerely don't mind. You will only be this little once and I'll get lots of shut eye when I'm dead.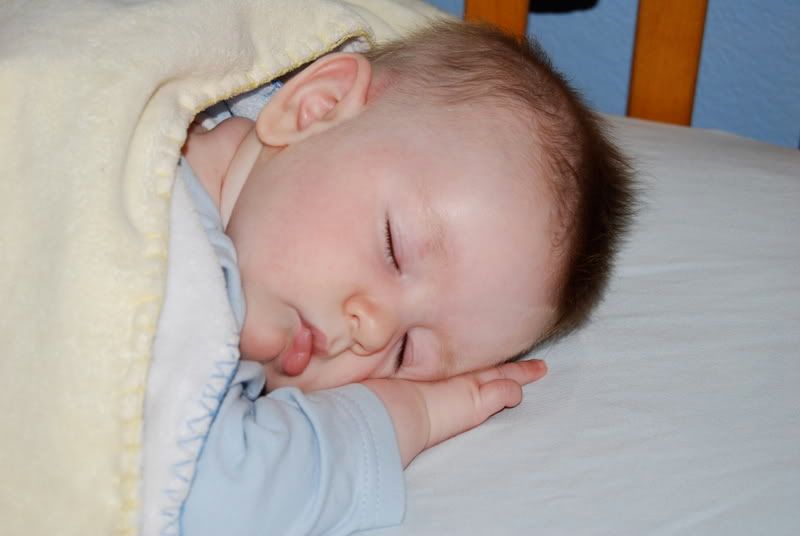 You are chatting up a storm and will let out ear piercing shrieks of joy and heart warming belly laughs. This is really adorable, although when you do it at 6:00 AM, when laying in bed with your father and I in the morning, I'll desperately try to keep you quiet with nursing so we can have just a
few more minutes
of quiet.
If you were to wake up your
siblings prematurely, I would be

terribly

sad.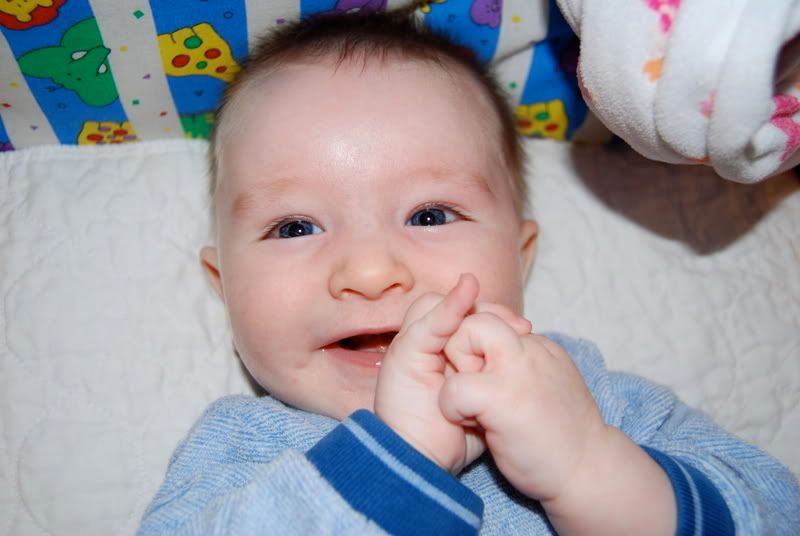 You weigh only nine pounds less than your sister who is 33 months older than you. You are wearing a size three diaper, although I suspect that you will be in a size four within the next month. I also suspect that within the next month, I will need to transition you from your infant carrier that you are rapidly outgrowing and which I can hardly lift. You have outgrown all of your newborn clothes and fit comfortably in those that are sized 9-12 months.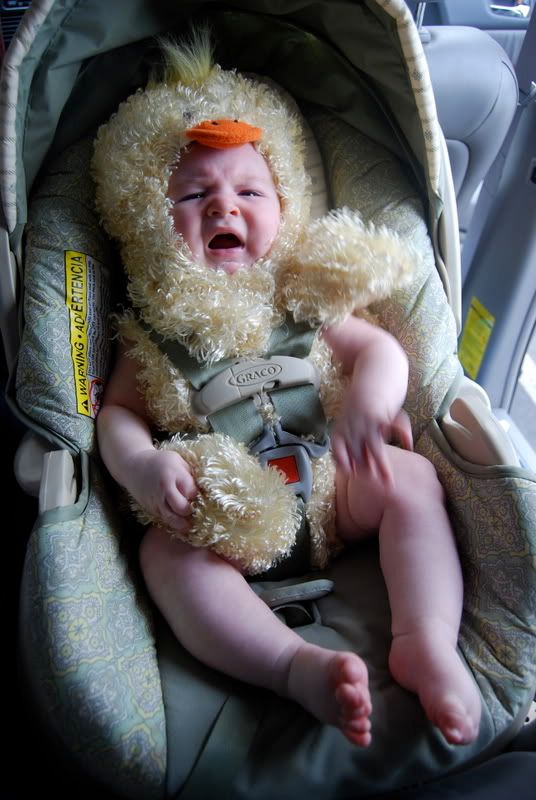 Boston won the World Series this past month which further confirms my theory that any year I give birth, the Red Sox will go all the way. If they would like to win any future world championships, they need to fork over some money for diapers.
And a possible tummy tuck.
A year ago, I only recently discovered that I was expecting you. But when I look at you now, you have
always
been here.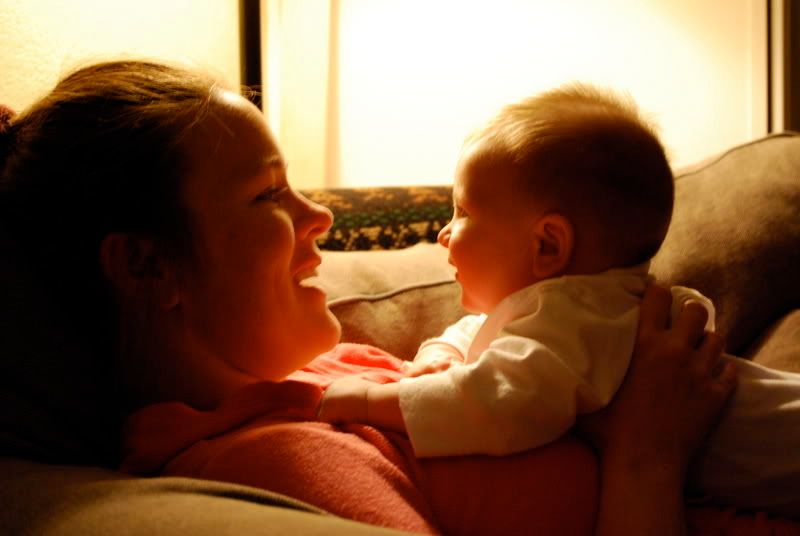 I honestly cannot remember what life was like without you.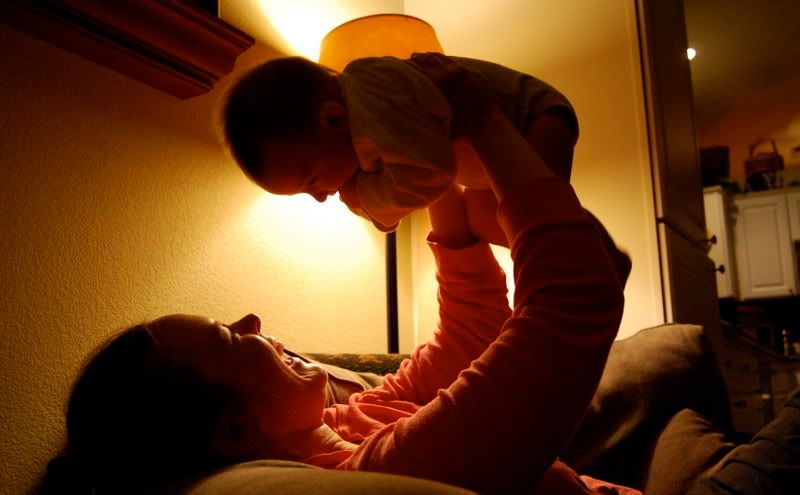 My little Henry baby, I love you more than the world and am so very glad that you are a part of our family.