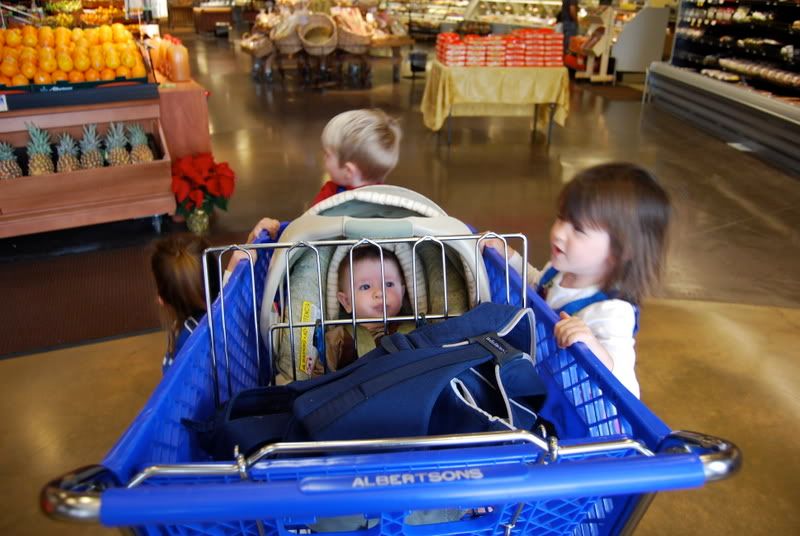 I've got several "amazing trip tricks" that I plan on sharing because I often get asked
"How in the world do you get anything done?"
And if just
one person
can learn something of value from this blog, then the time I spend updating it when I could be sleeping, will not be in vain.
I've been taking the triplets grocery shopping - by myself - since they were only a few months old. When they were infants, I would load them in to their triplet stroller and push them through the store. If I would be purchasing more than could fit in a small hand basket, I would either drag a shopping cart behind me ...
or better yet
... ask a manager if one of the bag boys (or girls) could accompany me.
This was a wonderful tactic because not only did I have someone push my cart for me, they were extremely familiar with the layout of the store and knew
exactly
where everything was. I completed grocery shopping in record time when our triplets were infants because I didn't spend a half-hour searching for toothpicks on aisle 10 when they were actually on aisle 12. Next to the tartar sauce.
Which I needed, too.


As the children grew older, I would load all three of them in to the shopping cart and push them through the store. This worked well at
Costco
because the cart holds two children in the seats and the third child I would put in the basket. But if the cart only had one seat, I would put two in the basket and one in the seat and load all of my groceries underneath.
These days, the kids want to walk. And because in reality - the kids want to RUN and CLIMB and TOUCH every.single.thing - there is
no way
that I can (or will) step foot in to a store, by myself, with the triplets unless they are wearing safety harnesses. The only thing worse than seeing a child that is totally out of control running around without their parents able to get a handle on them, is to see
three
children totally out of control and running around and me, swearing profusely.
Think what you will about safety harnesses. I happen to think they are the most wonderful invention for keeping my roaming toddlers close by and safe. Particularly now that we know how to use them and don't fall all over ourselves.
Arriving at the grocery store, I will park as close as possible to one of the cart corrals. Once I grab a shopping cart, I unload the children one by one and put them in their harnesses. I then tie their harnesses to the shopping cart, one on the front - one on the left - one on the right - and I load Henry, in his carseat, in to the basket. As we walk in to the store, I'll tell them
"All ABOARD!"
and the kids will stand on the rack beneath the cart, so I can walk quickly without running them over.
Once in the store, I will solicit their help to keep them engaged. Today, when we went shopping, I let the children fill up an entire produce bag full of green beans. And yes,
of course
I purchased them. Although, that would be funny in a terribly obnoxious sort of way to see a child fill up produce bags just to keep them occupied.
Unless it is something breakable or heavy, I will let the kids put all the items I'm purchasing in to the cart. I'll also ask them questions regarding the items on our list.
"Where are the strawberries? WHO SEES STRAWBERRIES? Who see bananas? Who sees bread? Who sees eggs? Who sees ice cream?"


Then, I'll follow those questions up with
"No, you can't have strawberries. No, you can't have bananas. No, you can't have bread. No, you can't have eggs. No, you can't have ice cream."


If the kids get bored with riding on the cart rails, I will have them pretend that they are Santa's reindeer, and our shopping cart is the sleigh.
Showing the kids Christmas movies while I was 9-months pregnant turned out to be a great idea, after all...
Whether they are riding on the rails - or pulling the cart - it's important to have a list and be quick about shopping. If you take too long trying to remember whether you prefer salted or unsalted butter, you shouldn't be surprised, or frustrated, that your children use your temporary lapse in movement to construct a tower out of margarine tubs.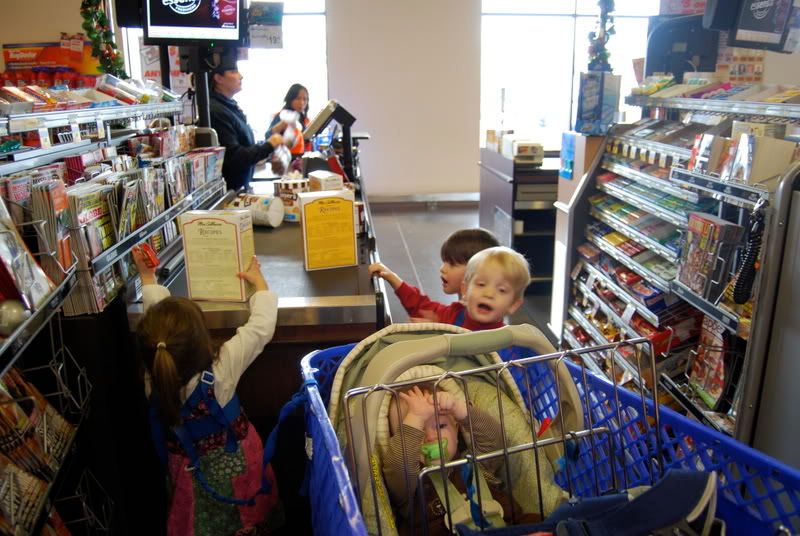 I always pick up a healthy snack -
raisins are a great choice
- to keep little hands busy when I am navigating the narrow checkout lane that is bordered with sweets and magazines. I have found that if my kids are focused on their little boxes of raisins and helping me unload groceries on to the belt - they are far less likely to grab magazines off the racks and bite through unopened candy bars.
Regardless, it's good to educate and frequently quiz your children on the kind of candy that YOU like, because if you have a conscience, you will wind up purchasing anything that they have tampered with. But rather than getting angry when I see that my kids have gnawed through several Snickers bars, I see it as a reward for myself - for going grocery shopping alone with the children.