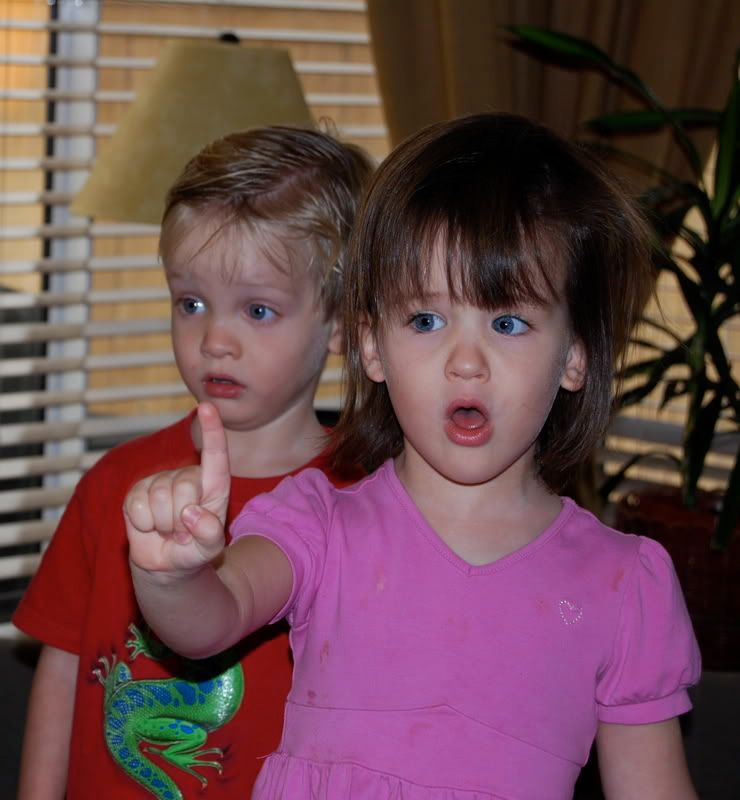 Only when I became a parent of three-year old triplets did I realize that I have a volatile temper.
When Carolyn was sitting on the potty last week and Elizabeth was ramming her tricycle in to her, over and over and
over
again, and William was in the midst of
breaking
the baby's gymini, and Henry was crying to be fed and the dog was howling in the garage ... and I was on hold for five minutes with Target because they charged me for three boxes of diapers when I only bought two ... and call waiting was beeping with a call from my podiatrist's office .... suddenly, my head felt like a breakfast cereal.
Snap, Crackle, Pop.


I never use to yell but it seems that more and more, talking with an
extremely elevated
tone to my voice is the only effective way to get 3-three year olds attention. Unless I ask "Who wants ice cream?!" I might as well be speaking in Arabic.
YES. I've read 1, 2, 3 Magic. This is worthy of a posting in and of itself.
YES. I do time out. A lot. Am quite good at it.
YES. I've spanked. But I don't like doing this. At all.
YES. I've implemented a reward system. My children eat the stickers.

YES. YES. YES. And, YES.
Try getting 3-three year olds in to the house when they are splashing in a pool.
Or, get 3-three year olds in to a car when you have some place to be and they start taking off their clothes while you are buckling their sibling in to the carseat.
Or, get 3-three year olds out of a car and in to the house - when you really have to use the restroom.
Or, get 3-three year olds in to the bath.
Or, get 3-three year olds out of the bath.
Or, get 3-three year olds to the table for breakfast. Lunch. Dinner.
Or, get 3-three year olds in to bed.
Or, get 3-three year olds to do
anything
for that matter.

And now ... add a baby in to the mix.
Lest I paint a terribly chaotic picture (oops, too late), there is
some
control to this house. But it is much more difficult to manage the
mob
children now than it was a mere six months ago.
There is drama everywhere.
The girls are hysterical over who gets to use the one Princess Cup that someone gave them for their birthday.
I mean, they are hysterical.
No one wants to use "icky" Dora the Explorer. Why would they take turns?
That makes no sense.
They want instant gratification. They want it NOW.
Everyone
is also fighting over a tiny wooden zebra, a tiny wooden alligator and a tiny wooden lion. Even though we have three of each.
Everyone
wants the
exact
same one.
After listening to the screaming and trying to break up multiple fights, I finally snap. I pick up the Princess Cup and throw it in the trash can. The children bury their faces in their hands and fall to the ground crying. I then open the back door and fling the zebra, alligator and lion over the fence before closing the door and dusting off my hands.
ALL GONE!! THEY ARE ALL GONE!!
The neighbors must think I am positively mad hurtling tiny wooden animals over the fence and yelling "
BID IT ADIEU!!
" at my adorable preschoolers.

What kind of monster

witch

throws their child's toys over a fence?!
Here's a clue: The same kind of witch that has decided that it is going to be an extremely lean Christmas because these children have more toys than they know what to do with and they don't need any more. It will
only
be more cause for fighting.
Moments later, there is silence. The Princess Cup is forgotten, the zebra, alligator and lion are forgotten. The kids are busy doing something else. The baby looks at me and laughs. And then, they are fighting again, over a piece of lint that they plucked off the couch.

MY LINT!! MY LINT!!
I grab my head in my hands and yell
"Sweet Jesus in Heaven, help me. PLEASE HELP ME!!"

These children are emulating my behavior. Sometimes it melts my heart and other times, it makes me want to go bury my head in the sand. When I see them hug one another - or share a coveted toy - I want to take credit for showing them how to be kind. When I watch them grasp their hands and give thanks before a meal, I feel proud that they are listening.
But when I see them scream and hit and fling toys - I want more than anything, to scream even louder.
Just to make their screaming stop.
Good Lord. Why can't they just get along?! How is it possible that a 3-year old in a full fledged tantrum makes me, a grown and educated woman, have a full fledged tantrum??
How is that possible??
When we went to the pediatrician for their 3-year check up this past week, the doctor commented on the bite marks he saw on Carolyn's arm. When he asked how they got there, she pointed to William. When the doctor was examining William, a few minutes later, he noted the bite marks on William's arm and asked if Carolyn had retaliated and bitten him back?
William shook his head and said
"No, dat's from Mommy."


The doctor looked at me with big eyes and I immediately felt myself start to flush. In my defense, I bit him
after
he was on a full-fledged biting spree and had bitten his sisters,
repeatedly
. Come on, doc. It's not like I bite my 3-year old son, just for kicks.
Or, do I?
But you know what?
It worked.
He hasn't bitten anyone, since.
Seriously. Life was so much easier before the kids had any teeth or could talk.
Something I've learned over the past 36-months is that it is really tough work, this parenting gig. How my mother raised seven children that had to pass
through the preschool years
before arriving in to adulthood, is worthy of a
really
grand prize. Whenever I talk to her, she laughs and laughs that one day my blog postings sound like I'm on the top of the world and the very next day it sounds like I'm ready to suck on a gas pipe. That's pretty concise. And accurate.
But something else I've learned is that naughty children?
They taste just like chicken.