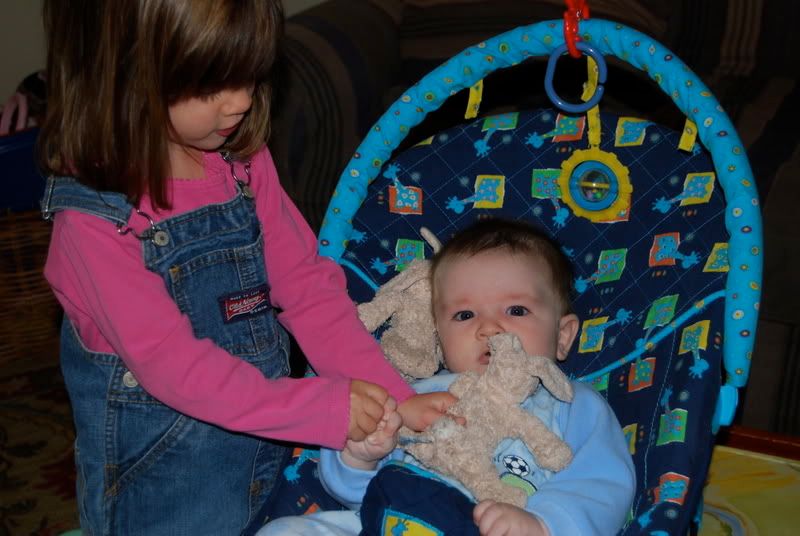 Elizabeth has a stuffed animal bunny that she absolutely
adores.
Last year, in a moment of brilliance, I ordered a back-up bunny in case she ever lost the original bunny. For several months, and despite valiant efforts to
"break"
the back-up bunny in, my daughter shunned the bunny clone completely.


Until.


She lost her original bunny.
For a solid three months, we couldn't locate the original bunny. We looked high, we looked low.
We looked everywhere.
We even posted signs on the neighborhood mailboxes advertising a REWARD for anyone who found the bunny.
When given no other choice, almost instantly, Elizabeth embraced her bunny replica. Within a matter of days, the new bunny had found it's way in to Elizabeth's heart and won her over. Elizabeth and her new bunny were completely inseparable. Very soon, it was just as
stinky and matted
"loved" as the original.
At bedtime she would insist that she had her "BUNNY!" before retiring for the evening. In the middle of the night, she would wake up howling for a misplaced "BUNNY!" that would jolt Charlie and I from a sound sleep. Everywhere we went, bunny went with us.
And then.


She found the original bunny.
I'm not sure where exactly Elizabeth found it. But it must have been someplace in the garage, because she came running in to the house with her arm waving over her head and screaming in glee, "BUNNY!! BUNNY!!"
It was just like a page out of
Mo Willem's
best seller.
How would Elizabeth handle having two bunnies? Would she prefer the original bunny over the secondary bunny? Or, had enough time lapsed and her grief been so great that the bond with her secondary bunny would now overshadow the love she had for the original bunny?
With her two beloved bunnies in hand, I have never seen her so excited.
As for me, I was just happy because we now had two "Elizabeth-approved" bunnies, that were completely interchangeable. I could wash one, while she held on to the other. At night, if she misplaced one in her sleep, she had a second. Heaven-forbid we ever lost one, we now had an acceptable backup.
Alas,
never once
did I expect that she would insist on having
two bunnies
with her at all times. These days, everywhere we go - she must take along
both
stuffed animals.
If one is in the wash, she will stand by impatiently waiting for it to dry.
At night, she'll wake up howling
"I need my TWO bunnies!!"
The moral to this story is
if your child has a lovey,

get a duplicate.
And then, whatever you do,
don't lose both of them.

Although, if the lovey happens to be a blanket, you can always carve it up in to smaller pieces with little to no emotional scarring on your child.