We transitioned the children out of their cribs this week.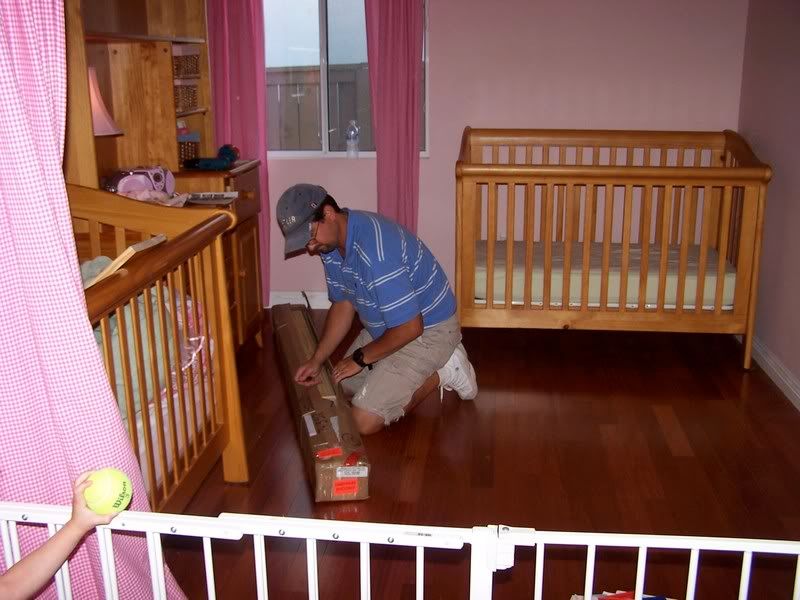 It only took
15 weeks
for the
conversion kits
that we ordered to finally arrive.
From what I understand, they walked them here.
All the way from North Carolina.
One of the cribs was converted to a full-size bed for the girls ... one of the cribs was converted to a toddler bed for William ... and the third crib will remain a crib for when Henry gives up residency from the bassinet in our room.
Charlie set about setting up the beds on Tuesday while I tried to keep the kids distracted in the backyard. When it was time to walk them in to their rooms for the grand introduction, William hesitated as he walked past the girls room, took one look at their full-sized bed and started yelling "
MY BED!! MY BED!!
"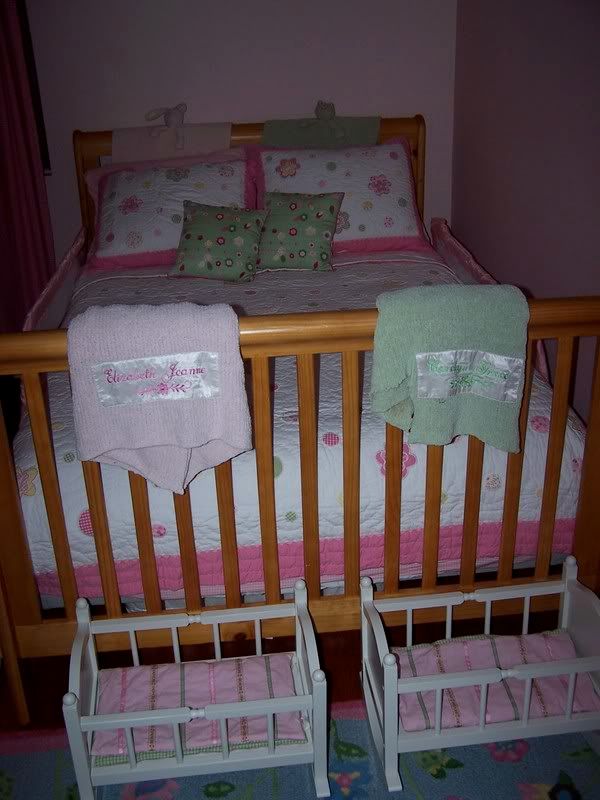 When I informed him that was actually his
sisters
bed and brought him in to his own room (that he will eventually be sharing with his little brother) he looked at his bed - which was no different than his crib except with one side gone, and shook his "
Nooooo. Dat bed is TINY. My bed da BIG bed!!
"
I could see it in his eyes.
"Oh, you silly fool. You don't know
what
you are talking about!!"
That's when I knew we were in trouble.
That's when I cursed myself for breaking the triplet cardinal rule
"Thou shalt not do for one nor two what thou hast not done for the third."
That's when I started to wonder WHY I hadn't bought fancy new sheets for William - the way I had for the girls - when I went to PBK on Sunday?!
That's when I debated leaving the house, at 7:30 PM, driving an hour north to PBK and buying
whatever
I could to convince my little boy that his "tiny" bed was really the coolest of them all.
Instead, I tried to convince our son that his bed was AWESOME.
LOOK! LOOK!! He could get in and out without having to climb over the side!!
He could ...


Well, that was about it.
William quickly re-joined his sisters and although I doubted that the three of them would ever fall asleep together, my heart wouldn't let me say no. I absolutely couldn't sequester William to his 1/2 a crib while his sisters got to sleep on the bed of
all
beds.
So for the next several hours, the kids romped and frolicked and jumped and rolled and wrestled and laughed and squealed and had sweat pouring off them like I've never seen before. Every five minutes, I'd poke my head inside the room and firmly tell them
"GO TO SLEEP!!"


I may as well have been asking Henry to get out of his bouncy chair and go fetch me a beer.
Finally, at 10 PM after listening to the children's 2.5-hour raucous, I broke up the party. It wasn't easy. There was a lot of crying. A lot of screaming. A lot of tears. William was put in his bed. Elizabeth wound up in the crib. Carolyn was in the big bed. All three of them were completely unconscious in less than two minutes.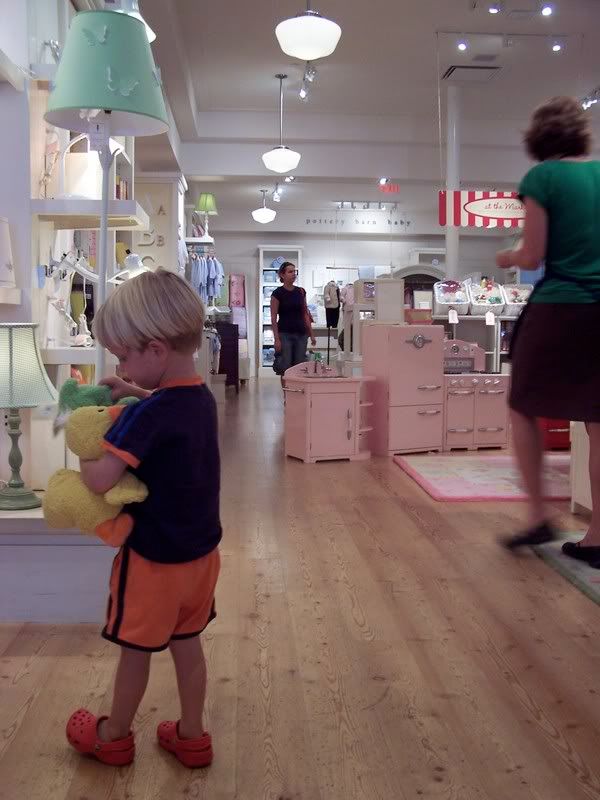 Yesterday, William accompanied me to PBK. My primary purpose for going to the store was to return the clothes that I had purchased on Sunday.
Fortunately, I came to my senses and decided that if $35.00 was too expensive for a shirt for myself, it was
much too expensive
for our children that will outgrow it in less than six months.
I had
thought
that by returning the four shirts, two jumpers and two overalls, the $300.00 from clothing could be applied towards some items for William's room. And the rest of the refund would be used to pay for a month's worth of gasoline.
I brought William along because I thought that I'd let him pick out his room decor.
That way he'd REALLY love it.
After an hour and a half in the store, I could tell that like me, William
loved
PBK.
But unlike me ... William, it turns out, also
loves
airplanes.
Because I apparently lack ANY self-control in that store, I now owe PBK an
additional
$250.00 AFTER my clothing returns.
I owe them a small scale panic attack every time I look at the airplanes on my son's bed and fervently hope that Will Brown's
premonition
, while sitting in 10th grade Geometry, was wrong.
But mostly, I owe them my gratitude for making
such awesome kids stuff
, our son's room is now the coolest of them all.
At
least he thinks so.


And really, how important is food and a mortgage, anyway??