I'm not very good about responding to questions when they are left as comments and because it's been a while since I've done a Q&A session, this is it.
Pour yourself a drink and put up your feet!!
Q1. What color paints did we use during our recent re-model?
A1. We used Behr (Home Depot) sandstone for our family room and living room and Behr cracked wheat for our bedroom. Our house had been largely painted in Navajo white previously and we're really happy with the new colors. With the hardwood floors it feels very warm and I love it.
Although, I wasn't loving it when Elizabeth slipped under the radar for 2-minutes yesterday, grabbed a stick of cherry Chapstick and created her own version of "art" on the walls and baseboards in our bedroom.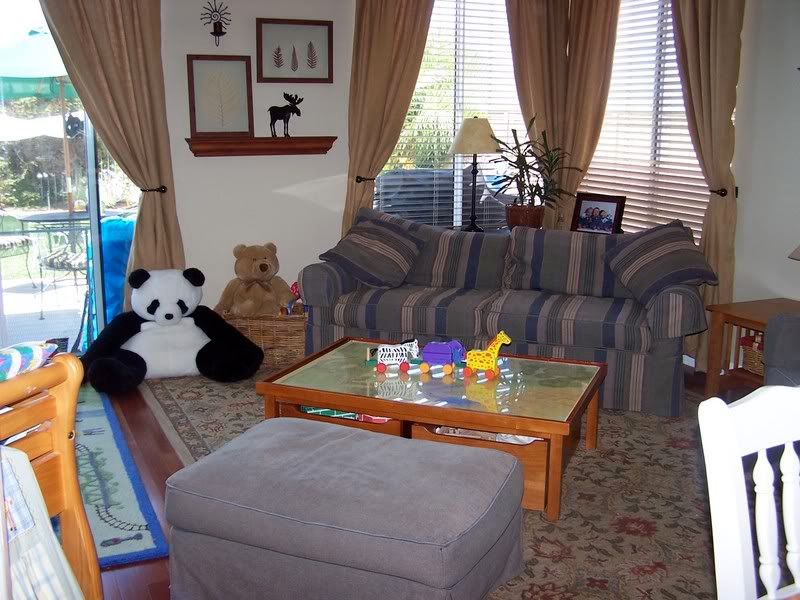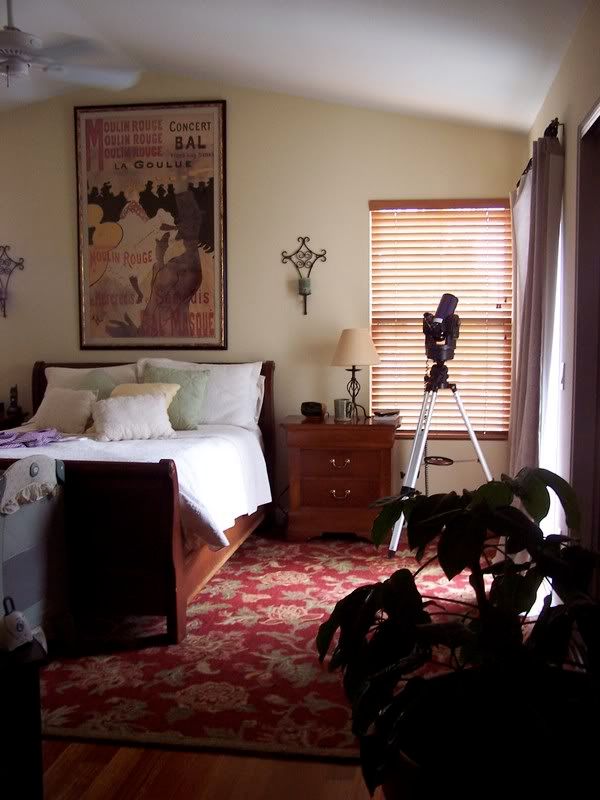 Q2. Whatever happened to
Alexandria Helena
? Was she found?
A2. Yes, and thanks for asking! She was found a few weeks after she disappeared. It turns out that she had left the house on her own volition, but as a minor - her parents were terrified. It is extremely frightening what can and does happen to children that run away from home. What's even more scary is that the police do not invest much time or effort in to looking for these runaways, and as a result, many of them never return.
Q3. Please provide an update on Poppa Alex.
Q3. Again, thanks for asking! Poppa Alex is doing
much
better. After his scary falling accident in June, he remained in Costa Rica for several more weeks. He returned to the US and is taking it extremely easy for the time being. There are plans for him and Kathleen to come and visit us and meet baby Henry in September and we are looking forward to seeing them.
Q4. Where does the name "Coleman" come from?
A4. Coleman is my mother's maiden name.
Q5. What would Henry's name have been, if he'd been a girl?
A5. I'm not sure why boys names are so difficult for me ... but I had a wide assortment of girls names picked out. If our baby boy had been a baby girl, he would have had either Mary or Margaret as a first name followed by a middle name of Alice, Anne or Jane. These are all family names, except Jane, which I just love.
I'm enjoying this singleton parenting stuff
so much
, that you never know ... we might have an opportunity to use one of those baby girl names in the future.


(That's right, a mere five weeks later and I've already forgotten the discomforts of pregnancy and delivery.)
Q6. How do you watch 3-2 year olds and nurse a baby when you're at the park?
A6. A better question is how do I look after 3-2 year olds and nurse at
ANY
time?!
Enter Baby Bjorn.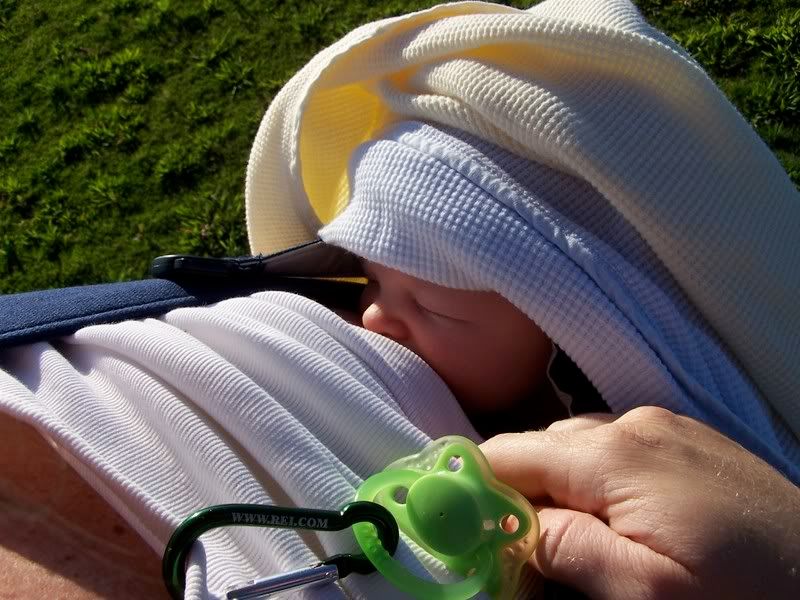 I have it set very high, so Henry is situated right at "bar level". With a simple receiving blanket draped over his head and a stretchable tank top, I can feed him while on the move. It took a few days to get "the girls" broken in ... 25.4 exactly ... but this arrangement works quite well. I'm really amazed that I can push a child on the swing while nursing our baby.
I haven't tried going down the slide and don't know that I will. But if it is something I do, rest assured, you'll be among the first to know about it.
Our children are pretty good about sticking together and will follow each other, like a pack. It started when they were younger and I would take them to the park every day by myself. In order to keep everyone together, I would herd them from one thing to the next.
I do need to add that Charlie started a 4-week paternity leave this past week. So although I currently have another set of eyes when we go to the park, once he returns to work - I'll be on my own.
Because I don't
ever
want to take on more than I can handle when I'm out in public with our children (due to my overwhelming fear that something will happen to them) I am not planning to take any chances and venture out alone ... at least not yet. I can chase down three toddlers easy enough. But three toddlers AND a newborn who is vertically nursing might be pushing it.
Q7. Since you're not as modest this time around, please post a picture of your vertical nursing!
A7. Ah, but of course!!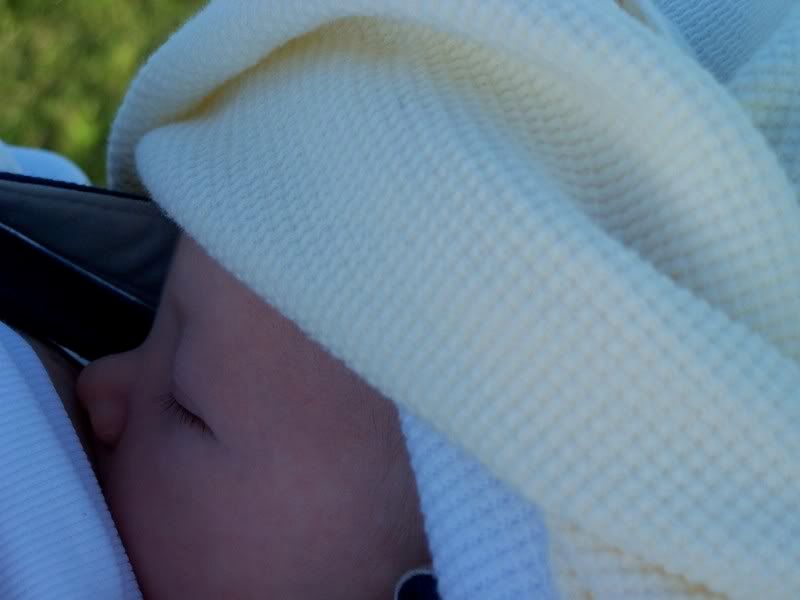 Q8. What do you do when they all start screaming at once?
A8. How I discipline our children could be an entire posting in and of itself ... and entirely depends upon on the situation.
If they are tired - I'll make sure that they have their loveys and then I'll tell them to knock it off because their whining and screaming hurts my ears. Then, I try and get them in to bed as soon as possible.
If they are frustrated over something - like leaving the park or sharing a toy - I will get down at their eye level, have them look right at me and ask what the problem is. Once I establish eye contact, they are usually able to describe in a way that I can understand what is troubling them. I will try to rectify the situation or explain why things aren't going the way they want (for instance it's time to go home and we'll come back to the park tomorrow ... OR ... we have to take turns with
all
of our toys).
The most important thing is consistency.


I. DO. NOT. CAVE when they start whining or screaming, not even if we are in public. I don't want them to think that their bad behavior can influence the way I respond. If anything, they are
quickly
learning that their whining and screaming
never
has a good outcome.
These little people are smart and it's
extremely important
to set limits and stick to them. At all costs, I
try
not to start screaming, too.
Q9. Since it's broken twice in less than two months, maybe you need to consider replacing your refrigerator.
A9. If the refrigerator was older than 18 months, I would agree. But the problem is, we spent $1,000.00 on this Maytag (Kenmore brand) refrigerator less than two years ago. Our primary refrigerator in the house, a KitchenAid Superba (to match the dishwasher) is very small and could never hold the orange juice and milk requirements for a week at our house - let alone all the other food that we need to keep cold.
The compressor went out on our second refrigerator in late June and it took almost three weeks to have repaired (this was during the same time our dishwasher was broken for the umpteenth time). When I noticed that my beer was warm two weeks ago, we checked the temperature and sure enough, it was failing again. What really had us concerned is that our KitchenAid refrigerator - in the house - was ALSO failing.
Miraculously, our KitchenAid refrigerator fixed itself the next day. Yesterday, when the Sears technician came to check our Kenmore refrigerator, he said that it had also miraculously repaired itself. Unfortunately, not before all of the food that had been in the refrigerator went bad before we realized the problem.
The technician told us that with these new "computerized" refrigerators, they fail a lot more frequently than they used to. Sometimes, unplugging it and plugging it back in again will reset the computer and fix the problem. I thought he was kidding and started laughing out loud.
Turns out, he was serious.
Because I'd like something a little more dependable to refrigerate the $200.00++ worth of food that we purchase every week, I'm debating buying 40 dorm refrigerators like the one I had in college.
Q10. What is your banana bread recipe?
A10. Here is a
link
to the recipe I provided back in October.
But wait!!!
There's a twist!!!
When I came home from the hospital with Henry, one of our good friends brought over a loaf of banana bread that was positively awesome. Their *secret* ingredient was chocolate chips.

That's right.
They threw semi-sweet chocolate chips in to the batter and it turned run-of-the-mill banana bread in to heavenly goodness. I added a cup of chocolate chips to our recipe earlier this week and 48 muffins were gone in about 12 hours.
Just think of the possibilities... if I were to use this *secret* ingredient in other dishes, I might be able to get our children to eat broccoli!