I am absolutely, positively, inexplicably in love. I never would have thought it would be possible that I'd have
enough love
in my heart for another child.
But I do.
My feelings surrounding our little baby are so intense, I don't even know that I can begin to describe them.
But I'll try.
He is amazing. He is beautiful. He is pure magic. He is divine love. He is a gift unlike any gift I have ever received and I am treasuring each and every minute of each and every day with him.
Even those minutes that span from 2 AM until 6 AM.
I am extremely thankful for the privilege of experiencing motherhood,
with an infant
, again. It is
incredibly
different with a singleton. More different than I ever hoped for or imagined.
I am able to devote all of my attention to one baby.


When I am not wearing him, I am holding him in my arms, or on my lap. Or, bouncing him in his chair with my foot.
Charlie tells me that I'm a baby hog and I can't refute it. Nor do I try.
He is my little buddy. He sleeps in a bassinet next to our bed until 2 AM most mornings. And then, I scoop him up and nestle him in bed next to us, where he remains until we get up for the day.
I don't worry about rolling on to him the way I did with our triplets.
I'm not as completely exhausted with him as I was with our triplets.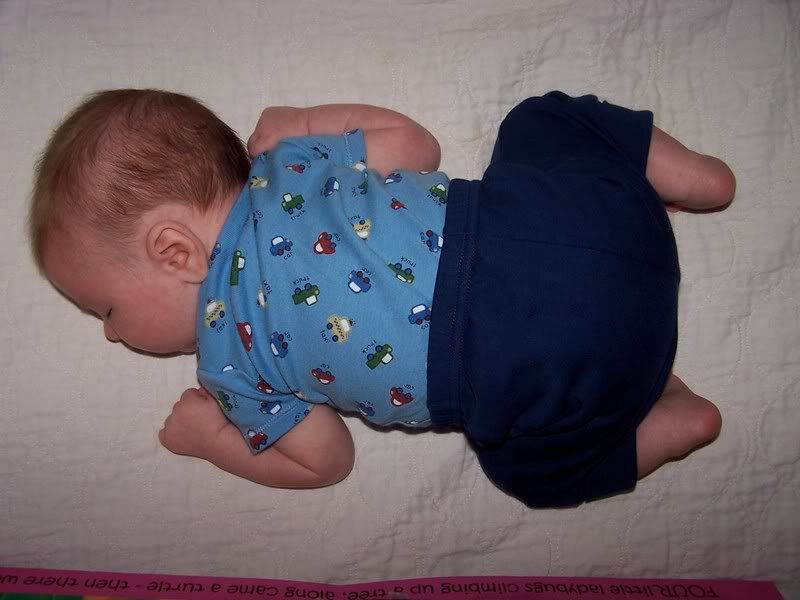 I can hear his breathing, even in my sleep. My motherly instinct with co-sleeping that I'd heard about and called phooey before, is firing on all cylinders, this time around.
I nurse him whenever he needs it.
It seems I nurse him all the time.
And I love it.


I love holding his tiny hands and his tiny feet. I love his corn niblet toes. I love the new rolls of fat that are accumulating on his legs and arms. I love his fat cheeks. I love his bright blue eyes, pug nose and peach fuzz baby hair atop his perfect head.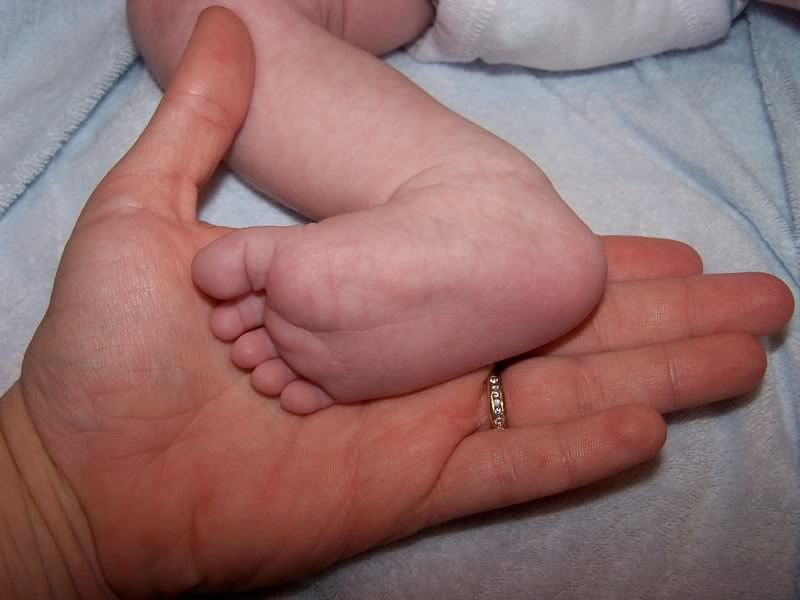 I love his ears. The tiny little ears that need to be tested for a third time at Children's Hospital because it appears there might be hearing loss in one of them.
But that makes me love them even more.
I love the way that his legs curl up underneath him when he is on my chest, resembling the fetal position he maintained for 40 weeks, in my womb. I love that he rarely cries, probably because I am never more than five feet away, but when he does, I love the sound of it.
Six weeks and a few days later, I am in absolute awe that God has blessed us,
again
, and I thank Heaven, constantly.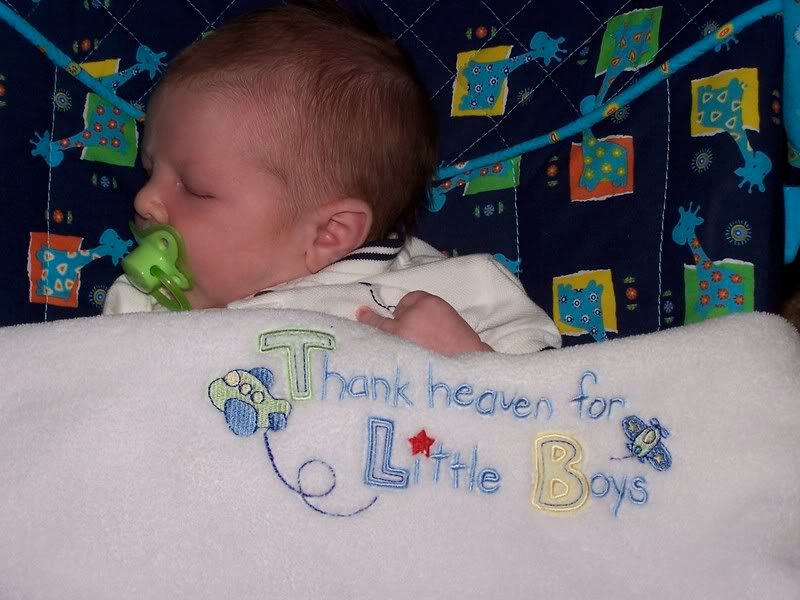 I
never
want this time to end. I don't want for our baby to grow up and not need me the way he does at this
very
moment.
But he will.
And I am sad, to the point of tears, because I know how fast it will happen. He's doing it right before my very eyes.
In the six weeks since his birth, he has already grown 3.5 inches and hasn't fit in newborn diapers for almost four weeks. It makes me realize just how important it is to treasure
all
of this. To relish all of the changes, because he is changing so fast.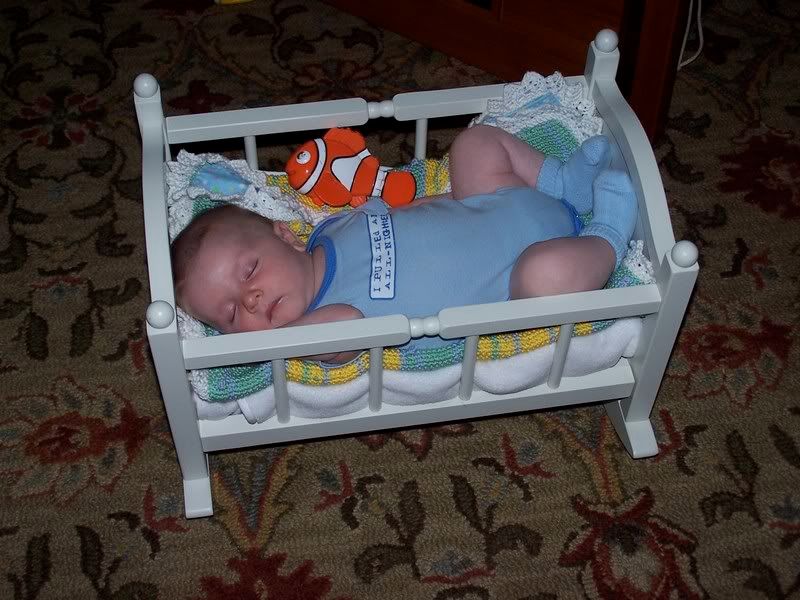 I am seeing things with him that I didn't see with our triplets.
Our triplets didn't even come home from the hospital until they were six weeks old. And when they did, they were still three weeks premature. I was in a daze of exhaustion and fear with three premature newborns.
I have never felt so confident as I do with our new baby.
At six weeks, Henry is smiling and starting to coo.
He recognizes us and his eyes light up when ever he focuses on my face.
His little arms flail around without control and his little legs work furiously like he is pedaling a bicycle. When I nurse him and he is particularly hungry, his little head bobs like a woodpecker and shakes rapidly from side to side until he is latched on. And then, his eyes will roll back and his entire body goes limp while his hands open wide revealing tiny fingers. He is gaining neck control and will lift his head for brief moments, when placed on his tummy.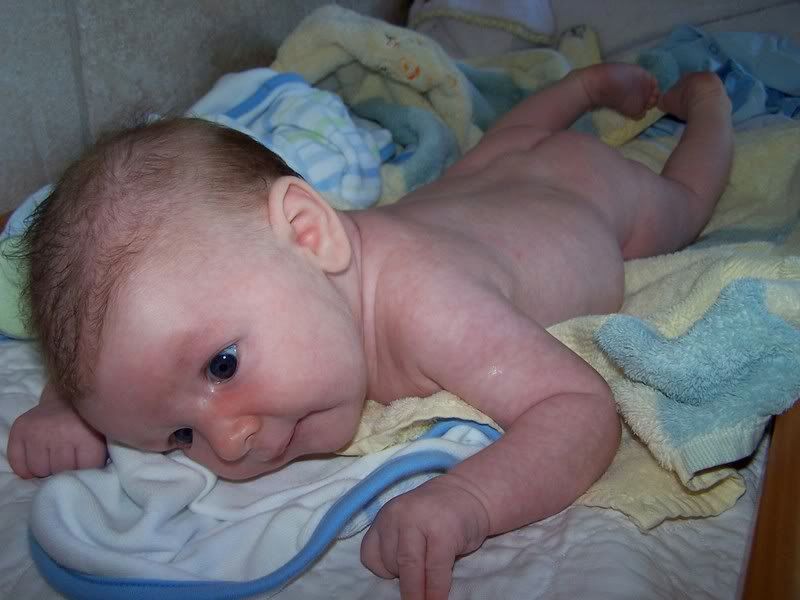 He is soaking up the world around him and all of his family is soaking him up.
The children absolutely adore him. They ask for him first thing in the morning and insist on kissing him before bed each night. They run to find his pacifier if he is crying and will tuck his blanket in beneath his chin.
When I hold Henry, my heart aches for more children.
I want to be able to experience this magic ... again and again.
And again.
I wish that I could have had the same kind of bonding with our triplets that I am having with their brother. I wish that I could have showered all of my love and affection on each one of them - the way I am showering love and affection on my newborn. But, then again, our triplets shower each other with love affection that I can't even match.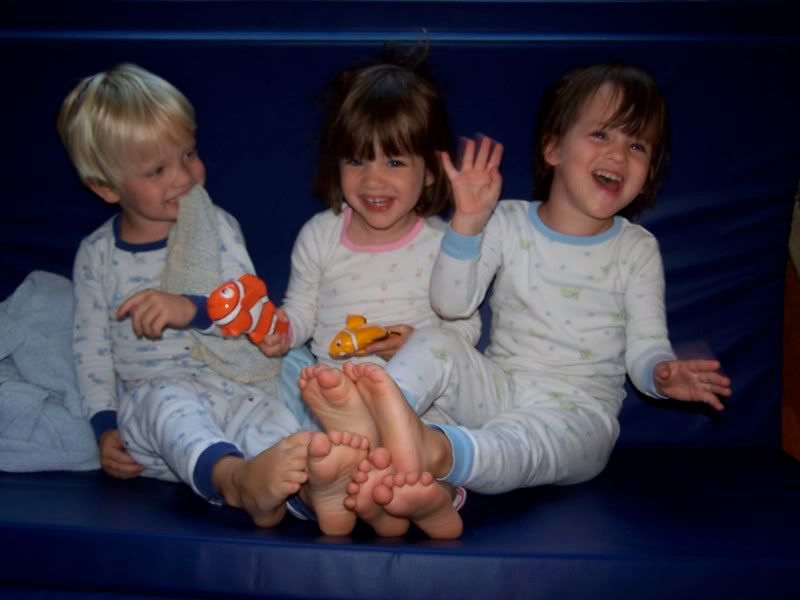 Albert Einstein once said that there are only two ways to live your life. One is as though
nothing
is a miracle. The other is as though
everything
is a miracle.
I am surrounded by miracles. I see them everywhere I look.
It is a miracle that any of our children are here.
It is a miracle that with three two-year olds, that have the ability to drive me nucking futs
several times a day
, I yearn for more babies.
Charlie tells me if we have more children, we have to get a new car. He also tells me that there are only four sides to our growth stick. From what I can tell, those are his only valid arguments. But then he adds,
with four children
, we will have lots of grandchildren that we can dote on.
So even though I am holding a newborn on my chest, I'm thinking about how wonderful it will be, thirty years from now, when we can have our grandchildren come stay with us for a few
months
days.
And then, I predict I will be writing
Dear Abby
letters for advice on how to convince our children to let me take my grandchildren. They are
mine
, after all.
But for right now, I'm savoring
our
young children. I'm also doing my best to savor the moment, which as I watch our babies growing up ... I am reminded is a gift.
Isn't that why they call it "the present"?