My father and sister and seven-year-old nephew are visiting with us this week and we are having a great time together. After they'd been with us for a few hours and the kids stopped acting shy and were running through the house screaming like banshees, I joked that the cruise ship they saw in the San Diego harbor driving to our house from the airport - is the same boat that Charlie and I have tickets on, and we'd be leaving for Cancun in ...
let's see what time is it now
... three hours.
Surely they'd be fine watching the kids while we partied in Mexico for a week. Right? My sister nervously laughed and asked
"Sure. Where do you keep the Valium and velcro?"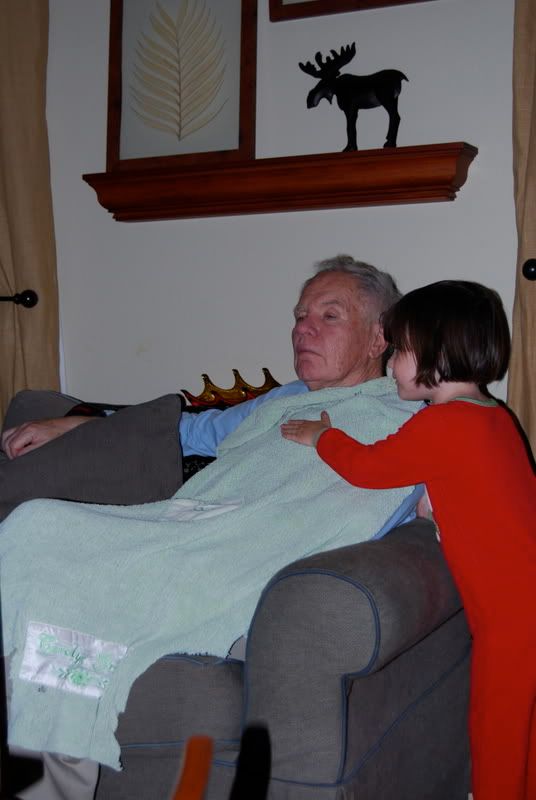 We've been busy,
busy
and we have something scheduled to do every day this week. If people who are planning to come visit us in San Diego are looking for a relaxing vacation ... they might want to rethink their vacation destination. If the kids don't Tucker them out ... spending full days at the Zoo, Wild Animal Park, Sea World, Legoland, the beach, and our neighborhood pool surely will.
Since our computer is in the living room (aka: dining room / southern play space / guest room) my access to things like say ...
my blog
... will be limited for the next few days. As time allows, I'll be addressing some of the questions that I've received over the past month. Because really, with three new people in the house - and activities scheduled almost every moment of almost every day - my brain capacity for writing about the motivation in teasing as a function of birth order and hair color, is nil.
So, with my next few updates, I'll answer questions about Montessori, what will happen to Henry
if
when I go back to work, plans for weaning, things I do with the kids for fun, and I'll also throw in a good recipe or two. Maybe, I'll also have the chance to publish the kitchen organizational post that I started working on twelve days ago.
*******


What would you do about benefits if you quit your job?
Currently all of our benefits are through my employer, but thankfully, Charlie works for a company that offers good benefits, too. Although, we would not be eligible for a 10% discount on gas, or three teeth cleanings a year ... we
would
have excellent medical and dental coverage. We would also have the option of visiting a chiropractor - if we so choose. And maybe I would, if I wasn't
completely
freaked out by the thought of someone "cracking" my neck and "adjusting" my spine.
How do you keep toys that your older kids play with, away from the baby?
All of the toys that I have out are toys that Henry can also play with. Toys with small parts or that are breakable (i.e. ceramic tea set) are tucked out of sight and I only allow the kids to play with them when they are sitting at the table and I can directly supervise what they are doing. Thus far, it hasn't been a problem because what the kids cannot see, they do not want to have. They stay happily entertained with all of the larger, nonbreakable toys or stuffed animals that they have access to.

Have you ever considered advertising on your blog to offset the cost of preschool?
Yes. And then, no. I'm not too sure about advertising. For those who do advertise on their blog, I'd like to know if the revenue generated is really worth having ads on the site. I've been contacted a few companies that have wanted to advertise here and I haven't been interested. If there is a particular product - or company - that I think is good enough to mention, I will. But I don't want to have random advertisements show up based on key words that are in a blog posting, that I may or may not endorse. Particularly when I write about the
elongate
and how this gate that expands to 14-feet was a life saver when our triplets were infants.
Go ahead. Type elongate on Google and tell me what
you
find.