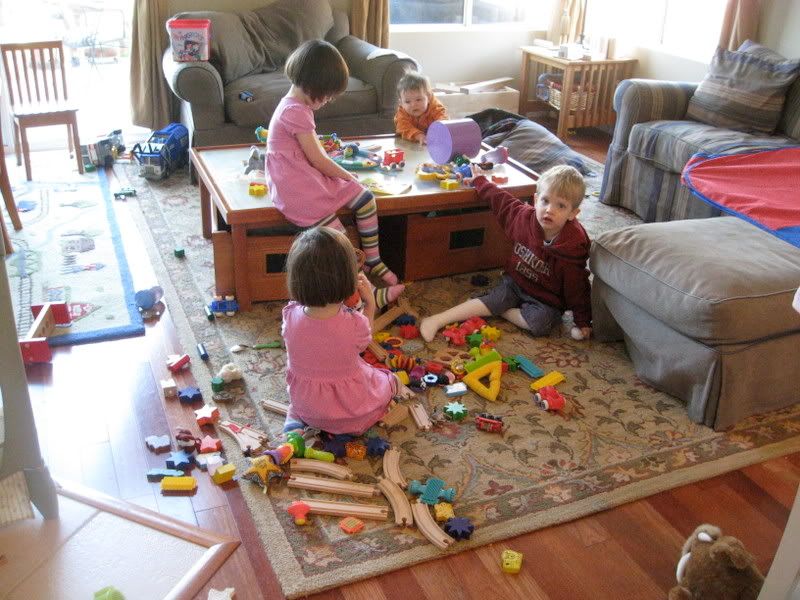 Have you ever felt the urge to throw away
every
toy in your house?
Yeah, me too.
That is why a few months ago, I found myself stomping through our house with a trash bag in hand and shoving in to that bag at least
80%
of the toys that were cluttered all over the place.
I made the hasty decision to do this after I felt like I was
constantly
picking up the same stuff over and over (
and over
) again. Several times, everyday, I was picking up toys that the kids weren't even playing with, but removing from their storage space and
dumping
all over the floors.
At first, I was ready to throw the whole bag (actually, all
four
bags) directly in to the trash, but I caught myself. There were some
very
nice toys that I knew our children would play with, but not when they were strewn all over the floor and shoved in to drawers. So I methodically went through the toys - once the children were
out of my way and not in a position to intefere
in bed sleeping and I made an immediate determination with each item.
Were there parts missing?
Do they play with it?
Do they enjoy it?
Is it age appropriate?
Is it a pain for me to clean up?
At least 50% of the toys I put in to the four bags were donated to Goodwill and the remaining 50% were moved in to clear storage bins in our garage, that were labeled and easily accessible. This was the beginning of "toy circulation" as I know it, and these days, it is a
very
big deal for the children to bring something "new" in from the garage to play with.
However, whenever something "new" comes in to the house - something
from the house
goes in to the garage. This is key, because otherwise, our house would soon be filled to the brink with everything that I had moved out because
children are natural born hoarders and must carry in their little arms whatever they can get their hands on as if their very lives depended upon having that ...

thing

.
At least monthly, I will do an inventory of what we have in circulation. If toys become broken or lose parts, or if I make the decision that the children have outgrown the toy, or never liked it to begin with, I will immediately discard it in the trash, or donate it to charity. Also, I have figured out that if we have the space to store things, we will generate
more
things. Therefore, I am of the mind that no new storage bins will be purchased. If something doesn't fit, room must be made, even if that means I'm packing off more stuff to charity.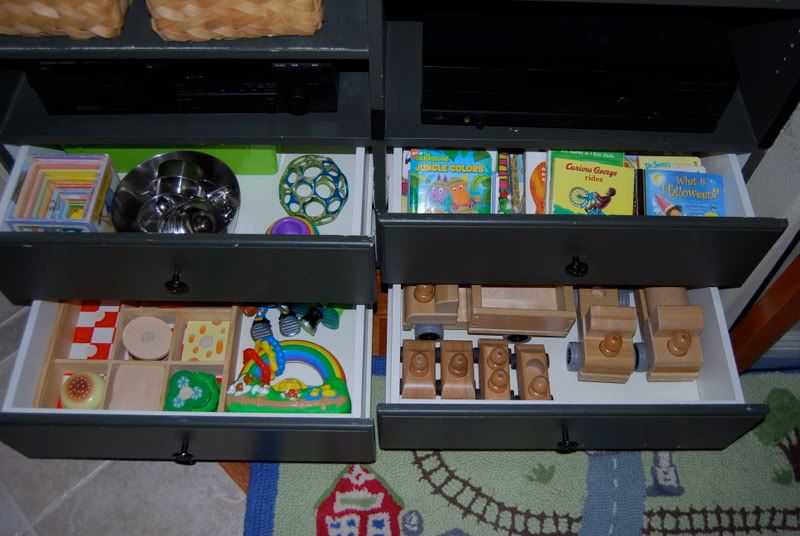 Initially, I thought the kids would really miss the toys that I removed. But in contrast, once I moved out more than ¾ of their stuff, they started playing better - they were more focused - and interacted more cooperatively than they ever did before.
The sensory overload of too much stuff that was affecting me had been affecting them, too. Or, maybe they were just in shock wondering where all their stuff went?
Anyway. Potato, Potatoe.
I choose to believe that with just about everything in life - but especially toys -
less is more
. The more toys that you have out, the more that children are distracted.
Particularly young children.
When I have
less
toys out for them to play with, they are engaged and not as easily overwhelmed by all the "choices".
What I find extremely interesting is that Henry's favorite toy at nine-months old, is a metal mixing bowl and large wooden spoon. Likewise, our triplet's favorite toy at three and a half years old, is a metal mixing bowl and large wooden spoon. A close second favorite toy, for both the baby and the toddlers, would have to be an empty toilet paper, or paper towel roll.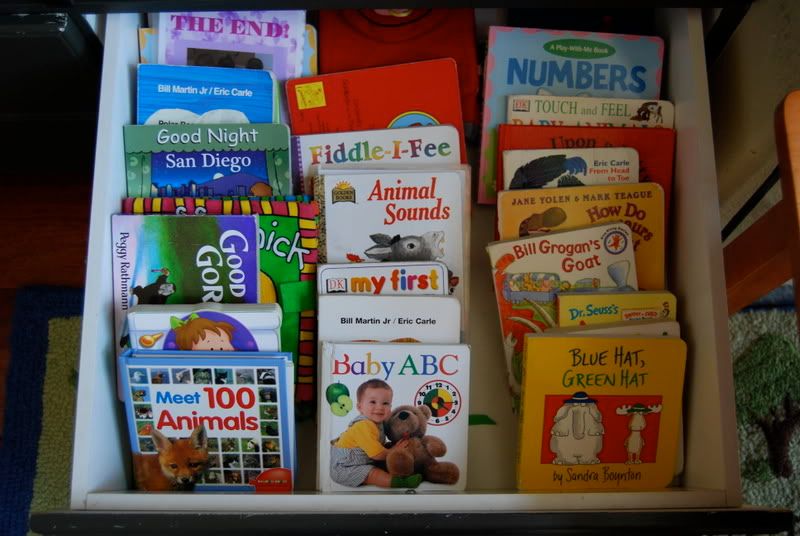 Or maybe a cardboard box.
The point is: It doesn't take much to keep young children happy.
The simpler, the better.
One of my greatest abominations are toy chests that are stuffed with every item imaginable. Toy chests that are stuffed in this manner, soon turn in to toy compost piles.
As for me, I need to know
exactly
where all the pieces to various puzzles are located - and not have blocks mixed in with trains mixed in with books mixed in with dolls mixed in with stuffed animals.
Everything has it's place a
nd everything, at the end of the day, is tucked away in it's place.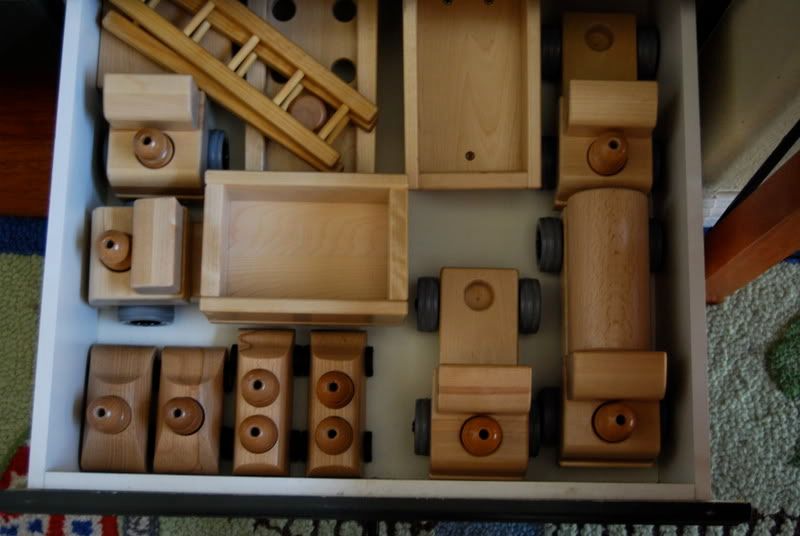 Because the kids know where things are - and where things go - they have been working with me on cleaning up after they play.
I make it a point that if we are playing with blocks, we put blocks away before we bring out trains. Or, if we are playing with dolls, the dolls go away before we break out crayons.
We don't have the space to set up a separate toy room, and even if we did, I doubt that we would. The kids are happiest playing near me and I am usually in either the kitchen or the family room. Also, even though our house is relatively small and children outnumber us 2 to 1, our home is not dominated by toys. Instead, we have a very kid-friendly environment. But with the toys that we have in the house, I have organized them in such a way that when they are put away at night, there is almost
no
evidence that children live here.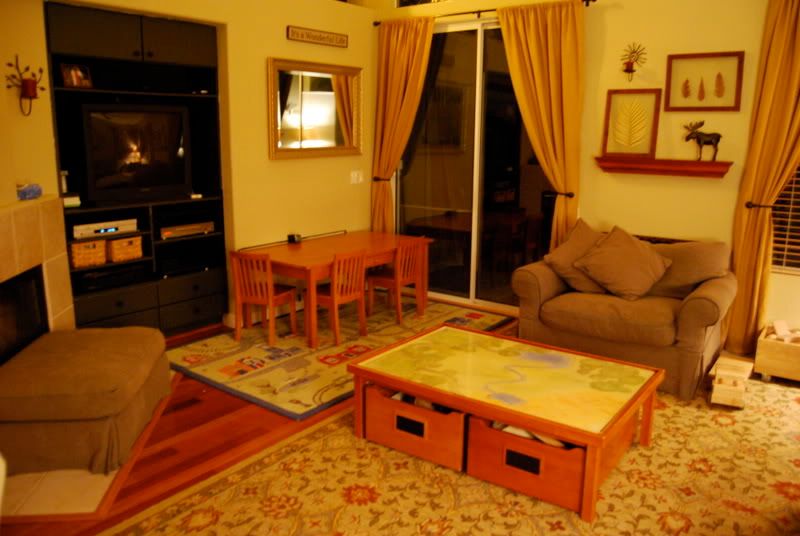 Not that I'm trying to
hide
the fact that we have kids, but after a long day spent with children, the last thing I want to do is trip over toys on my way to the couch whilst holding a glass of wine.
It is very important that our house is our sanctuary and it's not very relaxing to be
surrounded
with kid paraphernalia 24/7.
So, I select toys and toy storage systems that blend with our home and don't glaringly look like kid furniture. And, I devoted all the drawers in our entertainment system to holding various toys and puzzles.
Our children's activity table is honey-maple wood that works great for them - and goes well with our decor. During the day, it holds train tracks, puzzles, blocks and books. At night, all of those toys are tucked in large roll out drawers underneath and it holds a bowl of popcorn and a bottle of wine.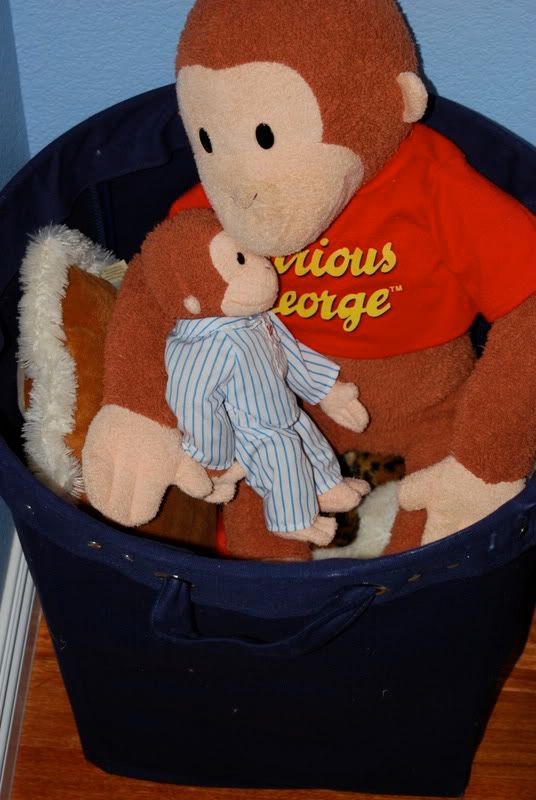 This is a timeless piece of furniture because not only does it blend with our home now, but as the kids grow older - it will grow with them. Fifteen years from now, when they are teenagers - they can still use this table to construct 1,000-piece puzzles or play a game of Risk - and not feel goofy for playing on a kiddie table.
I use baskets extensively.
I could write poetry about my love of baskets.
Wire baskets, wicker baskets, fabric baskets, straw baskets, bark baskets, sea grass baskets, wood baskets.


I love baskets and I use them for everything.
Some baskets are out in plain sight, others are tucked in to drawers.
I keep large baskets or bins in each of the rooms in our house. All of the toys I have divided up based upon use or type. For example, stuffed animals are in William's room. Electronics are in the living room. Dolls are in the girls room. Puzzles, books, cooking gear, trains, trucks and blocks are in the family room.
I have moved bulky toys (shopping carts, doll carriages) and excess books (that also go in to circulation) out to our garage where they are stored in accessible bins.
Because I am frequently moving through the house - and the children follow me wherever I go - they have various "new" play items in each room. Yet before we move from one room to the next, it is easy enough to toss all the items that they played with (unless there is something in particular they want to keep out), back in to the basket.
Toys with numerous parts, I only bring out when I can supervise or interact with the children playing.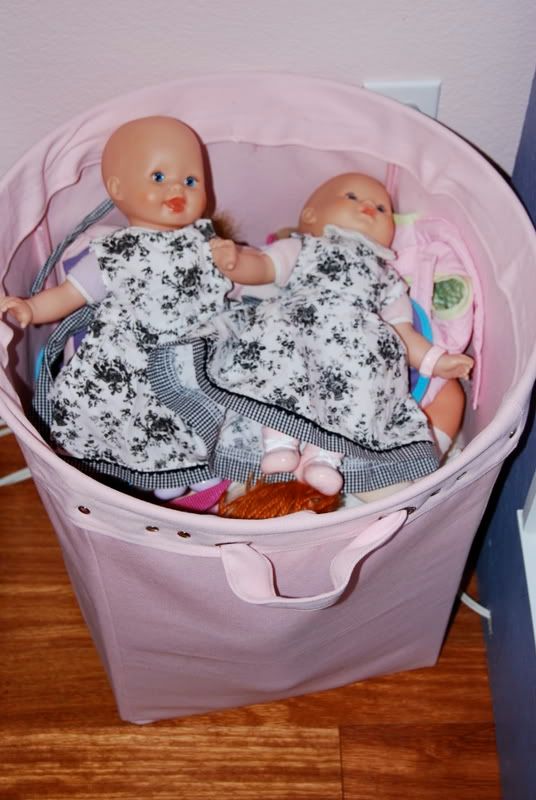 For instance, Legos are great, but after playing with them for around 30 minutes, I will pack them up and put them away. As much as the kids love Legos, after a certain period of time (10 minutes?) the art of building stuff, becomes the art of hiding and dumping stuff and colorful blocks will disappear - only to resurface in the dishwasher and/or body of Charlie's acoustic guitar.
Unless your kids are older and understand the concept of picking up after themselves, I would limit the number of toys with parts that they can play with. For example, we have wood food that the kids love. But, I will only let them play with one thing at a time. If I were to give them the birthday cake, pizza set and sandwich set - in no time flat - all of the pieces are all over the house. The same applies to their magnetic dress-up doll sets and string bead sets.
Some might call this hiding toys from children.
I consider it successful toy management.
So, in summary:
1) Reduce the number of toys in your home by at least 50%;
2) Either give excess toys to charity, put them in storage bins for circulation, or throw them out;
3) Maintain toy storage space that works well with your decor;
4) Employ baskets and bins for toy segregation and keep different toys in various parts of your home. Keeping in mind that not everything needs to be in one space and chances are, your children will remain entertained for longer, if your whole house, as opposed to one room - is open for them to play;
5) Put your feet up and drink a glass of wine.
Next, I'll be reviewing kitchen space and storage.