My family that had been visiting us for the past week, left yesterday morning. It was beyond great to have them here. Not just because we haven't seen each other for over two years, but because having the extra set of hands to hold the baby - play with the children - and fold laundry was
wonderful.

We spent my birthday down by the bay. Although I never forget my camera when I step foot out of the house ...
I forgot my camera
. In fact almost every time we stepped foot out of the house,
I forgot my camera.
I do not have any pictures of Carolyn riding her first roller coaster at Legoland while Elizabeth and William were at home with Charlie - battling the stomach flu. Nor do I have any pictures of my nephew and William flying their kites 400 feet above their heads. But I do have pictures of us singing Happy Birthday.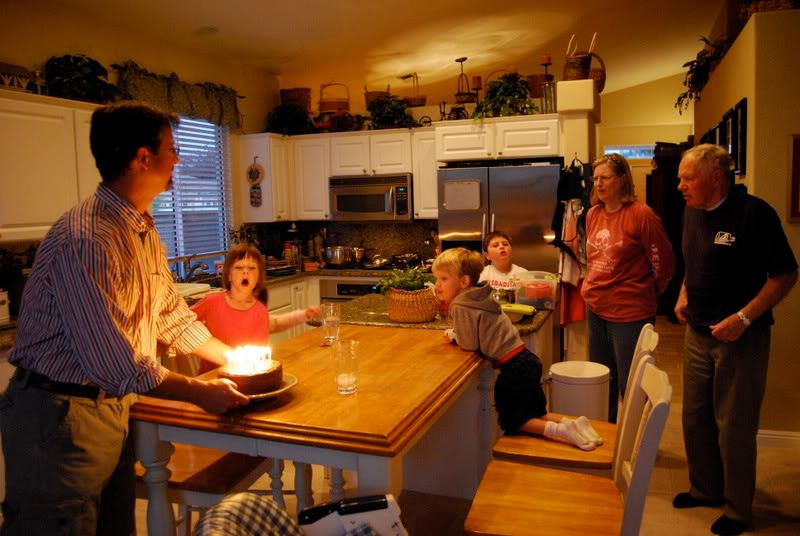 On two separate occasions.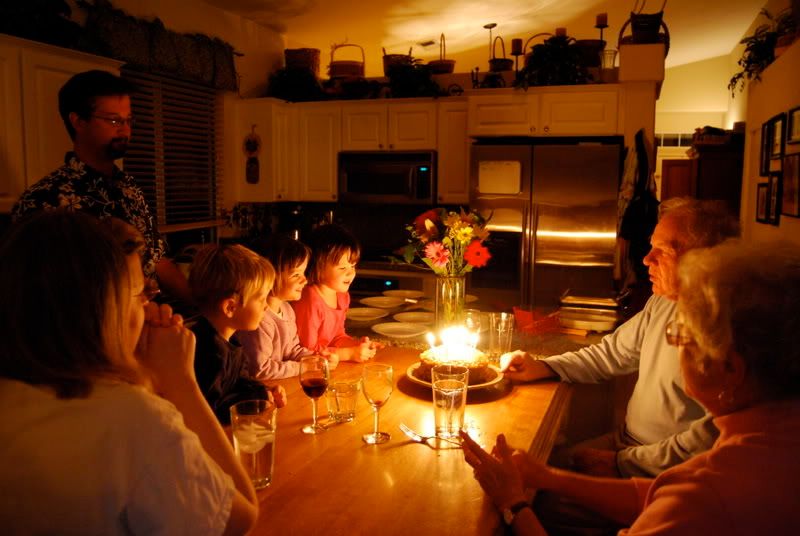 I have pictures of the kids playing with their playground which is where they spent almost every waking moment when we were home.
I have pictures of my father seeing Shamu ...
And the Budweiser Clydesdale Horses for the first time.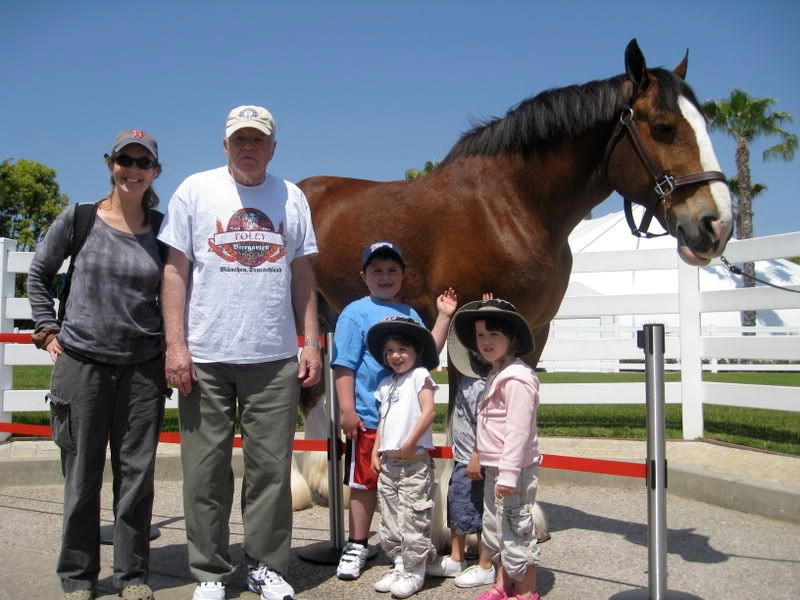 I also have pictures of us visiting beautiful Coronado Island where my nephew splashed in the waves with his cousins...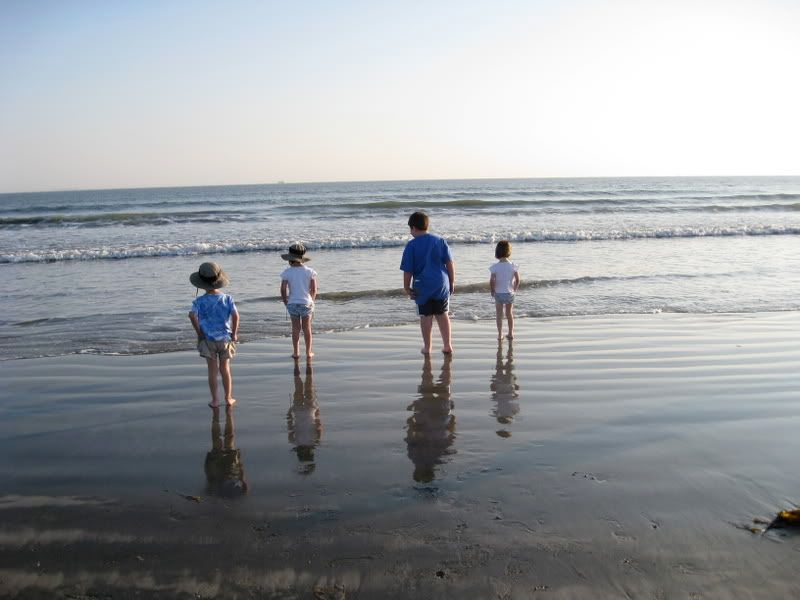 And I tried to teach the kids how to do cartwheels.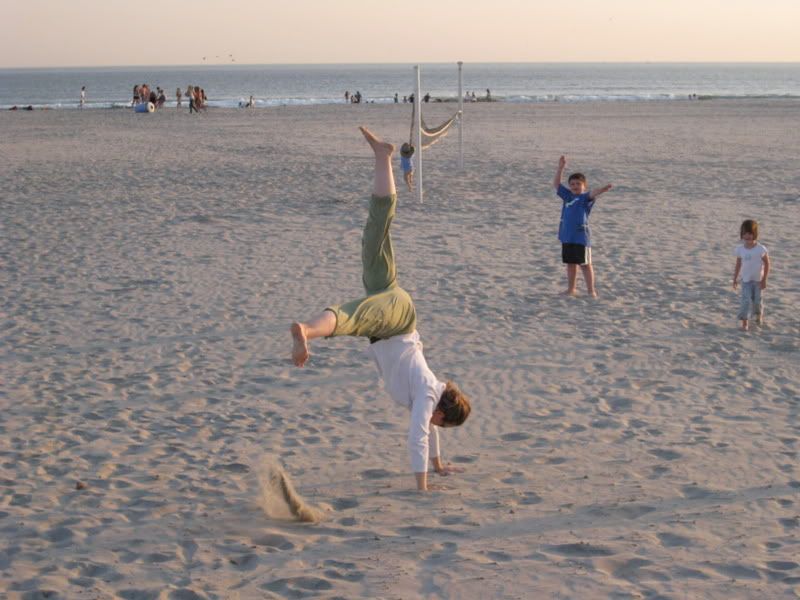 I have pictures of my Henry trying to pull my sister's lip off ...
And Henry trying to pull my nephew's lip off.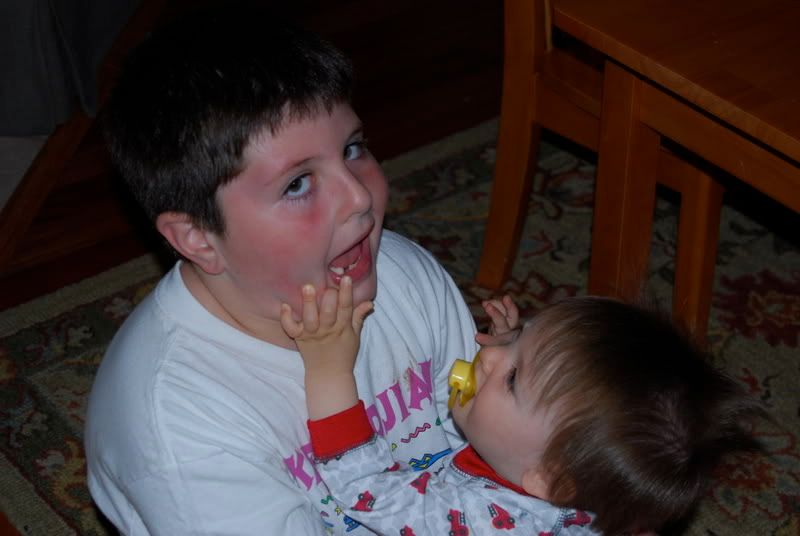 But most importantly, I have a lot of pictures of my dad with my kids.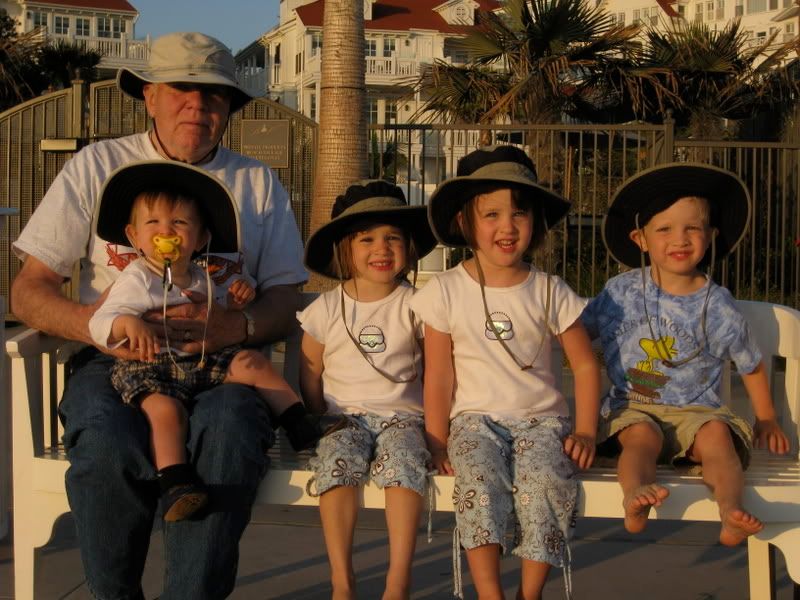 I have pictures of him spinning Elizabeth,
the princess.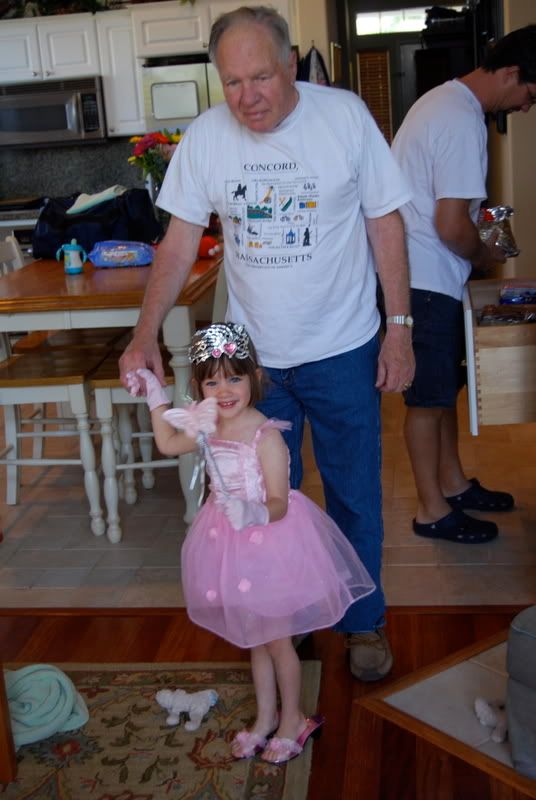 I have pictures of him wearing the new sun hat that I bought him to match his grandson's.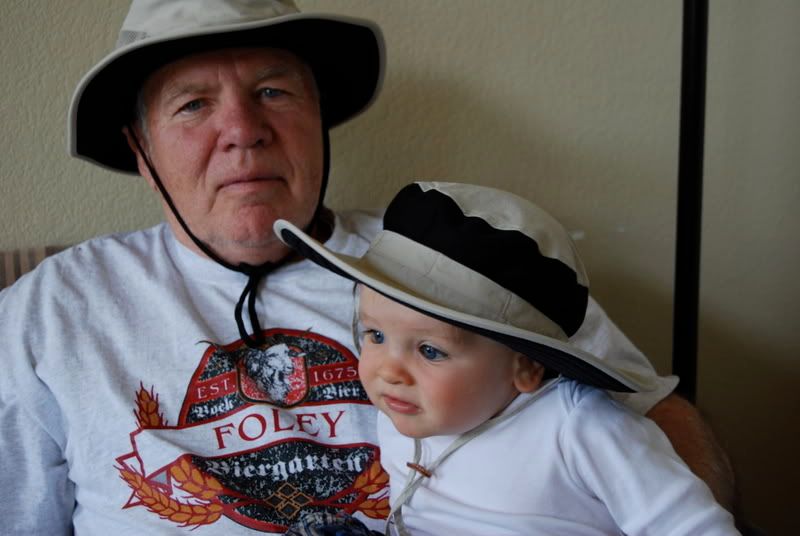 I have pictures of him feeding my baby and saying
"Open, Open, Open, here comes the choo-choo!!"
much the way that I remember him feeding me when I was a little girl.
I have pictures of him holding hands with Elizabeth, and pretending to suck his thumb, much the way I remember him also pretending to suck his thumb
like I did
, when I was a little girl.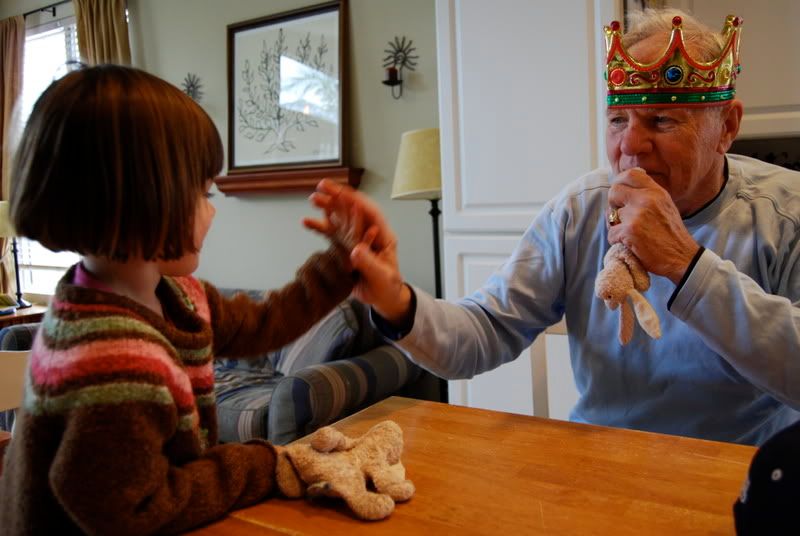 I have pictures of Carolyn doting after him, insisting that he wear his birthday crown, bringing him blankets while he napped on the couch, and making sure that his teeth were brushed before he went to bed at night.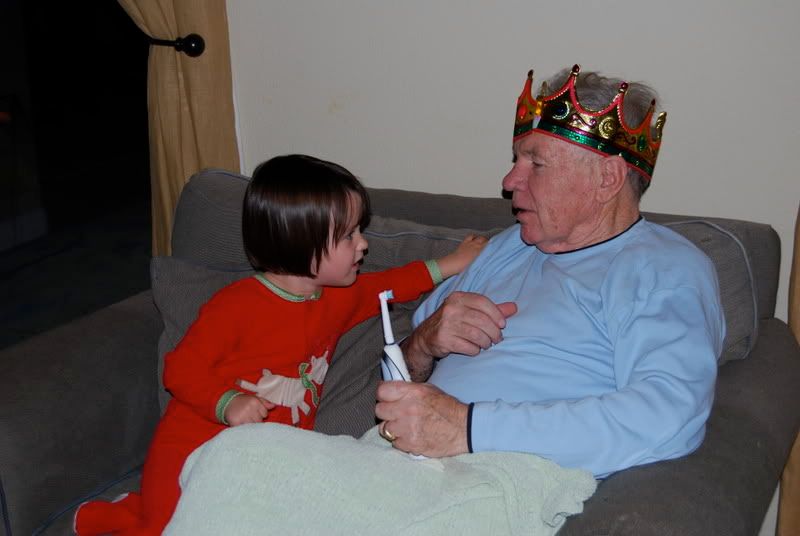 I have pictures of Carolyn (before we moved her to another location) kicking the living daylights out of him while she was asleep, because she was adamant that she stay with Grampy and keep him safe.
And apparently, bruised.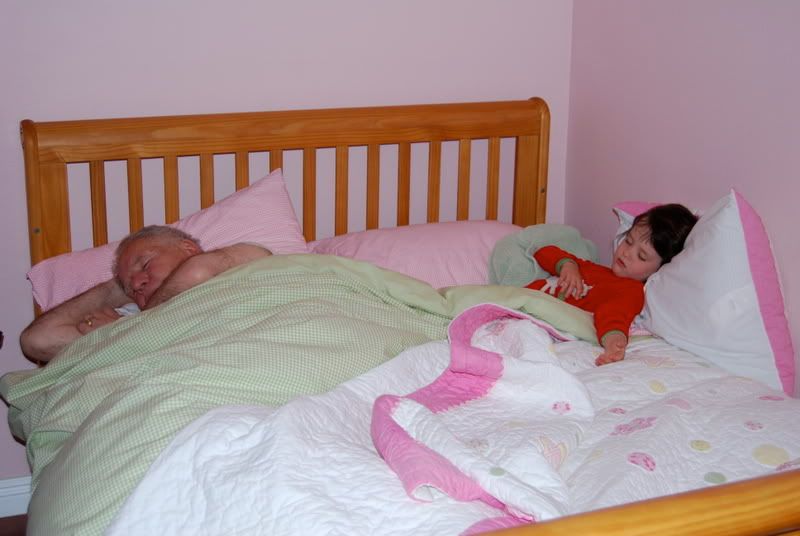 I have pictures of the kids tentatively trying to wake him up from his naps.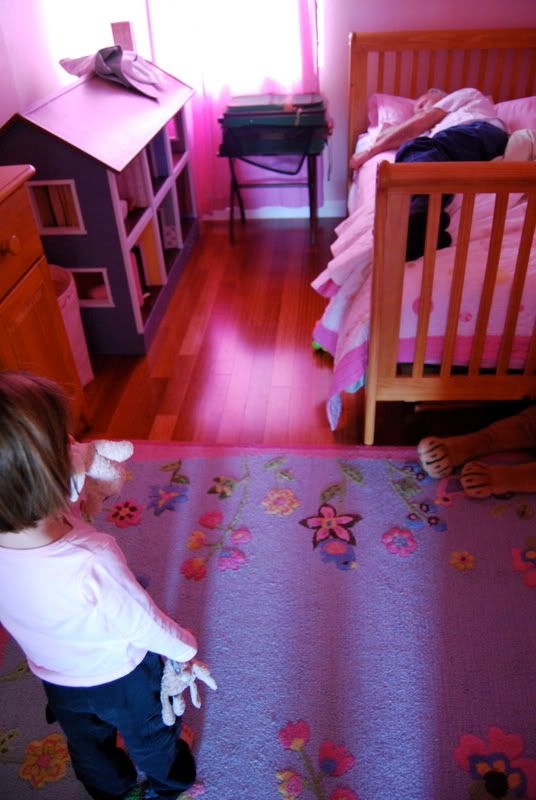 And pictures of him when he found our old corn broom and spent an afternoon sweeping our entire patio and walkway.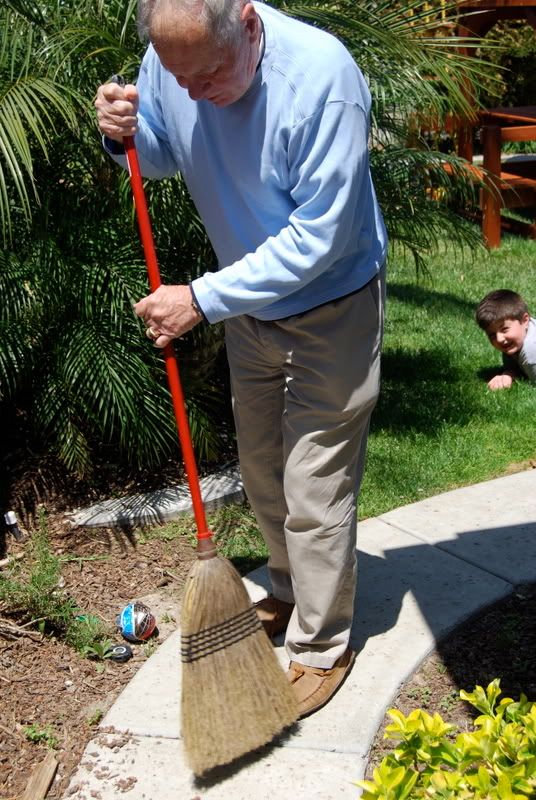 Dad has always loved to sweep. I have vivid memories of him with an old corn broom in hand sweeping the front steps of his pharmacy. I also have memories of him sipping a cold Budweiser every night. We kept our refrigerator stocked with Budweiser for dad while he was here. He liked that. He also liked Bill Bryson's book "A Walk In the Woods" which I gave him to read.
It was when I was cleaning out the refrigerator last night and found the one remaining can of Budweiser, that the emotions I'd been holding at bay all week came flooding out. It was then that I realized the great circle of life means that one day, children will be more capable than their parents.
The Parkinson's Disease has really advanced since I last saw my dad in December of 2005. He walks much slower than he did before, and it can be extremely difficult to hear him because his voice is so weak. He sleeps a lot ... definitely more than Henry. He said it is because of his medication and the fact that Parkinson's makes him feel very fatigued.
Although he has aged a lot in the past five years, it is hard for me to shake the image of him as a strong, independent man. When I see him now, my heart hurts. When I think of what he has been through with his
recent divorce
, his declining health - and the circumstances that lead to the divorce from my mother - my heart hurts even more.
My sister might be selling her house and moving in (with her husband and son) to live with my father soon because it is clear to us that he really should not be living alone. Although the family has suggested that dad sell his house and move in to a condo - or something smaller and easier to maintain - he is certain that he wants to remain in the home that he built 30 years ago.
I feel so helpless living 3,000 miles away. I've talked to Charlie about moving back so that I could be closer and help,
closer so that I could see him.
But it's just not feasible. Our house is here. Our careers are here. Our professional registrations are here.
Our life is here
. Dad's life is in Massachusetts and that's where he wants to be. Yet, it doesn't seem possible that I have already reached a point in my life where I need to be thinking about the care of an aging parent.
When did time start moving so fast?
We are making plans for Christmas in New England. I want to get back and see him and hopefully, give our children an opportunity to create memories with their Grandfather. It's so important that we spend quality time with our loved ones, while the sun is shining.