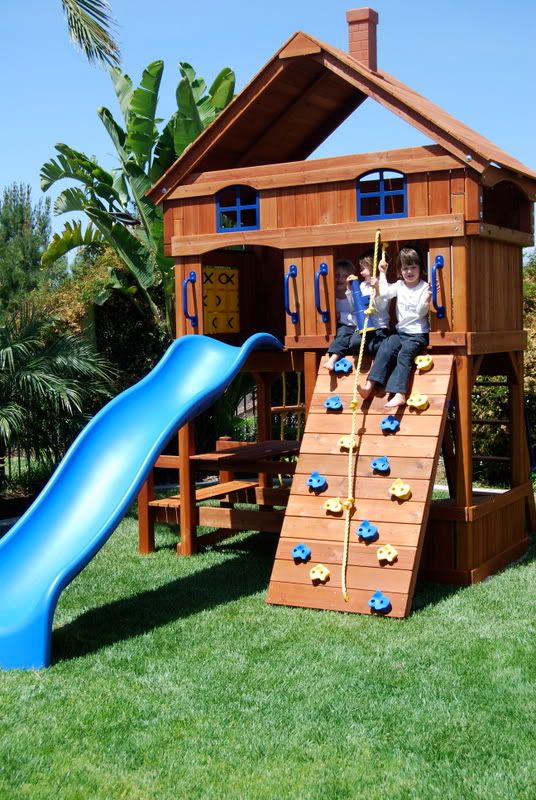 After swimming lessons today, we dropped by a nearby park where I fed the children a picnic lunch and let them run around and play.
We were the only ones at the park, which to be perfectly honest, makes me happier than words. It also makes me happier than words that our play set is nearly complete in the back yard and unless I so choose,
I'll never have to step foot in another public park, again.
Maybe if I had one child, I'd like to stumble upon a park where there are a bunch of kids that my child could play with. But with three three-year-olds, unless I
know
the children that we are playing with, I really appreciate not having to watch my offspring interact with other youths whose guardians may or may not be any where nearby.
Been
there
. Done
that
.
So today, we had the whole playground to ourselves. I set up our blanket near the swings and plopped Henry down with a graham cracker while the kids were playing on the slide. After a few minutes, I enticed them to come join us on the blanket when I flashed them peanut butter and jelly squares and squeezable yogurt.
As soon as everyone was sitting down, with their PB&J squares in hand, a group of twelve kids materialized out of
nowhere.

They were mostly older kids, probably around six or seven. Although, there was a relatively new toddler that appeared unsteady on her feet in the mix, as well. The new kids took over the entire playground. They were running around, yelling, jumping off the slides, and acting like a
bunch of savages
excited kids. And then there was the toddler, on the slide platform a good 12-feet in the air, with just the top of a squirt water bottle in her mouth.
I felt a little uneasy, because once my kids finished eating lunch, my job of supervising three kids (and one crawler) - who were now going to be interacting with twelve kids - just got a lot more challenging. While we sat and ate our lunch, the kids were laughing at all the primarily older kids, playing all around them. And I was thinking
"Man, these kids are rowdy."
But everything was going just fine.
Until.
One of the boys from the group, jumped on a swing and was pumping back and forth and kicking sand in our general direction every time he went up in the air. We were being showered with sand. Our lunches were being showered with sand.
The
baby
was being showered with sand.
And that is when I, who had been sitting there quietly,
completely
lost my cool. I whipped around, and said
"Yeah. HI. We are eating lunch over here. Please do not kick sand."
And then when it happened again - almost immediately - my head started spinning around on my shoulders and flames came shooting out of my ears while I barked
"HEY!! WE ARE EATING LUNCH OVER HERE. DO!! NOT!! KICK!! SAND!!"
Once I realized that I was
screaming
at a strange kid in the park, I looked around to see where his guardians were. And that's when I spotted four women, sitting 15-feet away in the shade, watching this group of kids. Since they were facing us, they
saw
what he was doing and they
must
have heard me yelling.
People in the pool, 200 feet away heard me yelling.
But the women just sat there, chatting with each other.
It absolutely
infuriates
me when I see out of control kids, and guardians who are oblivious to their actions. Like two weeks ago, I chased down several kids in the neighborhood who were on Spring Break and spent some time thrashing our side yard by snapping off new buds from our Lily of the Niles (that bloom once a year) - and breaking mature palm fronds from the trees that line our property. When I ran outside and caught them tromping around, I asked where they lived because I needed to know where to send the police next time I saw them damaging our property.
Today, it took a
great
deal of restraint to not stand up and shout, "
Why are you not CONTROLLING these kids that are under your supervision?! Why are you allowing a toddler to suck on a bottle top?! WHAT IS YOUR PROBLEM?? Get off your DUFF and DO SOMETHING!!"
If that was one of
my
kids??
It wouldn't happen.


Or if it happened, it would happen
once
.
I stood up, loaded Henry in to the stroller, packed up our picnic lunch, shook out our blanket, climbed up the 12-foot platform to the top of the slide,
removed the bottle top from the toddler's mouth
, climbed back
down
the ladder, informed my kids that the reason we were leaving is because I didn't want to be surrounded by a bunch of naughty people, and then I loaded them in the car and we drove home. T
o our own private play ground.
Yeah. So maybe I'm too uptight.
But some might consider my ability to create a diamond from a piece of coal in less than six weeks time, to be highly impressive.