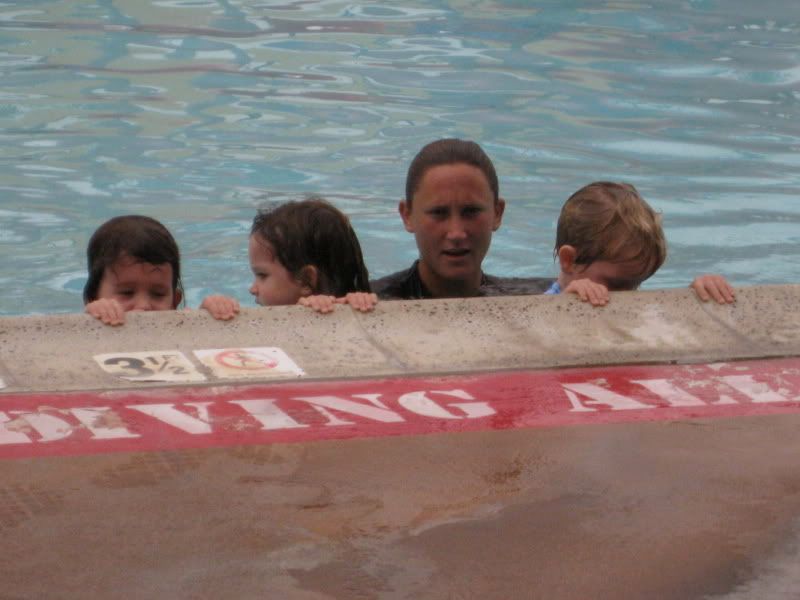 Today, while I took the kids to their first swimming class at the YMCA, Charlie went on a tour of the Montessori school I visited last week.
The kids loved swimming and they did great. Until, William had to use the potty the last five minutes of class and came running out to find me. And, once the cool air hit his skin, he started screaming.
Screaming, I tell you.
Screaming.
We rush in to use the potty and since I had been nursing Henry in the Bjorn, he is hanging upside down while I'm trying to help William peel off his wet bathing suit. He's chattering so hard that he can't stand still and standing still is an important thing to do when you are a little boy - using the potty - and you haven't yet perfected your aim.
He finishes up and I'm walking him back to rejoin his class, with my sopping shoes, but class was just dismissed. Carolyn comes running out - doesn't see me - runs past, and when I call to her, she turns around, slips and falls on the floor. Elizabeth, who is less than a step behind, falls on top of her. They are laying on the floor, wet, and crying. William is crying. Everyone is so cold, they are
blue.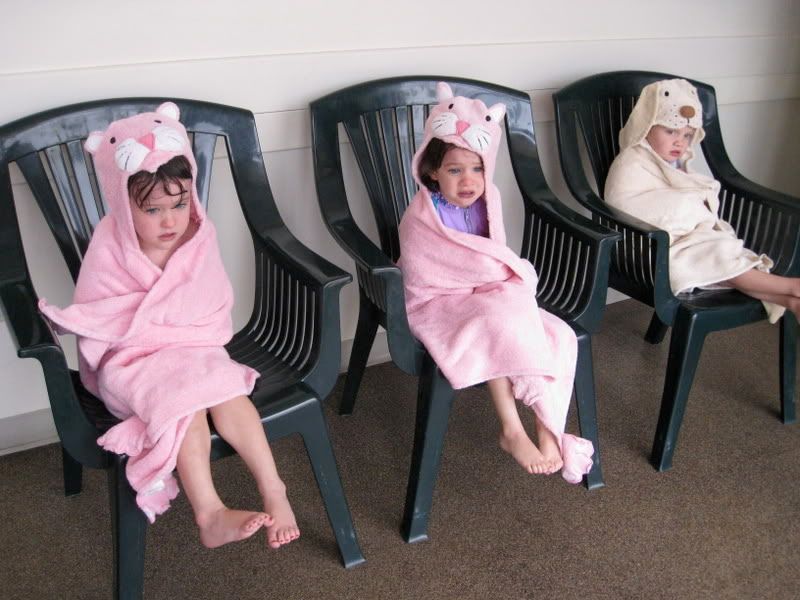 I get the girls up, wrap them in their towels, usher them in to the locker room and try to get them in to a warm shower. And that's when I realize that it's impossible to give 3-three year olds a shower at the YMCA without getting the front half of yourself completely
drenched.


They are all in the shower screaming,
"I COLD!! I COLD!!"
and just as the water warms up and I get all three situated under the spray, Carolyn starts crying
"Mommy, I have to go PEE-PEE!"
and so I tell her, as quietly as I can
"Just go, Gracie. It'll wash right down the drain."
But she is insistent and hollers,
"I NOT GO PEE-PEE IN SHOWER, MOMMY!!"
But I am also insistent, because I'm
not
going to haul three soaking and chattering kids out of the shower and in to the restroom - with a big bulky stroller behind me - and I'm also
not
going to leave all of them unsupervised, so I can take one to the toilet.
Something tells me she won't be bathing her children in the kitchen sink.
As discreetly as I can muster, I urge her again,
"JUST GO."
More of her screaming ensues before she finally lets loose. William starts yelling
"Gracie go PEE PEE in shower, Mommy!!"
and Elizabeth is sticking her foot in to the stream and yelling
"Oh, it's so nice and WARM!!"


I notice that all the people that had been talking in the shower area, are now quiet, and instead of trying to hush the kids, I ask them to sing their alphabet. Or, count to ten. Or, goodness, do
anything
but talk about pee-pee as it is running under the shower stall and in to the communal drain.
Once I finally get them dressed and am trying to herd them out of the locker room, I avoid eye contact with anyone that is staring at me and undoubtedly heard me coercing my child to urinate in the shower, by feigning extreme interest that with each step I take, water (or maybe pee?) is
oozing
out of my shoes and my pants and shirt were so wet I could actually wring water out of them.
I just walk in the door at home, when the phone rings with Charlie calling to tell me about his Montessori visit. He said that after less than five minutes, he was ready to burst in to tears and run out of the room.
He felt completely freaked out and thought that all the children he observed were brainwashed or maybe on drugs. Since we had visited several other preschools last week, this experience was not at
all
what he expected.
He incredulously asked,
"What three-year-old sits still like that? What three-year-old raises their hand to talk?! It was amazing, Jen."

But then, he said that after another five minutes in the class, he was
convinced
that we must do
whatever we possibly can
to make sure that our children attend Montessori school. So, he lined up their first interview for next Friday.
If they are accepted in to the program, I'll be looking for someone to purchase my left kidney so we can cover the cost of tuition.