So, I'm due to return to work on May 1. In case you don't have a calendar handy, that is two weeks from today.
14
days or around 330 hours.
Not like I'm counting or anything.
And .... well.


Well.

I have mixed emotions.
The thing is, my
whole entire life
I've wanted to be a mom. Even during the time that I knew I wanted to study geology and I moved cross-country to attend college and graduate school. Being a mom was something that was in my future. And during the time that I was working on my education and then, career, I never really thought about
how
I would balance motherhood and my place in the workforce.
Because, really, why worry about something that is in the
future?


All I knew is that I wanted to be a young mom. I
wanted
to have children when I was in my mid-20's. But when that didn't work out according to plan, I threw myself in to my career and I made a good name for myself. I started out working as an environmental consultant for major oil companies - and soon - was working directly for one of the largest oil companies in the world, managing a portfolio that exceeded $12 million dollars a year. By the time I went on maternity leave with our triplets, I was pulling in a six-figure salary and the sky was the limit.
But I took a break. I took off a full year off to be home with our babies and when I returned to work, I only went back part-time. Through it all, my company has been
extremely
generous with me. They have allowed me to work from my house and set my own schedule. And when I found out I was expecting Henry, I was able to take off for almost another full year, and yet maintain all of my outstanding benefits.
There are the medical benefits that covered the
entire cost
of premature triplets who spent six weeks in the NICU. There are the dental benefits that allow us to see the dentist three times a year and have all of our amalgam mercury fillings replaced with porcelain with minimal cost to us. There is life insurance and 7%
dollar for dollar matching
401K and a 10% discount on gasoline purchases made at service stations operated by my company.
And then there is the work - that is engaging.
And then there are the people - that are fun.
And then there is the fact that I have worked
so hard
to reach this level in my career.
And then, I take pause.
When I went back to work part-time when our triplets were a year old, my mind was almost
always
on my job. I had conference calls - and meetings to attend - some that might take me away for a full day, or week at a time. My thoughts were not purely on the children. They were diluted with things that I had to do, people to call, letters to write, reports to review. And now, I can see giving it all up. Turning over my keys, handing in my laptop and cell phone and saying
"Thanks for the ride. But this is my stop."


But. Then.
There is Montessori school and although there are other preschool alternatives, I've looked at
many
of them and
none
of them call to me the way Montessori does. It has been decided that
i
f
we are going to send our children to school ... we want to send them to Montessori.
But. Then.
Montessori is five days a week. And even though it's *only* three hours a day, our children are only three-years-old and they take naps in the afternoon. Yes, so they'll be
almost
four when they start school and they might not be napping as consistently. But what about the fun things that I like to do with them during the morning? Trips to the zoo and museums? Triplet play dates? Scouting out vacant playgrounds? What about swimming lessons and gymnastics? I don't know if I'm ready to give up this special time with them, five days a week.
But. Then.
There is my career, which I really did love when I was working in it.
So, I've drawn up the pros and cons and I've crunched the numbers.
I can stay home while Charlie works full-time on his salary. Or, Charlie could stay home while I went back to work full-time on my salary. But to send our children to school that will cost $2,100.00/month, while
also
continuing to fund our retirement account, and savings account, and college fund, and pay for the general cost of living and take a vacation now and again ... one of us will need to work at least part-time. And because I don't want to bring in help, or put Henry in childcare, Charlie would reduce his work schedule to part-time also, so that the children are always with one of us.
Some might consider the sacrifices that we have made so that one of us is always with our children to be painful. But, I think it would be much more painful and an even greater sacrifice to miss out on this time in their lives because we were both working constantly.
Yet, I don't know if it is more important for our children to have the Montessori experience, or to be home with me. I've been looking at this from
every possible angle
and the way it stands, I am
seriously
considering homeschooling them. And if they go to Montessori now, and get the foundation for learning established, I believe that I will be better poised to teach them, as they grow older.


Even if I change my mind and send them all to school.
Now I'm not arrogant enough to believe that I am the most qualified to teach our children everything, but I
do
believe that I can educate them just as well - if not better - than
any
school, except Montessori, when they are very young.
I believe that in homeschooling them, I will be able to expose them to more positive experiences than they would be exposed to, otherwise. And, I will be better poised to
shield
them from the negative experiences they would be exposed to, otherwise. Negative things like gangs, drugs and violence. And bullies. And cliques. And whoever tells me that that kind of
stuff
exists
everywhere
and kids need to learn to deal with it at some point, I say phooey! The last time that I had to deal with gangs, drugs, violence, bullies and cliques was when
I
was in school.


Bubble living isn't bad.


I would structure our days so that our children are not loaded with several
hours
of homework at night - like I see with so many kids, these days. They will have time for soccer and swimming and tennis and baseball - or
any
sport they want to play. And they'll have ample time for underwater basket weaving, or whatever it is that they want to do to express themselves artistically.
Maybe I'm tainted because of my own experiences in school. Moving from state to state and attending ten schools by the time I was in ninth grade didn't foster any positive feelings for the educational system. Instead, I was pulled out of classes and labeled as delayed. By the time I graduated from high school, I was a few years behind in math and science. It wasn't until I went to college and maintained a 4.0 for consecutive semesters and received a scholarship from the National Science Foundation that I realized maybe I wasn't as
ignirint
ignorant as I initially thought.
So, I'm due back to work in two weeks and our children have an interview with the Montessori school tomorrow. And although I feel a little queasy and am
consumed
with this at the moment, I'm holding hope that I'll soon see that
everyone
is thriving and this is the best arrangement for all.
Totally unrelated, here is Elizabeth after she fell in the lake on Sunday.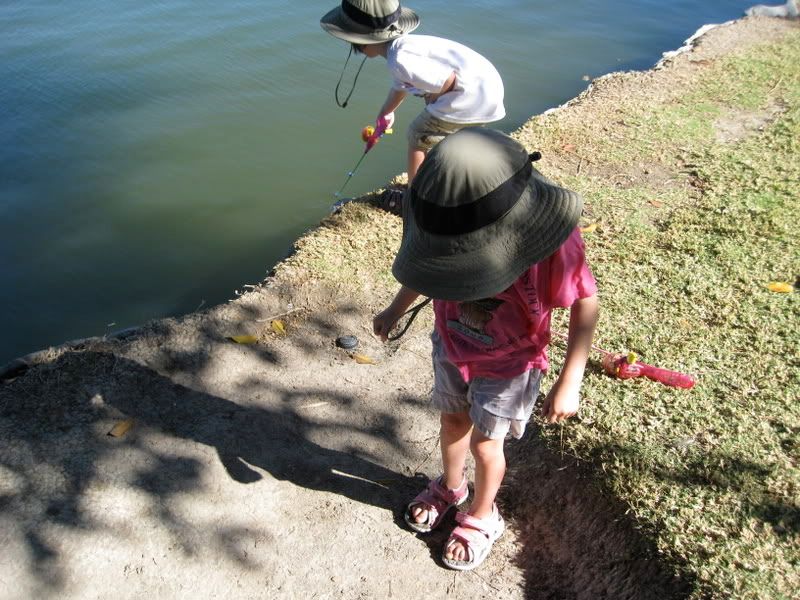 My mother called to ask if I caught a picture of her IN the lake and unfortunately, I had to put my camera down to grab her before she sank. Although, it
did
cross my mind to take a quick picture, I'm relieved to know that if the circumstances are dire, my mothering instinct trumps my blogging.