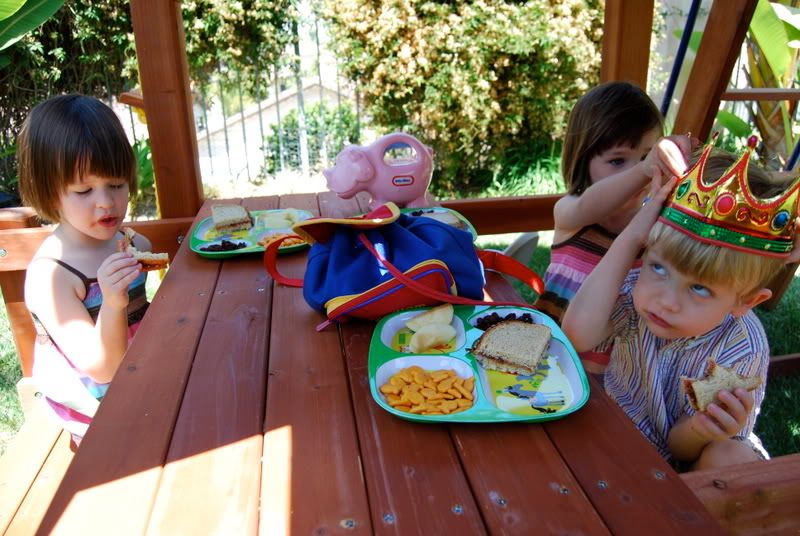 So. I'm having visions of Charlie dropping the kids off at school in the morning, and getting in to a head on collision on the way. Provided they walk away from
that
incident unscathed, a deranged parent breaks in to the school and goes crazy with a gun.
All bets are off.
There is NO way I'm letting them go.
That would be completely irresponsible.
When I told Charlie that I really didn't think I could part with them for three hours a day, five days a week - because of the significant
fear
factor, and also because I'm doing some phenomenal stuff with them at home and I
love
these kids even when they drive me bat sh*t crazy - he told me that I was nut and I couldn't "always" protect them.
And I said, OH YES I CAN, so long as there is AIR in my lungs.
Then I talked with my mother. And she further tried to reassure me that sending them to Montessori would be an absolutely amazing experience for them - and for me. And she knows because she has worked in a Montessori classroom.

And the kids loved it.
And when class was out, they all ran to each other and embraced.
And Elizabeth didn't even want to get in the car to go home because she enjoyed school so much.
And this afternoon - after they came home and were hitting each other with sand toys and knocking over each other's lunches all over the back lawn - when I went in to check on them at nap time, Elizabeth and Carolyn had crawled in to bed together and were sound asleep with their arms wrapped tightly around one another.
I have two weeks to decide.
Two weeks to decide if returning to work is what I really want to do. Two weeks to decide if sending my children to Montessori is what I really want to do.
Two weeks to consume seven boxes of Trader Joe's peanut butter cups because I am inhaling a box every couple days with all of this indecision.