Last week, I received an e-mail from a woman who has 2.5-year old triplets and is expecting a "surprise" singleton, any day now. In her note, she asked how I get through every day and whether or not I was struggling with guilt.
Her e-mail was written with such anguish, I could feel her desperation as she was coming to grips with having another baby, also her fourth in less than three years.
When I read her note to Charlie, he looked perplexed and asked "
Why
would you be struggling with guilt? That doesn't make sense."
But I understood
exactly
what she meant and the answer is YES. Yes, I am struggling with guilt, but I didn't recognize that nagging feeling until recently.
Considering my Catholic background, I should have known, immediately.
I feel guilty because of the intense joy and sense of accomplishment I have that I was able to get pregnant, without any kind of medical intervention.
I feel guilty because we had to have medical intervention to conceive our triplets and I wonder if their creation wasn't forced. Although in my heart, I don't believe that they would be here,
scaling our walls
walking this earth, if they weren't meant to be.
I feel guilty that I wasn't able to carry our triplets in utero as long as I carried Henry.
I feel guilty that our triplets spent six weeks in the NICU and came home on medication and apnea monitors due to their extreme prematurity.
I feel guilty that I wasn't able to spend five days laying in a hospital bed with our triplets following their birth -
not watching one iota of television
- because I was so awestruck gazing at the healthy newborn baby in my arms.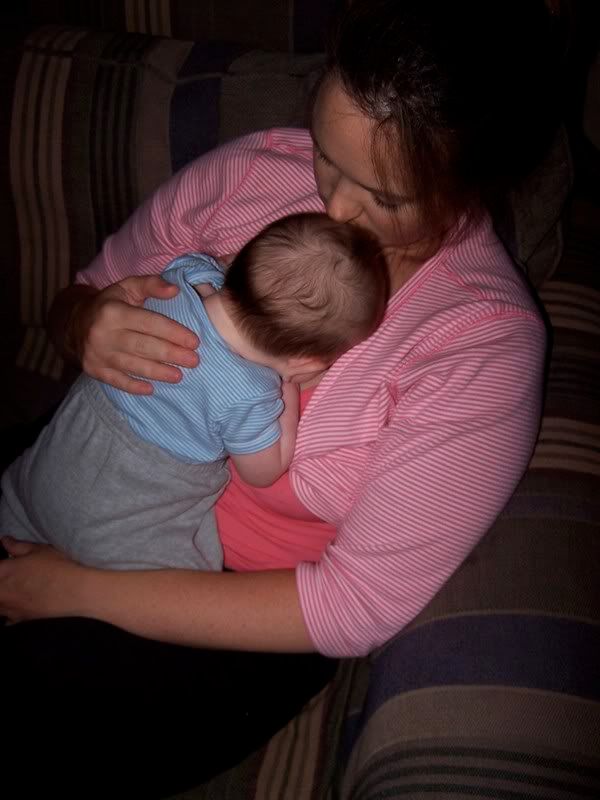 I feel guilty that I wasn't able to hold, rock and nurse on demand our triplets, the way that I am able to hold, rock and nurse on demand their baby brother. Although I do spend as much time as I can holding and loving on each of our triplets, I always feel like I am robbing two other children of my time.
I feel guilty that I am lavishing so much attention on my newborn ... attention that I could not lavish
as completely
on them - and attention that is now being diverted from them and to another baby.
I feel guilty that giving birth to Henry has been the most healing experience of my life. I didn't realize just how painful infertility, a high risk pregnancy and three premature infants was on my psyche, until now.
I feel guilty that THIS experience I am having with Henry, is the motherhood experience I've always dreamed of and always wanted.
I feel guilty that when Henry is the triplets age, there will only be
one
of him and the things that he will do to drive me crazy, will not be enough to cause my temper to explode. Because the only time my temper
really
explodes is when the three of them do bad things together.
Which these days, seems to be all the time.
I feel guilty that my patience with our triplets (who I never referred to as "triplets" until they had a new sibling) has reached an all-time low. And I'm hoping with every thread of my being that my intolerance of their behavior is a function of
their
age.
I feel guilty that I am rushing their childhood and not savoring every moment, because I want them to HURRY UP and grow out of this age - because with three of them - they really and truly are driving me completely crazy. Particularly when they do things like throw their food all over the place, scream, fight, not listen to a single.word.coming.out.of.my.mouth and destroy anything and everything that they can get their paws on.
I feel guilty that I expect them to act more mature than they do and have to
frequently
remind myself that they aren't yet three years old.
I feel guilty that because Henry is a singleton, I'm not running zone defense with him and therefore, the chances are excellent, I will enjoy
every stage
of his infancy and toddlerhood a little bit more.
I feel guilty that when I have the triplets, one-on-one, I see a budding little person that I absolutely
adore
. And yet, this budding little person is completely transformed in to a
man-eating monster
, that I'm not always particularly fond of, when reunited with their triplet siblings.
I feel guilty that when I look at our toddler triplets, I feel zapped of every last bit of what little energy I had in my body and my head hurts. But when I look at my newborn Henry, I feel renewed and my heart feels lighter than a cloud.
I feel guilty that our triplets have been driving me so insane lately with their absolute defiance, that the thought crossed my mind to drop them off on the side of the road in the country.
Oh, wait. That's a different post....
I feel guilty, not just for what our triplets didn't, don't and won't have ...
but for what I didn't, don't and won't have with each one of them, as individuals.
I grieve that our triplets are all growing up - and going through the same developmental phases - at once.
Even though we have
four children, our first three
almost
count as one. And I feel guilty for thinking that way.
Now that I have a singleton baby that I am enjoying so thoroughly, I wish that I could have had this bonding experience with each one of the triplets and I wish that I was looking forward with great anticipation to their next phase of development. But because there are three, I feel like I am bracing myself to survive the next
onslaught
phase of triplet hood.
Now, for the great enigma.


I wouldn't trade my experience as a mother of triplets for the world.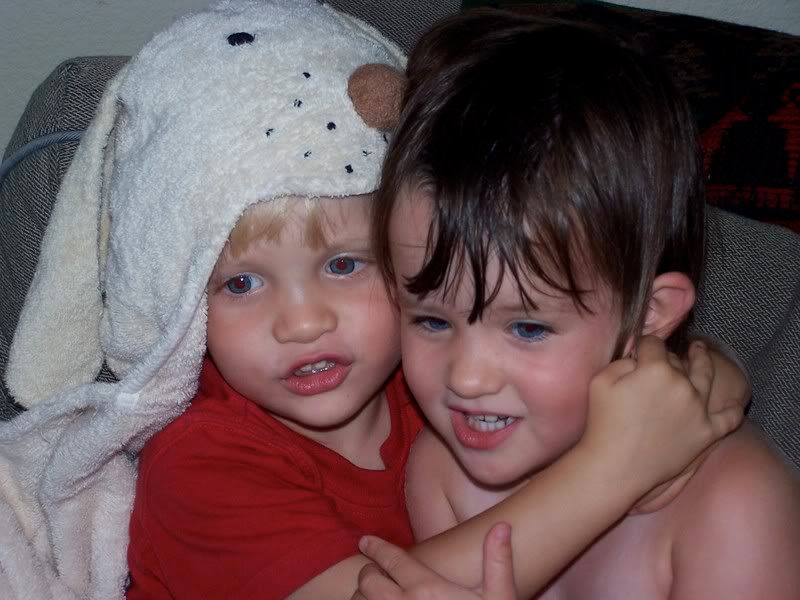 Nothing makes me more proud than our children.
They have an amazing bond.
They speak their own language. They have built in playmates and as a result, they are so much more socially advanced than other singleton children their age.
When they are sleeping
, I am instantly reminded how much I love them - independently and as a team.
I am reminded that the insanity they are creating in our lives at this moment in time, is because they are growing in to their own selves and this too shall pass.
It damn well better or someone is going to hear from me.
It is because of the incredible bond that our triplets share, that I feel guilty for Henry. I feel guilty that he won't have a sibling companion in the church nursery ... or kindergarten ... or freshman year in college. I feel guilty that he will be the odd-person out as he grows older and
even though we have four healthy children

-
that
is one of the primary reasons I hope for another child.
So Henry won't feel overshadowed by his triplet siblings.
Another reason is so we won't suffer from extreme empty nest syndrome in a span of less than three years. And yet one more reason is because I am hopelessly addicted to babies AND large families.
Deep in my soul, I truly believe that had it not been for William, Elizabeth and Carolyn ... Henry would not be here - and vice versa. I believe that our family is
exactly
the way it was meant to be and we are blessed beyond measure.
I believe that each one of our children are a gift straight from God and although our triplets are currently at a phase where they are a
great advertisement
for birth control ... I feel guilty and insane and greedy and slightly embarrassed for wanting one more.
Most of all, I feel guilty that I haven't told Charlie about the 12-passenger van I scoped out. And, that those little "pills" I'm taking are actually placebos.