Tonight, I attended an orientation session through the church we've been attending, for people who are planning to host a small group. I'm preparing to host our third small group but have never once attended an orientation session.
I learned a lot of things, like ... how to keep the conversation moving and how to make everyone feel welcome. I also learned that all of the hosts are supposed to be
members
of the church.
Oops.


Although, I guess it makes sense when you think about it.
While at the orientation session, a book that was on a nearby shelf caught my eye. The title was "Surviving Adolescence" and beneath that it read
"It's not terminal. It just feels like it."
I really should have picked the book up and seen whether it was written
for the adolescents
or for
the people that live with them
? Because I felt a cold chill pass through my body as I tried to imagine any period in our children's life feeling as terminal as the one we are in, RIGHT NOW.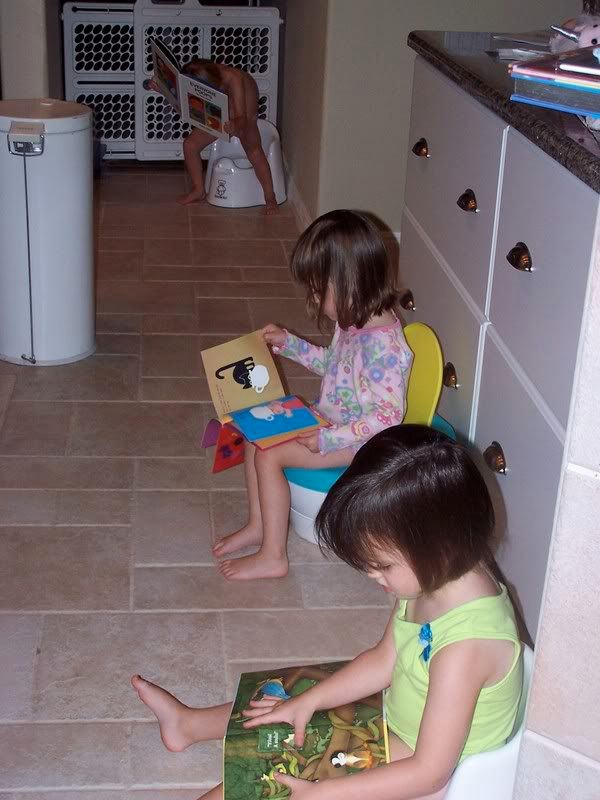 Speaking of which, we started potty training full-force, yesterday. As much as I would love to delay this process indefinitely, two things have happened lately that are making me reconsider.
First, two of our three children are in a size six diaper. From what I have seen in the stores, this is the
largest size
that Pampers makes. Since one of our children is now OUTGROWING the largest readily available diaper size, it seems to me the next size up are Depends.
Second, ever since Henry has come home from the hospital, it has become increasingly difficult for me to change the triplet's diapers. Not just because they are too heavy to lift up on to the changing table, particularly when they lay flat on the floor and insist that they "NOT HAVE POOPY!!" but because their poops have suddenly become
extremely offensive.
I think what happened is that I was unaware the triplet's poop chemistry was evolving. And now that I have a breastfed newborn who I am changing throughout the day ... throwing a toddler who can pack away three hot dogs and a half box of Kraft Macaroni and Cheese in to the rotation ... makes me feel an overwhelming need to use a supplied air breathing apparatus.
At first the children were totally enthralled with their cotton underwear existence. We pumped juice in to them and they excitedly ran over and sat down on their potty chairs, jumping up intermittently to check on the status of their deposit.
Everything was going swell ... until today.
The novelty of their cotton underwear immediately wore off when the children realized that they had to go poop. And then they all cried for their diapers ... which we had to inform them were
only
to be used when they went down for a nap or for bedtime.
Tonight, while I was at church, Charlie noticed that William had poop squished between his toes and it had been tracked all across our brand new hardwood floors.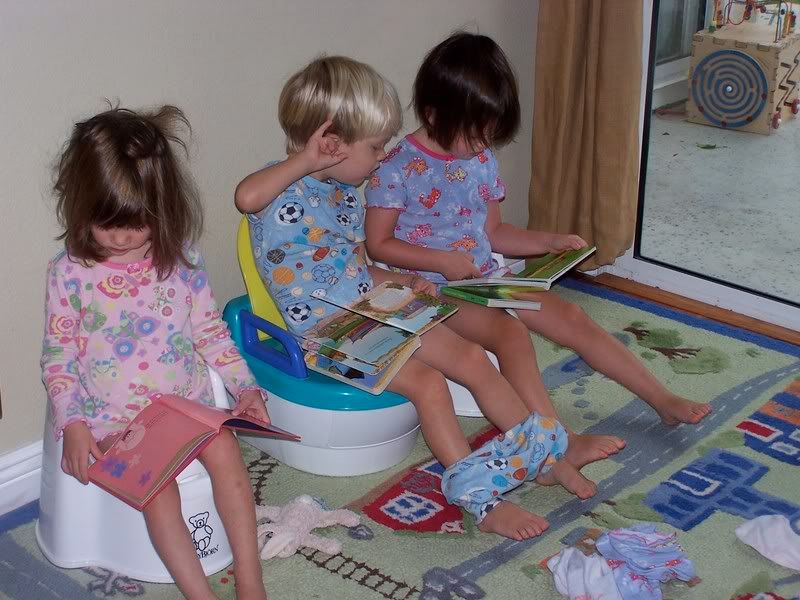 At the moment, the jury is out on whether it is worse to change an offensive diaper or to scrape the contents of what would be in the offensive diaper, off of our floors?
Definitely a tough call.
Almost as tough of a call as my decision to wear jeans tonight. This was the first time I'd squeezed myself in to a pair of denim in almost 10 months. It is downright incredible what pregnancy and 200 gallons of peanut butter cup ice cream can do to a physique ... that was out of shape because of a triplet pregnancy and 200 gallons of rocky road ice cream.
Henry has his 2-month pediatrician appointment tomorrow. Considering he has outgrown a size 1 diaper and will probably graduate to a size 3 diaper by the end of this week ... and since he is fitting
comfortably
in 6 to 9 month clothing ... I suspect that he will weigh at least 18 pounds.
Charlie also goes back to work tomorrow leaving me at home, alone, with three cotton-clad toddlers
who are hell bent
on not going poop in their potty and a newborn who will be recovering from his 2-month shots.
I may or may not have time to update my blog for a while. I would say the chances are great that any free time I have will be devoted to doing sit ups and leg lifts. When I'm not busy scrubbing the floors.
But first, I have to join the church.
I think I'm in need of God now, more than ever.