Charlie threw his back out yesterday, swatting at a fly.
This is not nearly as romantic as the
last time
he threw his back out.
Nor, will it result in a
delightful gift
, nine months from now.
I think he was angry because he'd tried hitting the fly for a good 10 minutes, before he put all of his energy in to the final swing - and then - winced in pain. When I saw his body position and watched him collapse to the floor,
I
winced in pain. Because I immediately knew that there was no way he was going to be able to do anything for at
least
three days.
Once upon a time ...
before we had children
... this wouldn't be a problem. But to have half of our defensive line down with an injury is brutal. Especially when the other half of our defensive line is sick and took a cold pill this morning that has them seeing stars.
Add to that, the kids have been driving me nuts.
Absolutely, positively nuts.
I cannot put enough of an emphasis on just how nuts they are driving me.
They are destroying everything that they come near.
Plants, furniture, walls, electronics. You name it.
They whine. They scream. Not a happy scream, an ear piercing scream that doesn't sound like it is from this earth. They throw their food, utensils and toys.
JUST BECAUSE.


I swear they are doing it just to watch the wrinkles pop out on my face and the white hair sprout from my head.
Although they sleep fine at night, the girls won't nap together. I've had to split them up and put one in our room, one in their room. But the problem is that our room is not set up for a toddler AND I DON'T WANT IT TO BE. There needs to be at least one small part of our house that is sacred and free from children.
Unless I want to sit in their room for the better part of an hour while they "settle down" ... or give them spankings ... they won't go to sleep. Sadly, even with me in the room, they won't settle down. Suffice to say, I'm getting too good at spanking.
I picked up a book yesterday called "Discipline without Shouting or Spanking" and I stayed up late last night reading it cover-to-cover. It seems easy enough. All I need is to have a
patience
and a level head. It's not rocket science.
But where do I get patience?
Is there a drug I can take??
So help me, as soon as they wake up and start their screaming and fighting - any patience I have goes faster than a Klondike Bar. And when I take off their diapers because they insist they have to go potty ... and then don't go potty ... and have a huge man-sized poop
seconds
after I put a fresh diaper on, I can feel my head start to twitch. Then, they'll tell me that they didn't go poop and will throw a huge fit so I won't change their diaper.
Which if I don't change, will result in a bad, bad rash. I've tried this - thinking that they would realize how awful it is sitting in a poopy diaper. Although this logic might work for a rational person ... it doesn't for an itty bitty irrational one.
Or worse yet, they go potty and then stand up and before I can process what they are doing, they remove the plastic receptacle and put it on their head like a hat.
It doesn't matter how many times I tell them not to do this.
What the parenting books need to include is a 5-year prescription for an antipsychotic and a bag that we can place over our head and beat with a stick.
Today, I did something I know that I shouldn't have done.
I went head-to-head with a toddler who was having a temper tantrum.
During an outing, I had bought a play mat for the baby - one of those little numbers that has toys suspended above it. While Henry was laying down, happily staring at the little star and pony that were dangling a few inches above his face, William, Elizabeth and Carolyn, with their runny noses, come over and start batting at the toys. Then, they started to pull them off and lick them.
Of course I'm worried that they are going to hit Henry - but I'm also frustrated that the kids have to touch and taste EVERYTHING in the house.
EVERYTHING.
So, as calmly as I could muster, I tell them "Hey guys, this is Henry's toy. You have a load of toys throughout the house, yard and garage. Please go play with those. In fact, look! Here are some blocks, let's play with blocks!!"
Elizabeth looks at me and says "NO, MINE. Deese are MY toys."
Then, for good measure, she adds
"MOOOOOINE!"

I looked her square in the eye and said "NO. These are Henry's toys. You have lots of toys through out the house. Like over there - see - there is your baby doll. Can you please play with your doll?"
And thus, it began.
Elizabeth screaming, "NO. MINE!!!" and me, telling her, with
rapidly decreasing
patience, "NO, IT'S NOT YOURS."
I know that just because your child has a temper tantrum doesn't mean that you should, too ... but I can now see why the kids scream all the time. There is something so freeing, so intoxicating about hollering at the top of your lungs.
Especially when you are also pounding your chest and shouting "NO! IT'S NOT YOURS!! IT'S MINE.
EVERYTHING IN THIS HOUSE
IS MINE. INCLUDING THE CLOTHES ON YOUR BODY. MINE. MINE.
MOOOOOINE
!!!!
Now, granted. I am normally not so volatile. But there is only so much a person can take before they revert back to acting like a 2-year old. I've said "OH GOD
PLEASE
HELP ME" more times than I can count. I've tried prayer. In fact, I haven't stopped praying since sometime last week.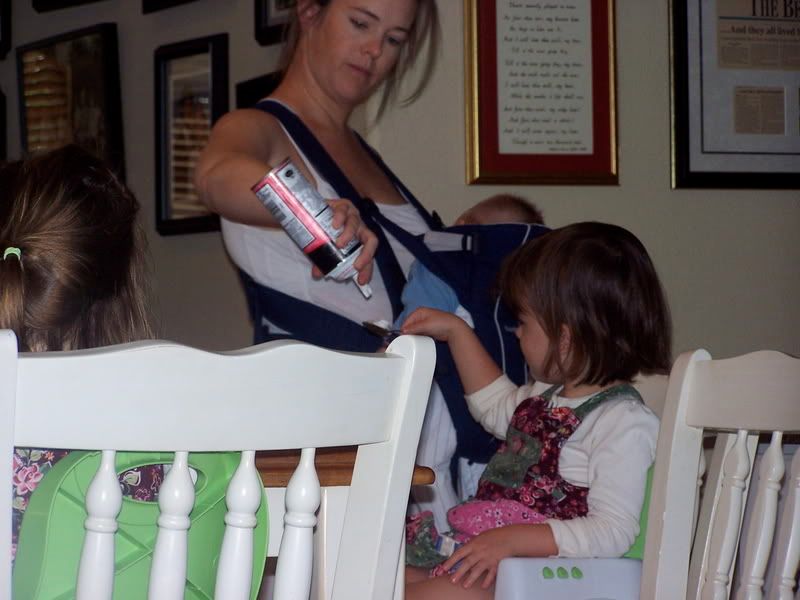 Realizing that I'm not going to "win them all", I've tried to pick my battles. Like today, I let William go down for a nap wearing his sister's clogs. And then I let the kids scribble with chalk all over the beautiful new gymnastic mats I bought them for Christmas because it would wash off - and most importantly, it kept them quiet while I was cleaning the garage. Then for lunch, I served everyone whip cream on a spoon before turning the can on myself. Although it may not seem like much, these are
huge
steps for a self-proclaimed dieting control freak.
If the past few days are any indication of what's to come ... getting a mother's helper won't help. I need
at least
three more people, some antipsychotic medication, bags and a few sticks.
Or, better yet, a boarding school for preschoolers.