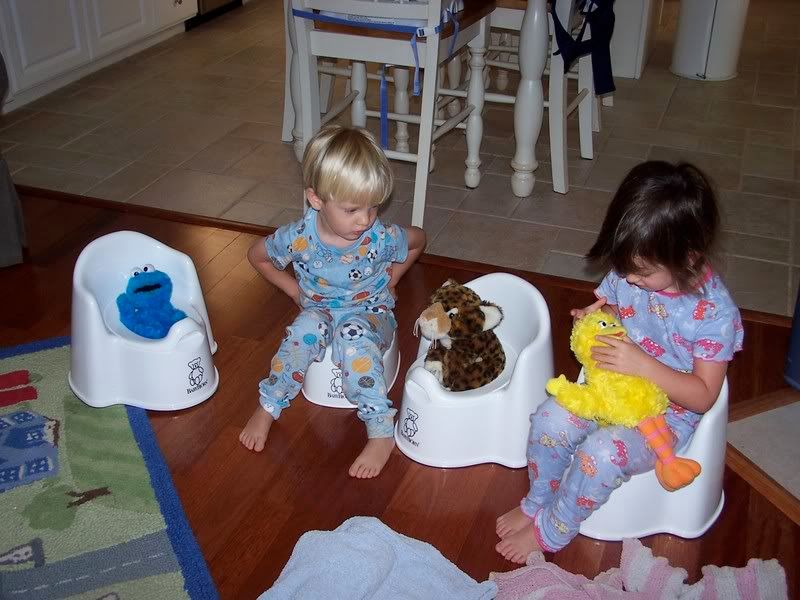 This morning started off like every other morning for the past nine days here at PTBC central. Once the children were up, I got them dressed in their underwear and pointed out where their potty chairs were neatly lined up against the wall before handing them their sippy cups full of Vitamin D fortified orange juice.
I then stepped in to the girls' room - which is located immediately next to our family room, where the children were playing - to make their bed. I could hear the children happily playing with their toy birthday cake and Weeble-Wobble Tree House.
And then, there was a moment of silence.
Around here, when the children are awake ... silence is
never
golden.
I quickly threw the pillows on the bed and was making my way back in to the family room when I heard someone exclaim "Wow!! Dat's a HUGE poo-poo!!"
Hoping against all hope that the poo-poo would be in the potty chair receptacle, I was only slightly dismayed that what was indeed a HUGE poo-poo, was all over the floor.
And inside the Weeble-Wobble Tree House.
And one of my helpful children, had grabbed a piece of cake from the all fabric birthday cake, and tried to "wipe" it up.
Suddenly, it dawned on me. These kids aren't ready yet. Or if they are,
I'm
not ready.
I'm not ready to keep cleaning up piles and puddles while they stand smiling before me with dirty hands ... not showing the
slightest bit of interest
in getting that pile or puddle in the pot.
I am ready, however, to put them in some kind of Pull-Up diaper that they can't just whip off like they do with their regular Pampers. Because in the past month, they have taken a keen interest in pulling the tabs on their diapers to complete a visual inspection of whatever contents are inside.
Since they are able to access their diapers so easily, I'm also ready to dress them in clothing that they, themselves, cannot remove without mechanical equipment and a full grasp of the English language.
Which would be necessary if they wanted to understand how to operate a hacksaw.
After a whole week of intensive potty training (minus wearing diapers when we go out to the park or store), I am now ready to throw in the towel. So less than 10 days in to PTBC ... as of 0800 hours, this morning ... I am now a PTBC-DO.
That would be "Potty Training Boot Camp Drop Out."
We'll revisit potty training again in a month or two. Until then, the all white potty chairs and character underwear are going to be temporarily retired.
Let's see. What else is new?
This morning I received a comment from someone, in regards to a
blog posting
I made back in February wherein I confessed that sometimes, I crack like an egg. The anonymous commenter wrote "Shame on you for not having the same control that you require of your children."


Indeed. Shame on me.

In this world of parenting, there are a lot of things that I could be ashamed of.
Shame on me for going through in-vitro fertilization and transferring six embryos.
Shame on me for not having "selective reduction" and hence a healthier, longer pregnancy when I found out I was expecting triplets.
Shame on me for not bringing in help when our triplets were babies and I thought I could do it all myself.
Shame on me for not getting a babysitter and going out on a date with my husband.
Shame on me for not allowing relatives to take our children away on an overnight visit.
Shame on me for going back to work.
Shame on me for not buying a bigger house where our children would have more space to run around.
Shame on me for giving our kids hot dogs for dinner last night and strawberries that weren't organic.
Shame on me for allowing our children to watch television while I cook dinner or need TEN MINUTES to get ready for an outing.
Shame on me for not using birth control, after never believing I could get pregnant without intervention, and having a baby that was
completely
unplanned.
Shame on me for putting Henry down in his crib today, after he'd been awake for three hours and kept falling a kept falling asleep while nursing, and listening to him cry for a solid 10 minutes.
Shame on me for picking him up and letting him fall asleep in my arms.
Shame on me for planning that very soon, I am going to "sleep train" Henry and that will probably involve listening to him SCREAM until he learns to self-soothe.
Shame on me for doing that same exact thing to our triplets.
Shame on me for giving up too easily on potty training.
Shame on me for getting SO frustrated with our toddlers, that I've wanted to wrap my hands around their necks and squeeze ... just for a second or two. Or ten.
But no more than sixty.
Shame on me that once in a blue moon, I spank my children.
Shame on me that I don't spank them more often.
Shame on me that as a breastfeeding mother, I drink a beer every night. Or a glass of wine. Even though I've seen conflicting articles on whether or not it is harmful to the baby.
Shame on me that at some point,
at least once a week,
I feel my patience start to wane and I raise my voice.
Shame on me that instead of doing a load of laundry and cleaning up the toy room, I'm sitting here, updating my blog.
Shame on me that not all mornings, I get up before the children and am prepared for the day ahead. Instead, I lay in bed until the last possible minute.
Shame on me that I have stopped going to church because every time I go - our children get sick.
Shame on me that despite my imperfections, over population, global warming, the cost of college tuition, a small house and a van that is filled to capacity with car seats, I might have another baby.
Shame on me that I admit I am not perfect on my blog.
Being a good parent is the hardest job on the planet. I look at our children - once tiny, extremely vulnerable and helpless premature infants that are quickly growing in to their own. And I know that I am the first and the most important teacher that they will ever have.
That's a lot of pressure.
Although I may share in the glory of their successes (like when they were sleeping through the night as infants) ... I also look at their failures and wonder, "What could or should I have done differently?"
I'll be the first to admit that when I am refreshed and feeling good, I am much more capable of handling a child that bites their sibling, steals a toy, throws a plate of spaghetti off the table, or poops on a toy ... then when I am tired and depleted.
Even Jo Frost, the Super Nanny, I would be willing to wager has her moments of weakness. I'll bet that if they had a hidden camera set up that was taping twenty four hours a day, seven days a week, threehundredandsixtyfivedaysayear with a house full of children, you might hear her raise her voice. Maybe once. Maybe twice.
I wouldn't be at all surprised if she also doled out a smack on the bum for a child that was dead set on destroying things. Or, running away while in a park.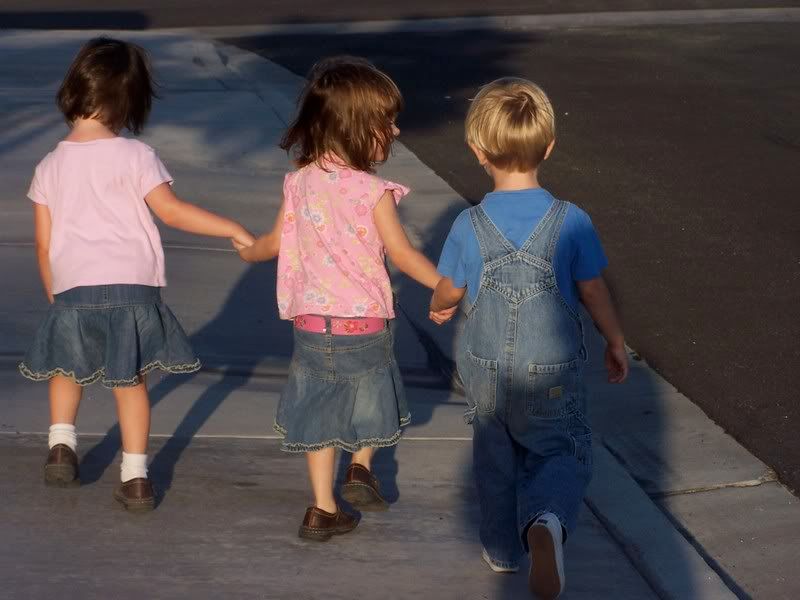 For the large part, our children are very well behaved and obedient.

AND - this is the most important thing - they are happy and well loved.
But they have their moments - just like me.
Although some people might be shamed in to believing that "losing your cool" is completely unacceptable ... I know that it is par for the course as a human being.
And it happens a lot more when that human being becomes a parent.
Never once have I not tried to learn from my mistakes.
But I will also not beat myself up over them.



And I won't let someone else try to do it, either.
I am doing the absolute best job I can and some days, I do a whole lot better than others.

By and large, I am extremely proud of how well we are raising our children while keeping our marriage and sanity intact. I am also extremely proud that although I
really would have liked to
, I didn't start drinking at 8 AM, this morning.
With a Weeble-Wobble Tree House full of poop, I think there are very few people who would refuse a bottle that is smiling at them.