So. I've been running. Although, I definitely wouldn't characterize myself as a runner ... even though I bought new running shoes and and new running socks and new running shorts and a new running top with a built in bra and a new running windbreaker and a new running watch and a new running iPod holder.
See, I believe that when you are dressed in the appropriate gear and you look good, you are more apt to succeed. Even if you resemble the Pillsbury Dough Boy squeezed in to Nike apparel and stumbling from a hot oven.
One thing I've noticed is that when I
stumble
run more than a mile, both of my feet promptly fall to sleep. Much like when I go down hill snow skiing, or spend more than five minutes on the ellipse machine. In fact,
any
form of exercise that requires my legs - minus cycling or swimming - cause my feet to fall asleep. I looked up my symptoms last week on Google, and I discovered that this problem could be the result of shoes that are too tight, a blood flow impediment, a pinched nerve, or a tumor.
So, either I need larger shoes with arch support and an aspirin,
or ... I need to get my affairs in order.
I'm going to see a doctor later this week about correcting the problem (provided it can be corrected) and I really hope that they can help. Even though I never particularly like going out to
stumble
run, and the
stumbling
running itself can be a little painful ... I've discovered that the jolt I have
after
I've run is empowering. Especially once the feeling has returned to my lower extremities.
I've also discovered that if it wasn't for the group of
fitness fanatics
women that are cheering me on as I stumble along every week, I would have given this up the first week I started. And that would be
really
pathetic if I gave up a sport before I cut all the price tags off my new gear.
********
We went to see the new movie Iron Man on our date night. Our neighbor arrived just as we had put the kids to bed - and although I had told them earlier in the day that Charlie and I were going out to see a movie that evening - I didn't mention it again, before we left.
Because I know better.
I know that if I had told the children, as I tucked them in,
"Daddy and I are going out and Sydney will be watching you and we will be back very soon and here when you wake up"
they would have insisted that they come with us and/or loudly protest that we leave.
And the amount of time that it would have taken to console the children would have meant that we missed the movie altogether and/or had claw marks on our bodies that our children inflicted as we walked out the front door. And of course, our baby sitter would have been traumatized by three screaming children and our highly anticipated date night would have vaporized before our very eyes.
So, I didn't tell them.
And I'm glad.
Because the movie was great, the time away was awesome, and when we returned home, Sydney said that we hadn't been gone more than five minutes when the children were up. First it was William - looking for a drink of water - and then, Carolyn - because she heard her brother. But Sydney handled the situation without a call to us, which was fortunate because there was poor cell phone coverage in the theater.
Not to mention, we would have been hard pressed to leave after having just spent $21.00 on our tickets and another $12.00 on popcorn and a drink.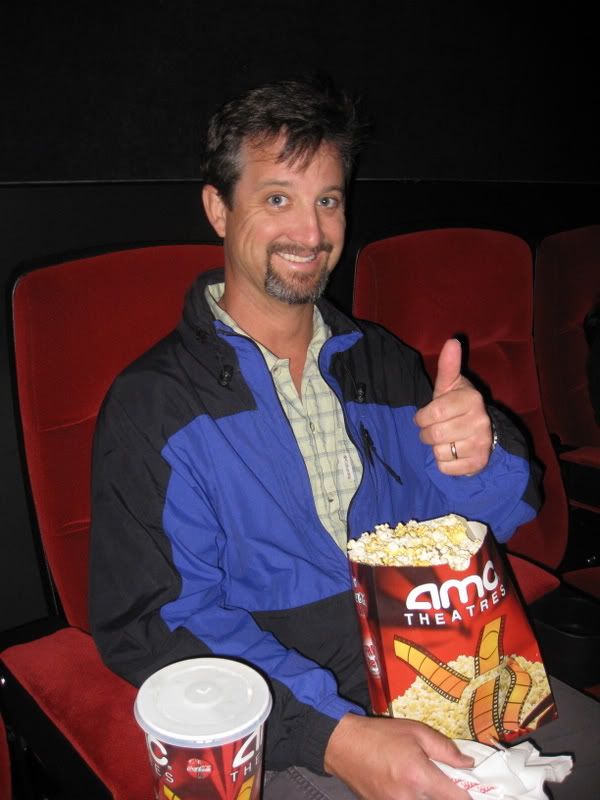 *********


Last night, I added a button for the
breast cancer website
to the top of my blog. I put it in such a highly visible place for three reasons:
First:
To remind me.
Breast cancer is the largest cause of cancer-related deaths among women and overall, one woman in every nine will get breast cancer at some time in her life. Screening for breast cancer by mammography can detect very early breast tumors when they are too small to be felt. Most of the breast cancers detected by screening are at this very early stage, when they are relatively easy to cure. An annual mammogram is recommended for women once they are 40 and studies have shown that women who take part in frequent screening are more likely to have breast cancer diagnosed
early
and are more likely to have it
cured
than those women who do not take part in mammography screening. If breast cancer is detected early enough, such as Stage 1 breast cancer, then the 5-year survival rate is as high as 98%-100%.
Second:
To support others
. I've seen an e-mail circulating around for the past several years that mammograms are available free of charge, to low income women, per click to the breast cancer website. After having received one of these e-mails the other day, I went to the website - checked it out - did a little
research
and decided that this was a cause worthy of my support. When you click the pink button on my blog, you will be directed to the breast cancer website, where you will be prompted to click the button below:
Third:
So I may always remember
. There have been too many women in my life affected by breast cancer. A little over twenty years ago, I lost my godmother and daughter's namesake and a little over two years ago, I lost one of my closest friends. Seeing the pink button at the top of my blog, will serve as a daily reminder to me, of my beautiful Aunt Carolyn and dear friend,
Julie
.
********
We had a surplus of
dough
the other day, and I whipped up some pretzels.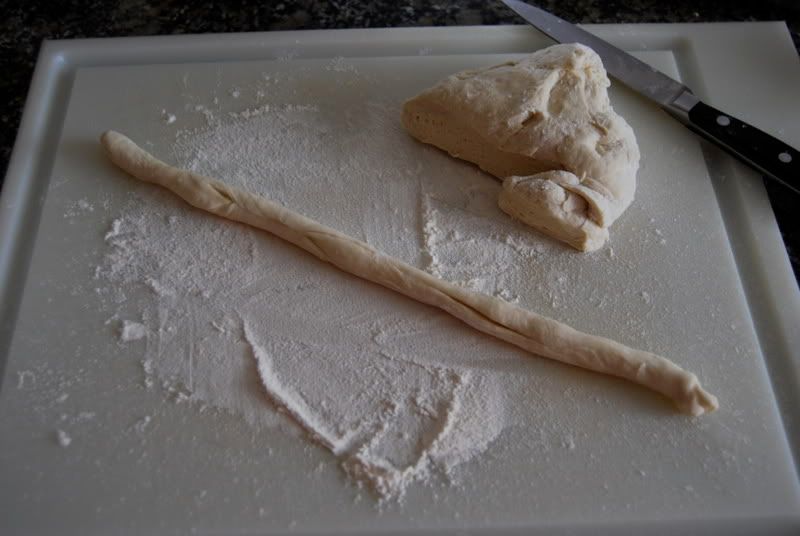 Because I'm a patient and loving mother - who hasn't considered abandoning her children in another country for 36 hours - after I drizzled the tops with melted butter, I let the kids help me sprinkle the tops with cinnamon and sugar.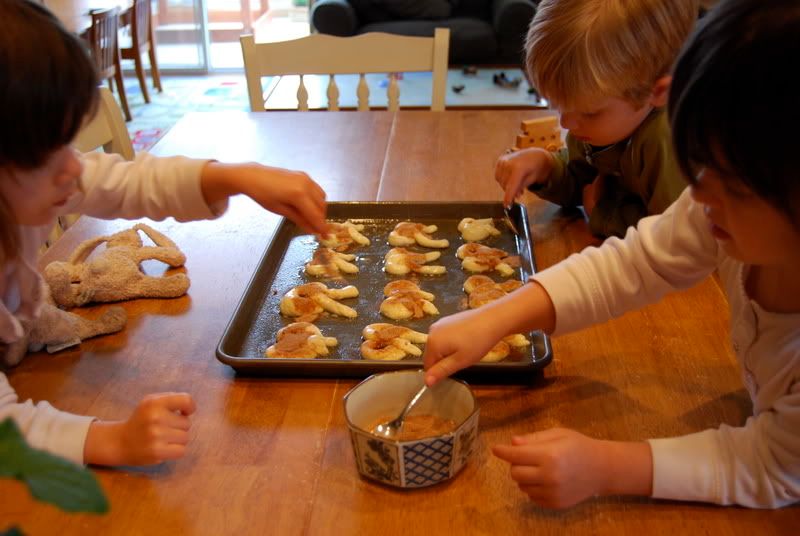 They turned out pretty good ...
but not good enough to write about.
The next time we made them, I let Carolyn drizzle melted butter on top, and when I peered over her shoulder, I noticed that she had drizzled an ENTIRE stick over two pretzels. At first, I was alarmed thinking that she was wasteful and OH! now I'd have to throw them away.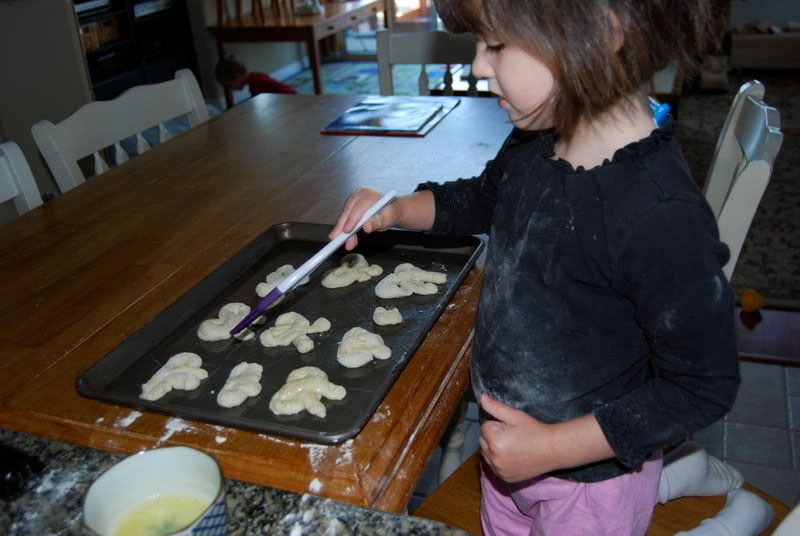 But instead, I sprinkled them with cinnamon and sugar and stuck them in a preheated 400 degree oven for 20 minutes.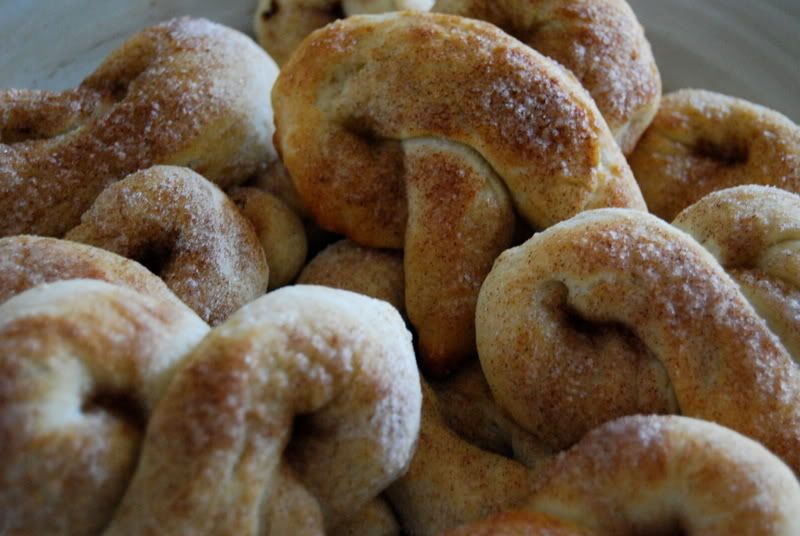 Wouldn't you know ... those two pretzels that were saturated with butter were the best ones in the bunch. Which is why I suggest that if you make pretzels, you use
a lot
of butter.
And oh. You might also want to take up running.