This morning, bright and early, I met with a group of about 20 women who are training for a 10K run on the Fourth of July. A couple of the women are training for marathons - a few have run marathons - and at least two are pregnant. One of the women that was there just gave birth five weeks ago.
We stretched for a little while and then, I thought maybe they'd have us walk/run for a half-mile or so to get us non-runners acclimated to running. Instead, someone stood by with a stop watch and timed how long it took us to run two-miles.
Two miles might not seem like a far distance to run. But trust me, if you're not a runner and never ran in your life (except that one time you did a 5K run in South Carolina and collapsed on the finish line only to find yourself sitting in the back of an ambulance while a paramedic was trying to feed you a popsicle ... and then that other time when you ran a 10K, and spent the last mile debating whether or not you should load your dead-last-place-behind in to the ambulance that was trailing you on the course), two miles is a
very long distance
to run.
While on this two-mile run, my friend and training companion, Jessica, dropped the bomb that oh, yeah, a few years ago ... she ran a marathon in Hawaii. Here I was thinking that I was getting in to this whole gig with someone that was as pathetic on the running front as me. But no. My training companion ran a marathon in five hours.
In Hawaii.
Where there are steep hills, lava flows, high temperatures and humidity. And beautiful beaches where I'd much rather spend five hours, burrowing my toes in the sand and sipping on some tropical concoction that was accessorized with a tiny paper umbrella.
Today, we had a flat course and it took me 29 minutes and some odd seconds to run two-miles. At that rate, it would take me 13 hours to run a marathon. Probably longer, because I doubt I would have been able to keep up my pace for long.
Seriously. I'm convinced I can walk two miles in less time than it took me to run them. When I walk, I am at least able to carry on a conversation. Any time I tried to say something more than my name while running today, I saw stars.
I'm not giving up, though. I'm going to run 15-20 minutes twice this week as our coach suggests and then I'm going to do two other cross-training activities this week. Probably swimming one day and maybe a bike ride the next. Or, if I'm short on time, I'll pull out my jump rope. When I was a kid, I remember jump roping for hours. But when I tried jump roping a few years ago, I was able to get my feet over the rope no more than ten times before falling down in a panting heap of sweat.
Returning home from my "run" this morning, I laid on the floor and watched the kids jumping on the couch. I really thought that I was in much better shape than I am.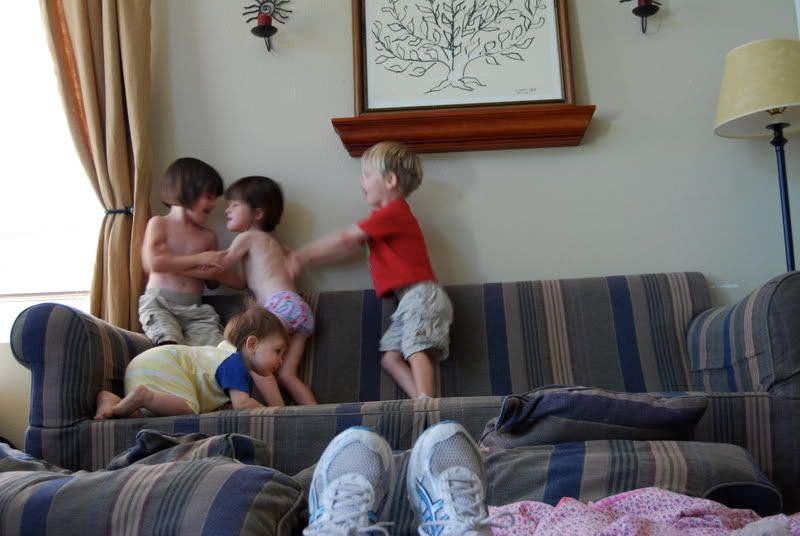 It seems that raising four children works a
whole different
muscle group.