In my dream house, there is a walk in pantry with ample space for cans, Costco-sized boxes of cereal, infrequently used appliances, a locking door, aromatherapy candles and a chaise lounge where I can relax and eat chocolate in peace.
Because I don't know when we will move in to our dream house - if we ever do - we are doing our best to make this house,
the one where we live right at the very moment
, be the house that we've always
wanted. Even though it is about 30% the size of what we'd like it to be.

A few years ago, before we had children ... in fact, right around the time we thought for sure we'd spend the rest of our lives childless and never
need
to move in to a larger house ... we put in granite counter tops, installed the sink of all sinks, and because once we started upgrading - we couldn't stop - we replaced all of our perfectly functioning appliances with new stainless steel ones.
Less than a year later, we had triplets.
Very soon after our babies came home from the hospital, I could see that storage space in our cabinets was going to be a
significant
issue. We only had a few shelves to store food and appliances, and accessing the food and appliances was extremely difficult. Moving food outside to our garage wasn't a viable option because we had dogs in the garage - and every so often - rats that are the size of house cats.
Besides, the one time we had tried to store a brand new gallon of olive oil in the garage, some furry life form ate clean through the bottle.
One day while I was standing in our kitchen, asleep on my feet, I had a vision of a pantry consisting of large drawers, built in to an area that was currently occupied by a useless desk. So, out came the desk and we installed a four-shelved pantry system that now holds more food and appliances than the rest of the cabinets in our kitchen, combined.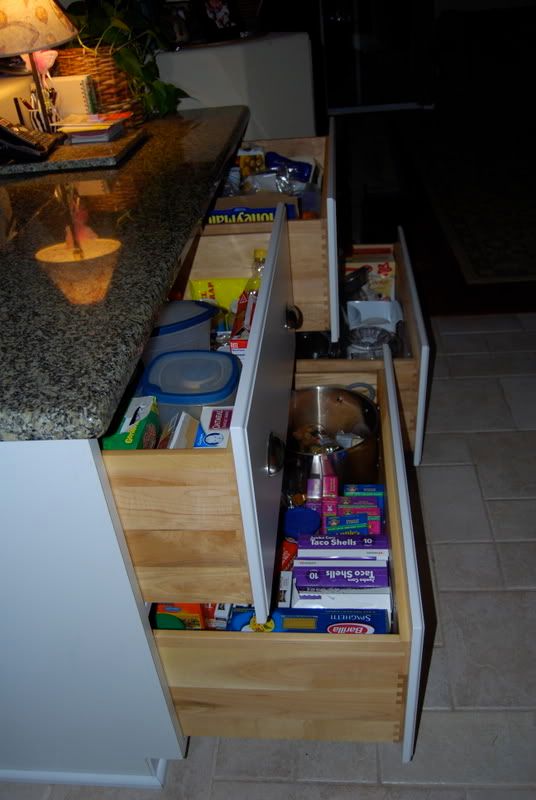 Equally important as that upgrade - was the installation of roll-out drawers on select cabinets. This relatively simple and inexpensive upgrade has expanded the usability and efficiency of our kitchen more than I could have ever imagined. It has also saved my back and knees from having to bend down and hunt things out from the far back of cabinets.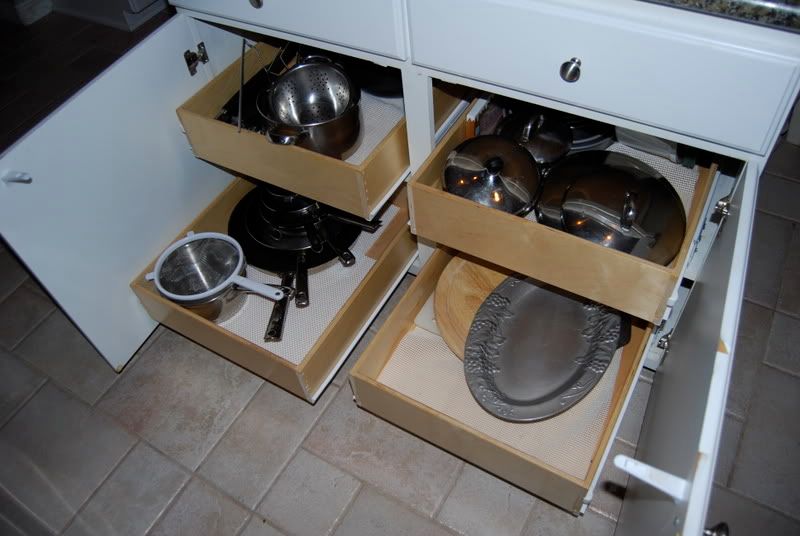 We moved all of our bulk dry goods (i.e. flour, sugar) in to plastic canisters with labels so that they are readily accessible, the contents are clearly visible, they stay fresh longer, and are easily stored. We also purchased canned-good risers, which are plastic tiered shelves that allow you to position canned goods higher, so you can see what you've got. These are available at most home stores (Bed Bath & Beyond comes to mind), although you could also create your own by using 2x4 pieces of wood.
We went through our cabinets and got rid of things that had expired (like this apple cider vinegar that went bad THREE years ago) and consolidated duplicates.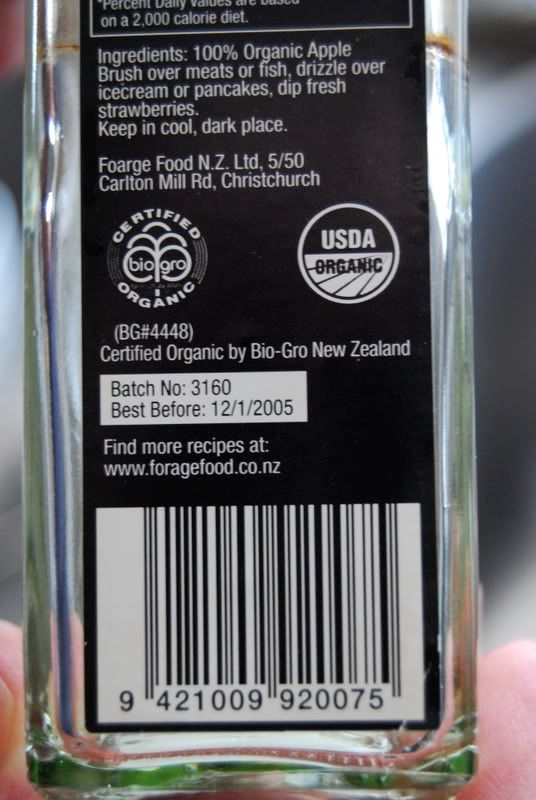 We scrutinized all of the appliances that were taking up valuable storage space and made the decision to part with certain items ... like a cracked fondue pot that hadn't been used in 15 years. We also moved a vast majority of our canned goods (tamper proof) outside to our garage to free up space in our cabinets for the children's arts and craft supplies. I then moved all of the children's plates and bowls in to their own drawer, and stock all of their sippy cups in a large basket. We stock bibs and face cloths for the children in a large basket, too.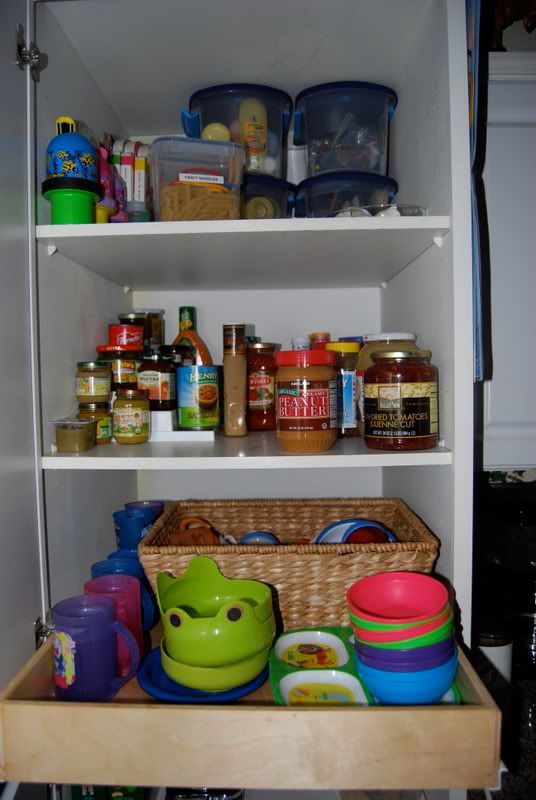 To recap:
1) We identified a space in our kitchen where we could better utilize the space by constructing a pantry. Although this construction project cost us ~$2,000.00 ... it was a lot less expensive than selling our house and moving because we had no place to store bread. Another alternative here would have been to put in an open-face shelving system and use large baskets for storage.
2) We installed roll-out shelves which made the functionality of our cabinets substantially better. This improvement cost around $70.00 per shelf, but I've seen metal mesh roll-out shelves that cost half as much.
3) We cleaned out, consolidated and containerized whatever we could. We used canned good risers so we could see what we had in the cabinets, more easily. Dry bulk goods, cereals, nuts and similar items were put in containers that store the material better and are stackable. I then labeled the containers with the contents on the front. Personally, after trying a lot of various storage systems, I like the
Sterilite Ultra Seal Food Storage
set and have two full sets in various sizes. The plastic is grade 5 polypropylene, as opposed to grade 7 polycarbonate (which may contain BPA).
Eventually, once I work up the courage, I'm planning to move the children's cups to a lower shelf in our kitchen, so that they can help themselves to drinks of water from the door dispenser on our refrigerator - whenever they need it. But I'm not there yet.
Seriously? I can't imagine that I will trust our children with running water,
whenever they want it
, anytime in the next five years.