Before they were born, while they were still fetuses entirely dependent upon my body, my daughters have had distinct personalities.
The baby that the doctors referred to as "baby C' was my smallest and the most active girl, flip flopping around and kicking her siblings on their heads with her tiny feet. "Baby B" was always larger and very rarely moved. She was content to lay still while her sister did tumbling passes in the adjacent placenta.
Yet while they were in utero, I had already determined what they would be named and had deciphered my daughter's personalities.
Baby C would have a bubbly demeanor. She would be constantly on the move, never content to sit still. She would smile at everyone she meets and be the life of the party. She would be the first to crawl, first to walk, first to do everything.
Baby B would be more laid back. She would be slower than her sister to do things. She would be more withdrawn and have reservations about every one that she meets. If there was a party raging poolside, she would be more content to stay at home with me.
When our children were born, it really surprised me that "baby B" was the smallest of the trio.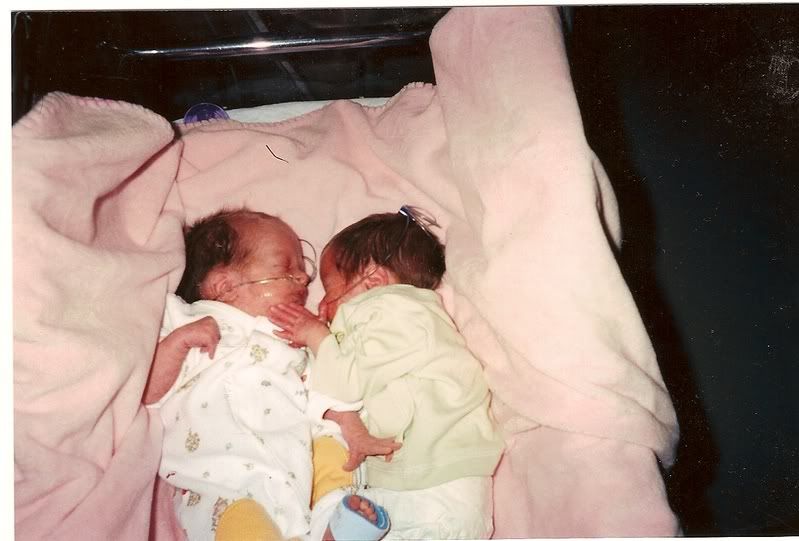 It surprised me that she was so active, even as a 3-pound preemie, whereas baby C, the baby that I thought would be so active, was perfectly content to sleep.
I thought for sure it would have been the other way around.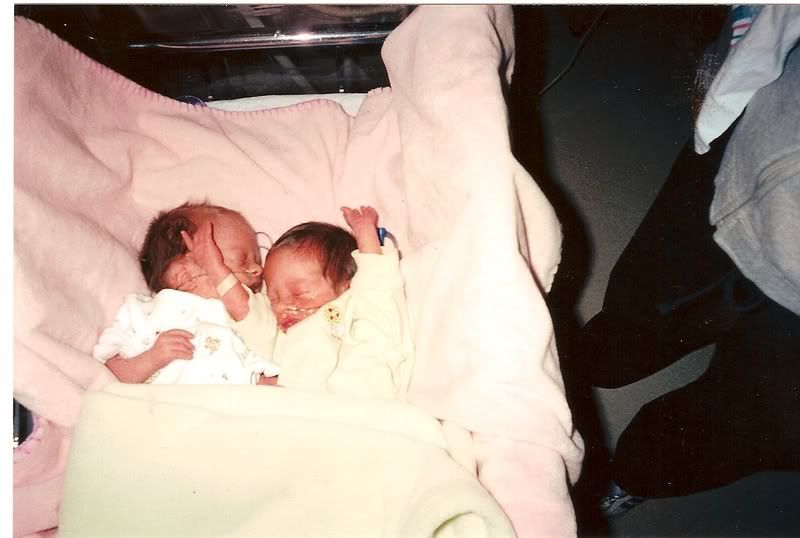 The notable difference in their size and personalities continued to puzzle me as we brought our children home from the hospital. Baby B - Elizabeth Jeanne - would hardly eat and squirm constantly; whereas Baby C - Carolyn Grace - would polish off all of her bottles and sleep soundly.
Several months after they were born, when we were comparing their growth charts, Charlie and I confirmed, without a doubt, that our girls had been switched at birth.
The baby that in utero, we knew as baby C - the smallest and most active of the trio - was born immediately after her brother. Once we discovered that they had been mixed up, I realized that the predictions I had made about my daughter's personalities while they were in my womb,
could not have been more accurate.

Elizabeth is a social butterfly and it downright scares me how she will talk to anyone. As she was active on the inside, she is active on the outside. This child
never
stops moving. She rarely eats, and yet is a ball of energy. She has a gentle demeanor and adores her baby brother. She was the first to crawl, first to walk and first to potty train. I think that if William had not been blocking her exit, she would have been the first to be born.
Carolyn is very shy and withdrawn. She is extremely cautious and will not approach any one that she doesn't know. Whenever we go out, she will stay by my side, and frequently, hang off my leg. She is jealous of her baby brother and will snatch toys away from him. Where her sister will eat two bites and ask to be excused from the table, Carolyn will sit and eat every last morsel on her plate ... before asking if she can have what her sister didn't finish. She is four-inches taller than Elizabeth and 12 pounds heavier. She was the last to crawl, last to walk, and still shows no interest in being "fully" potty-trained.
That last issue, the issue of potty training, has been
very
difficult for me. Almost as difficult as the way she hides under my shirt in public and knocks her baby brother down whenever he comes near.
Because Carolyn has been so adamantly opposed to going poop in the potty, her refusal is beginning to negatively affect my attitude towards her. I simply don't have the same level of patience or compassion that I once had, and I find myself saying and thinking things that are less than kind.
I am frustrated beyond belief.


Now if someone were to tell me about their stubborn child who refuses to potty train, I would tell them to relax. I would say that it will happen when it happens and until then *shrug* there's not much you're going to do about it.
But when I've got two other children, the exact same age, that have been potty trained for several months ... and one that is going through a regression of monumental proportions ... it's difficult to stay level headed. It's difficult to not want to pick your child up and compress their belly like a tube of frosting - squeezing that poop clean out.
Six people have now told me that the key to having a stubborn child have a successful evacuation on the toilet, is to put the child on the potty and keep them there until they poop.
I tried that once before and after a solid two hours and a tiny poop, I hadn't done it again. And since I've got so many activities happening on any given day and I'm often managing my time in mere seconds, I don't want to sit around waiting for hours
and hours
for a child to defecate.
But one day last week, I was at my wits end.

So on Wednesday night - and again Thursday night - I sat my daughter on the toilet.

The first night it took an hour. The second night it took four and a half hours. I suspected that Child Psychologists the world over would tell me that this approach is WRONG. I suspected that my callousness in ignoring my little girl's pleas of "I'm tired!!" would land her in therapy. I suspected that the vast majority of the civilized population would say that this is a cruel thing to do to a child.
But, there I was.
She was doing this holding-of-the-poop thing to spite me and I was NOT going to lose. It was a war of wills and I would triumph. The poop that had been daylighting since earlier that morning, was no longer longer poop, it was sh*t, and I was tired of cleaning it out of underwear, seeing it, smelling it, and otherwise thinking about it.
I was determined that it was coming out
in the pot.
Not in a diaper.
Not in underwear.
Not in pieces on her hand - which she might then
wipe
on our linen shower curtain.
Thursday night, I put her on the potty at 8:00 PM. Four and a half hours later at 12:30 AM, my daughter finally did go poop. It came out once she fell asleep.
All weekend I was upset over my actions on Thursday night.
I was upset that I would force my little girl to sit on a potty to go poop, when it was clear that she absolutely did not want to. I was upset that I would tell her the next time I see her knock her baby brother down - or hit him with a block - I was going to do the same thing, to her. I was upset that I have been so disappointed with her in almost everything that she does.
I was upset that I had less than favorable feelings about my daughter as a manifestation of the frustration that she was not doing this
one thing
that I really wanted her to do.
When our daughters were born, it didn't matter to me who was named what. But I find it interesting that the child that I always thought would be Carolyn Grace, my baby C, is in fact baby B.
After some soul searching this weekend, I'm certain that it was no mix-up that my daughters were born when they were. I have decided that it was a case of divine intervention that my girls came out when they did. Because if Carolyn was born when she was "supposed" to be born, she would have been named Elizabeth Jeanne. But because their names had been picked out well in advance of their birth, the angels on high must have known that the child that would
really
need her mother's grace, was baby B.
My Gracie.

I have decided that instead of being frustrated with her, I must shower her with love. I must spend more one-on-one time with her and not completely lose my cool whenever she does something that I think she knows is wrong.
Above all, I must show her grace.
I have also decided (again) that pooping in the potty isn't going to happen until Gracie decides that it should happen. I can only hope that it will happen before I am eligible for the AARP. Until then, I am putting her in diapers - all day every day - because she and I have both cleaned enough poop out of underwear to last a lifetime.