So yesterday?
El Paso became Odessa.
Odessa became Abilene.
Abilene became Eastland.
For those not familiar with Texas, we stopped approximately 500 miles sooner than
we
Charlie had planned.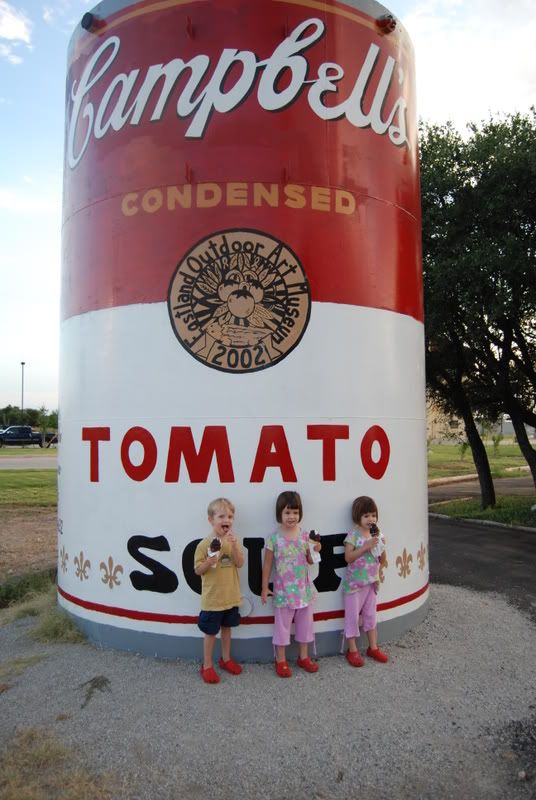 Henry was screeching in the back seat and no amount of feeding, or reading, or peek-a-boo from the front seat would help. All he wanted was to GET OUT. The west setting sun was shining in our eyes and even though a blanket was draped across the windows and the sunscreen shades were pulled up on all the windows where available, a thin sliver of blinding light found it's way in to the car and directly in to William's pupils which had the unwanted effect of sending an over-tired and over-traveled three-year-old boy in to a fit of whining hysteria.
Add to that, I was feeling uncomfortable because of an upset stomach as the result of overdosing on junk food. Namely, M&M's, fried shrimp, french fries and the remnants of fried chicken from our children's lunch at a questionable family cookin' diner in Longview, Texas.
Questionable because it had an unclean feeling we noticed after we sat down and were sipping on our sweet ice tea. When Charlie asked how much the predominantly gravy-coated buffet lunch cost, it was clear that the waitress sized him up before responding, "Elev... $12.00." And when I walked out to the car to grab my camera and spotted a Grade B sanitary sticker that was slightly obscured behind a dusty silk flowering plant on the front counter, I debated telling my germophobe husband because I knew that he would RUN out of there.
At that point we had already ordered lunch, the kids were in the middle of making a mess and I had reservations about saying "Sorry, we're leaving." I guess it's a politeness thing with me. If I knew that we'd all be struck down with food poisoning, I absolutely would have walked out.
But I was certain that any parasites would perish if they were fried deep enough.
So I didn't tell Charlie about the less than satisfactory Board of Health rating until we were on our way out. By that point, he was so anxious to leave and I was under such distress by the 103 degree temperatures and high humidity and what I perceived to be, overly rambunctious children - that I backed right in to the restaurant sign. Even with a backup camera, I missed the sign that was 50 feet tall and at least two feet wide.
Thank God it didn't crash down on top of the car.
We hustled out of there, back on to I-20, and continued our drive west across Texas. When it didn't appear that there would be any end to the misery in our vehicle, we made an emergency stop a few hours later at a Dairy Queen in Eastland.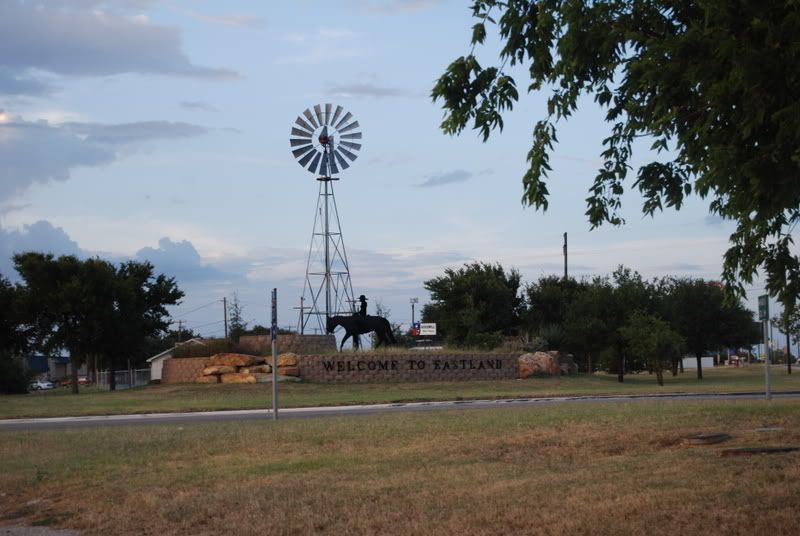 While the kids crawled through our car with their chocolate dipped ice cream cones - dribbling stickiness all over the interior of our van - and Henry continued his screaming and squirming, I could tell Charlie was close to losing his mind.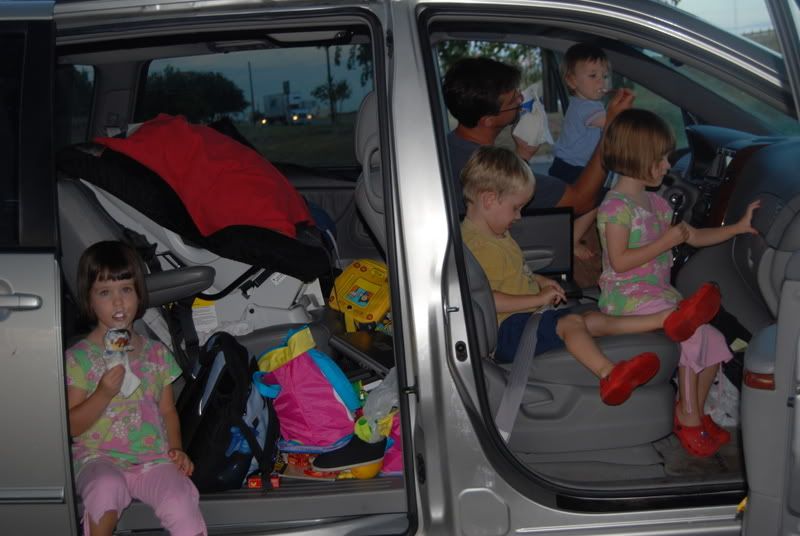 I said a quick "God Help Me" and then, noticed that just beyond the huge can of tomato soup, there was a brand new La Quinta. It looked nice enough, even though it wasn't a Marriott and at least 200 miles sooner than we had planned to stop. But a little voice in my head, a heavenly spirit if you will, whispered, "GO TO THE LA QUINTA, JEN. TAKE YOUR HUSBAND AND CHILDREN BY THE HAND AND JUST GO."
Much like the salami sandwich that was crushed under 40 pounds of rocks in my backpack that I was hiking 20 miles out of the Sierra Nevadas to have analyzed for my masters thesis was the best sandwich I'd ever eaten ... after traveling almost 6,000 miles in 20 days and staying in hotels across this fine country, I can say that without a doubt, the La Quinta in Eastland, Texas is the best one yet.
It's a little slice of heaven right there, smack dab in the middle of Texas.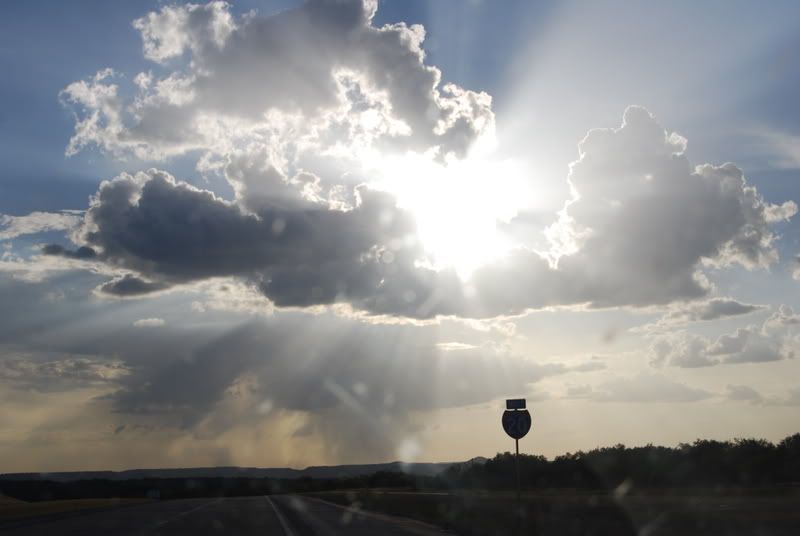 We unloaded the kids, made our way to our room - an awesome suite - changed everyone in to their bathing suits, and spent the next hour splashing in their beautiful pool with the trio dolphin mosaic on the bottom. After we returned to the room and put the kids to bed, Charlie told me that he was going to run back down to the car, which was visible from our room window, to grab a few other items. When I looked out the window five minutes later to see where he was, all I saw was an empty parking space.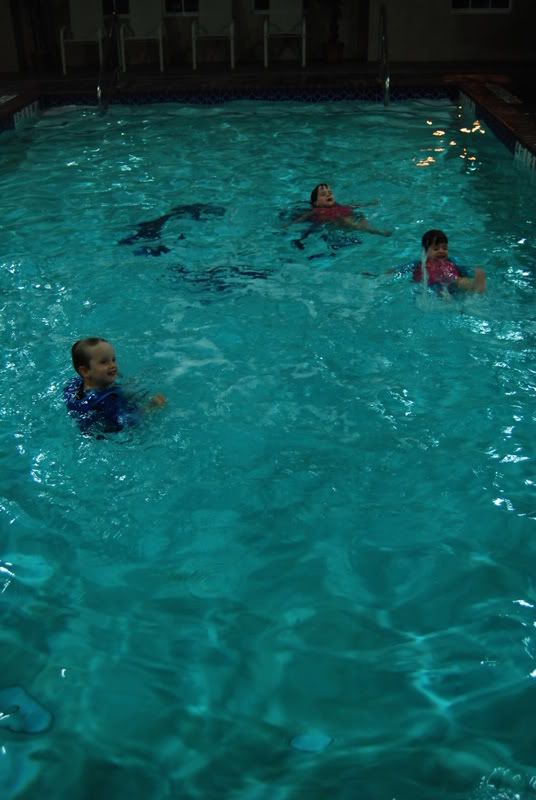 My first thought was that he was abducted and was taken by gunpoint.
My next thought was that he was attacked and killed when someone was trying to take our car. That lump of
something
I could see next to the dumpster were probably his legs.
My next thought was that he moved the car. But this made no sense because WHY would he move the car? We had an optimal location right next to the stairwell.
Surely he didn't just
leave
his wife and four children at some remote location in Texas. Although after the day we'd just had, I can't say that I would have really blamed him if he did.
He was gone.
I was stranded.
My babies would never remember their father.
I was responsible for raising four children, by myself.
I was responsible for getting four children home, by myself.
My wallet was in the car. My cell phone was in the car. Our stroller was in the car.
I picked up the phone to call him on his cell.
I couldn't dial out.
I called the front desk and as calmly as possible, told the clerk that I needed an outside line. Five minutes later she called back and told me that it was available. I called him again and received his voicemail.
Thirty minutes had lapsed.


At what point should I call the police?
I called his cell phone again and on the fifth ring, a happy Charlie answered
"Yellow?"
Was I happy to hear his voice? Was I relieved that I wasn't a widow - or a single parent? Was I comforted to know that I wouldn't have to drive the rest of the way to California by myself?
Sure. But mostly?
I was mad.


WHERE (the bleepety bleep) ARE YOU?!
WHY (the bleepety bleep) DID YOU MOVE THE CAR?!
Charlie responded, "Oh, I thought I
told you
I was going to buy a beer. After the long day today, I really wanted one. As it turns out, Eastland is a DRY town, how about that? Isn't that something? So I had to drive five miles east to Ranger and..."
(bleepety bleep) CLICK.
Charlie returned to our room just as Henry woke up crying. He cracked open a Heineken and I climbed in to the shower and didn't come out until the room was perfectly quiet.
Today, we were having a nice breakfast of Texas waffles ...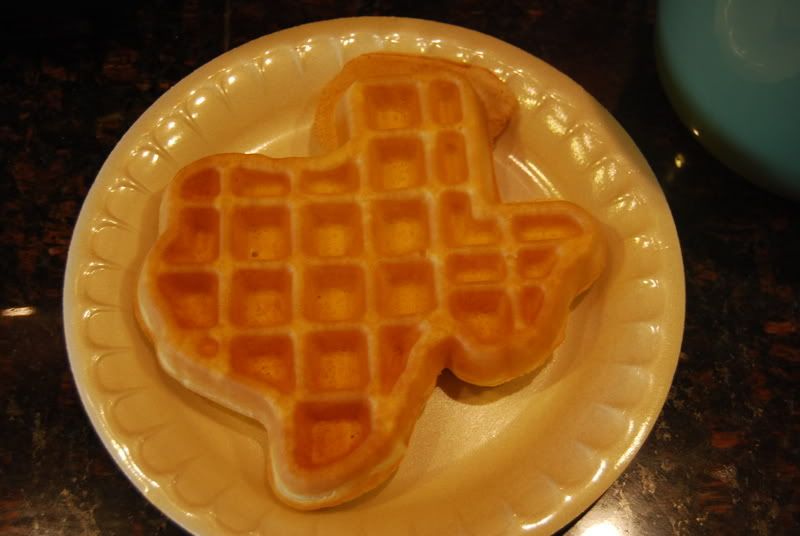 ... until William and Carolyn got in to a tug-of-war over a container of yogurt which EXPLODED all over the children, table, walls, floor and new suede covered seats.
I had a mini explosion. Followed by another mini explosion when the kids started to unpack our dirty laundry bag in the middle of the hallway just as were leaving.
I threatened that if they didn't shape up, I was going to leave them in the hotel, and just when I thought that the cleaning crew thought I was an absolute witch, I saw one come out of a room smiling and saying "We could always use some extra help. Wow, it would be great if you could leave them here." While the kids looked on with their mouths agape, Charlie added "Really? Because they've got small hands which are perfect for getting in to all those hard to reach places!"
Hopefully, that exchange didn't cause too much emotional scaring. But if their behavior the past few days is ANY indication of what is to come with maturity, Charlie and I are in for it.
The drama.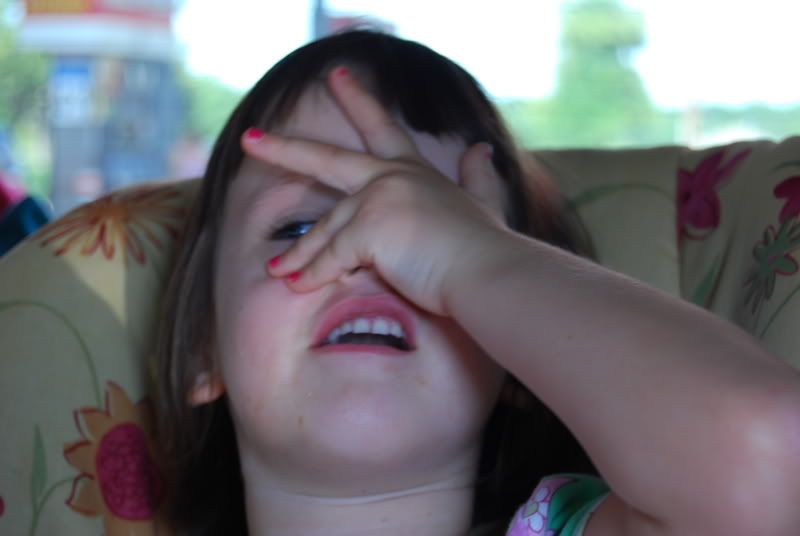 Oh, the drama.
Currently, we are within an hour of El Paso. Tomorrow we are going to try and reach Phoenix where we'll see Alex and Kathleen, but we are basing our driving duration and distance on the children. If they aren't happy, neither are we. And amazingly enough, we have been really happy thus far.
Earlier we were driving through that part of Texas which is
completely
flat.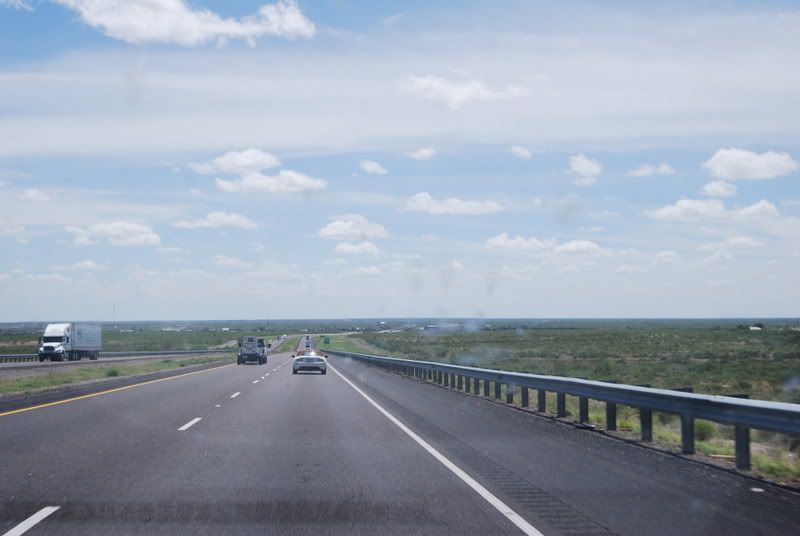 The beautiful trees and lush foliage that were present east of Dallas, have been replaced with low lying chaparal, mesquite, pepper trees(?) and a live oak every so often.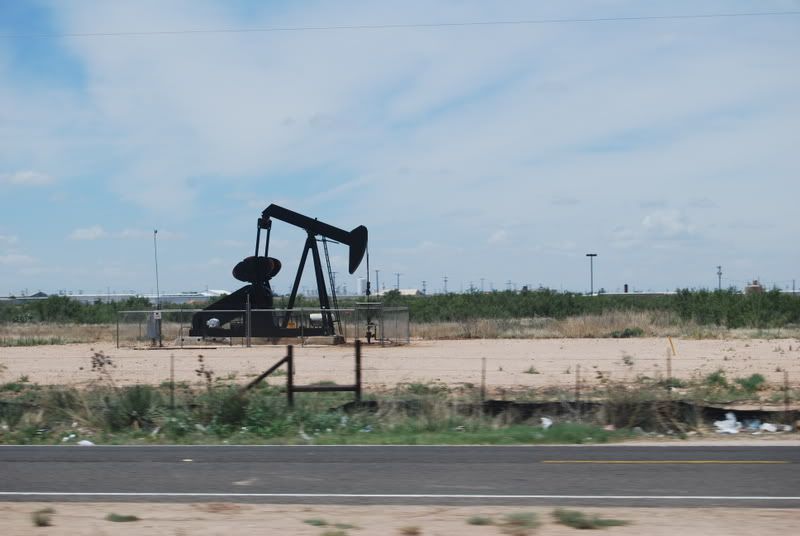 The landscape is punctuated with oil dereks and pumps.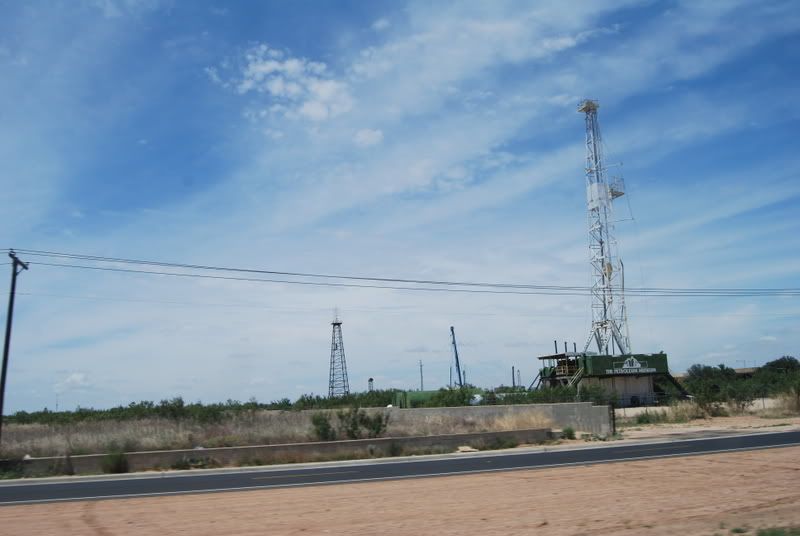 And Dairy Queens.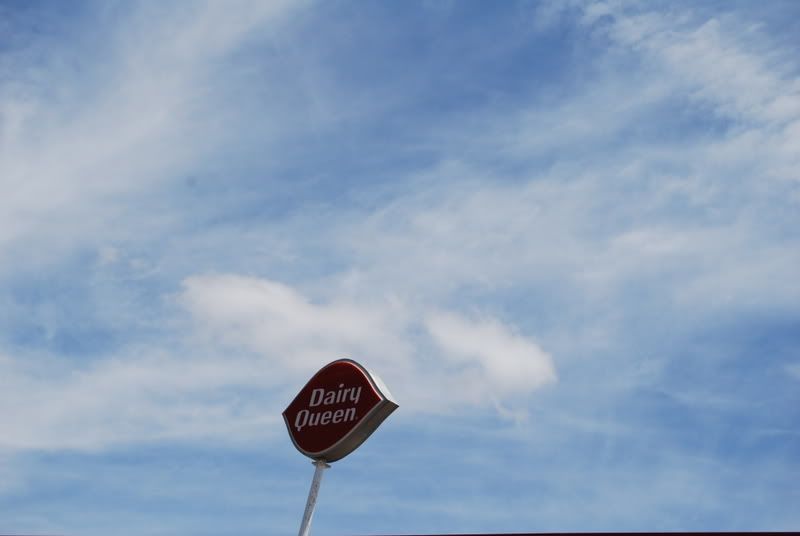 Thus far, we've counted 46 on I-20 since we've entered Texas.