There are very few things that
really
gross me out.
Actually, I just started thinking about that statement and it's not entirely true. My idea of fishing is to hold the rod. I need to have someone else put bait on the line - and then, have someone else take any fish off the line that I may have caught. Touching the bait - or a live fish - makes me queasy. And the time that I stepped barefoot on a snail when I was 18 years old, still to this very day, makes me nauseous. Almost 20 years later, I can still hear the crack and feel the slimy jagged ooze between my toes.
But almost more than either of those things, the one thing that
really
grosses me out is old sponges. Old
stinky
kitchen sponges.
A few years ago, I watched a show on Oprah about a woman who lived in absolute squalor. She never cleaned her bathroom, never cleaned her kitchen, never cleaned her house. She had the same sponge in her kitchen that was at least five years old that she used to wipe down her dishes and her counters.
A team of scientists - including mold and mildew experts - went in to this woman's house and collected samples from her rugs, bath mats, counter tops, and curtains. They bagged up her nasty old sponge and took it back to their lab for an evaluation. And although I remember feeling really grossed out with the state of this woman's living space, what I remember most from that show is that her kitchen sponge was
loaded
with E. coli and salmonella.
I can only imagine how bad it smelled.
Growing up, I remember my family would always throw sponges in the washing machine every few days to clean them. The average life of a sponge was at least a year. If not a decade or two. Even now my mother has sponges in circulation that I recognize from high school. The sponges are clean, I'm sure of it, but I never did understand reusing something that I considered to be disposable. The quality of the sponge was degraded
.
So once I landed my first job and collected my first paycheck, one of the very first purchases I made was to buy NEW sponges for my apartment. Once every couple of weeks, I'd break out a new sponge and throw the old one away. It was and
still is
a great treat for me to open up a brand spanking new sponge.
Up until recently, I would use a sponge for washing dishes and wiping down counters. But when my mother noticed that some of her friends were using bar mops, she ran out to the store and bought me a pack.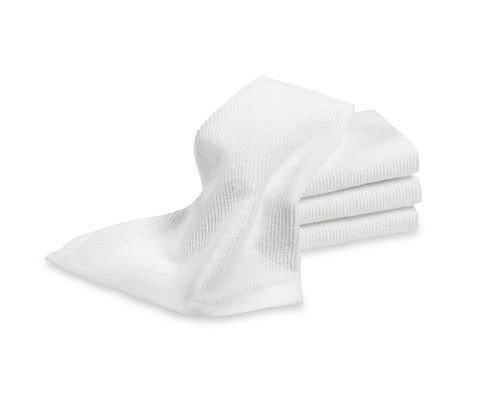 Now, I use bar mops exclusively for wiping down and drying our counters, and I use sponges exclusively for washing dishes. At the end of the day, I toss my used bar mops in to the wash and pull out a clean one for the next day.
My sponges still go in to the trash after two weeks or when they get stinky, which ever comes first. But after reading
this article
, I have also started running our sponges under water and then, sticking them in the microwave for one minute to zap any bacteria.
Here's a
link
where you can purchase bar mops. I really like the William Sonoma brand. I also really like William Sonoma
dish towels
. In my opinion, they are the highest quality dish towels around. We've had ours for five years and counting. Come to think of it, I really like pretty much everything from this store.
Almost as much as I like clean bacteria-free counters.