We arrived home late yesterday afternoon.
Henry was the happiest one to be out of the car.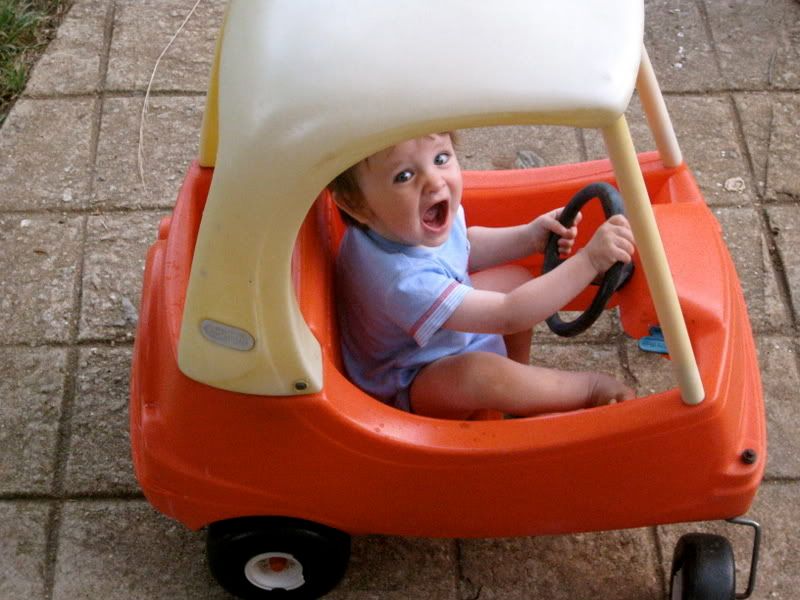 William and Elizabeth were both sad that the trip was over and kept repeating that they didn't want to go home. Carolyn wouldn't get out and instead, sat in the back seat crying hysterically that she wanted to go back to Aunt Grace and Uncle Bill's house.
After much coercion and promises of an ice cream cone ... we unloaded the car, walked in to our spotless home - and almost instantly - it looked as though a twister had swept through. The bags that we had taken with us were dragged to various parts of the house by children who were suddenly happy to be home, and the contents of those bags were dumped. Toys were scattered and within minutes, the floor was no longer visible.
Charlie and I were so tired, we just stood by dazed and confused while all hell was breaking loose by the little people under our command.
Today, after we woke up and panicked for five minutes because we couldn't find Elizabeth ... only to discover that she had crawled entirely underneath her bed and fallen asleep there ... we spent much of the day trying to put things away.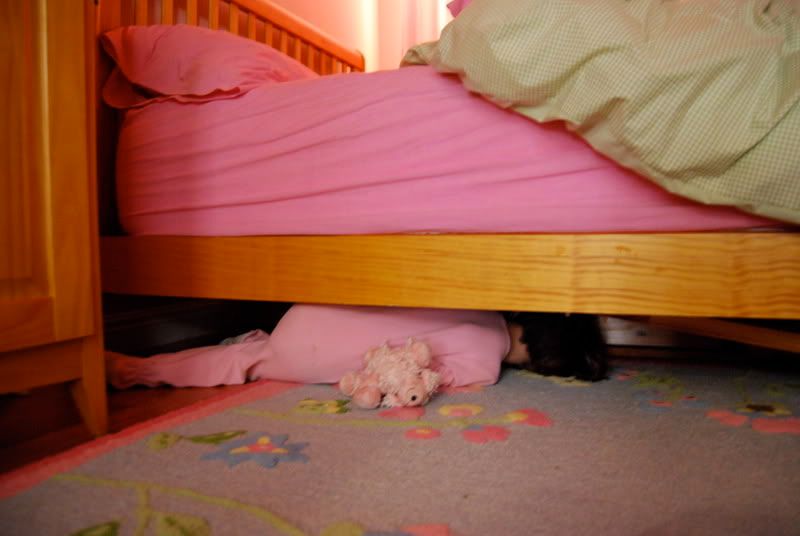 This was an exercise in futility because it seemed that as soon as we got things cleared up, the kids would come storming through. Although I didn't think that we had that many toys before we left, today I felt completely overrun. I kept asking Charlie
"Where the heck did all these toys come from? Did someone smuggle them in??"

But I suppose that's what happens when you go on a trip and only bring one or two toys per child. You forget just how many toys children have in their possession at home until the full force of their collection hits you square. It seems that when children return home from an extended time away, they must bring
every single thing
that they own out.

And leave it on the living room floor.
In the midst of trying to unpack and do laundry (and pick up our dog and grocery shop and sort through mail), we pulled all of the carseats out of the van and I spent a good portion of time cleaning each one of them, thoroughly. I washed all the seat covers, straps, seat protectors, and plastic housings.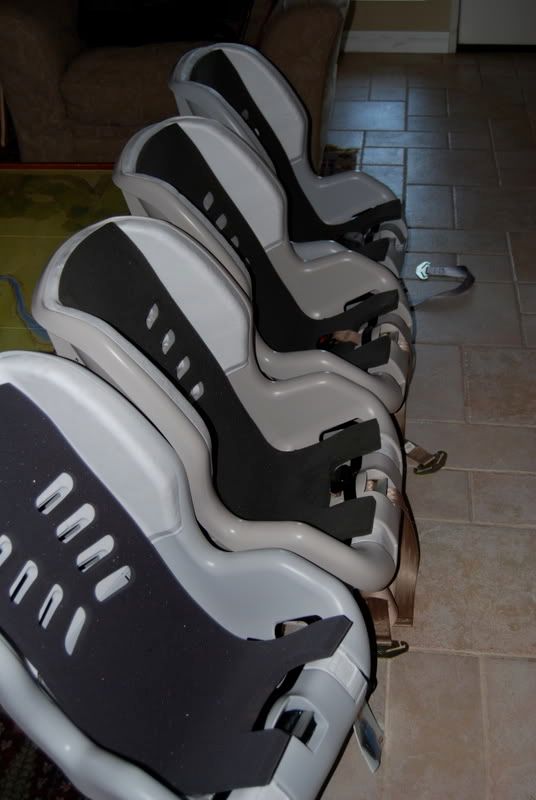 Meanwhile, Charlie took the van down to have the oil changed and have the whole car detailed. We pondered spending the money to have the car professionally cleaned, but after I saw that there were Fig Newtons and assorted unidentifiable consumable goods
melted
in to the back seats and carpet, we agreed that paying someone to clean up that mess was money well spent.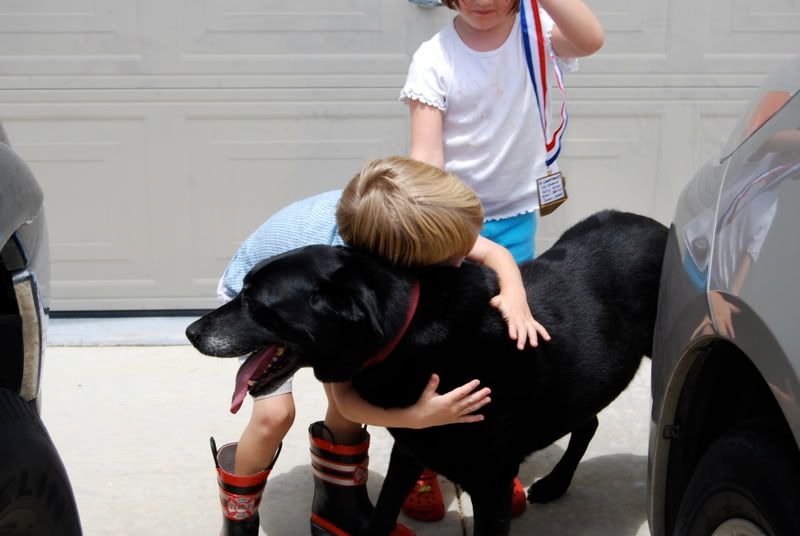 Despite how tired we feel today, and how we doubt that we'll be be physically capable of driving more than five miles for the next month ... this really was a fantastic trip and we are so glad that we took it.
A lot of people have asked why we would drive when we could fly. The short answer is that we have a lot more flexibility with driving than we ever would have had with flying. Add to that, we had family that we saw in three different locations and the cost for plane tickets to Toronto, Boston and Greenville ... for five people ... with less than three days notice ... would probably have cost us close to $20,000.00.
Not to mention, traveling with four little ones by plane who require carseats is a difficult task. You need to transport the carseats (or arrange for carseats at your destination), and you most likely need to rent a vehicle, unless the people that you are visiting just so happen to have a 7-passenger vehicle sitting around that they don't use.
Having our own car on this trip was
great.
Not having to bend to airline schedules - security checkpoints - and possible delays - was worth
any
inconvenience with driving. Plus, we got to see the amazing country that we live in, so that was pretty awesome, too.
All told, we drove through 24 states, including: Nevada, Arizona, Utah, Colorado, Nebraska, Iowa, Indiana, Illinois, Michigan, New York, Massachusetts, Connecticut, Pennsylvania, West Virginia, Virginia, North Carolina, South Carolina, Georgia, Alabama, Mississippi, Louisiana, Texas, New Mexico and California.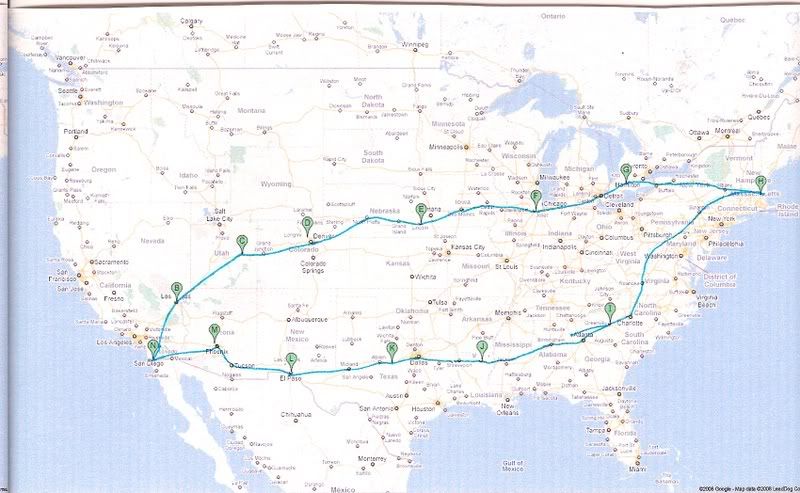 We stayed in Las Vegas, Nevada.
Green River, Utah.
Boulder, Colorado.
Lincoln, Nebraska.
Joliet, Illinois.
London, Ontario, Canada.
Concord, Massachusetts.
Greenville, South Carolina.
Monroe, Louisiana.
Eastland, Texas.
El Paso, Texas.
and Surprise, Arizona.
We drove through Arizona and New York twice. We crossed the Mississippi River and Colorado River twice - in two separate locations - and the Continental Divide twice. We lost three hours driving east and then regained three hours driving west when we crossed three separate time zones. We went from the most southwestern corner of the United States to
almost
the most northeastern corner of the United States.
Our total driving distance was 6,837.5 miles.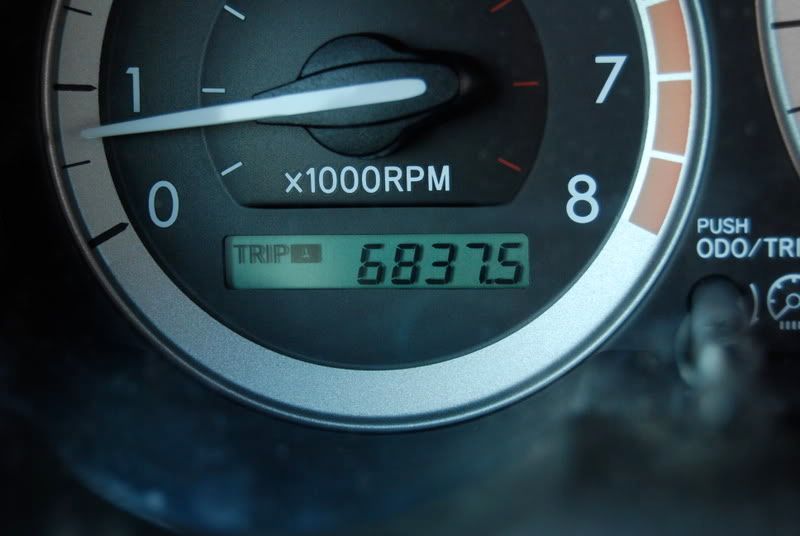 Or ... 11,003.9 kilometers.
We filled up 14 times driving from Boston to San Diego. The total cost on fuel from the east coast to the west coast was $513.99. Because we didn't hang on to any receipts on the way out, we estimate that we spent about the same amount driving there, plus $200.00 for various side trips. Therefore, we estimate that the fuel for this trip cost around $1,200.00.
We've estimated that our car averaged 23 miles to the gallon. A more fuel efficient car could probably make it coast-to-coast for about $500.00. But there's no way we'd all fit in something this small.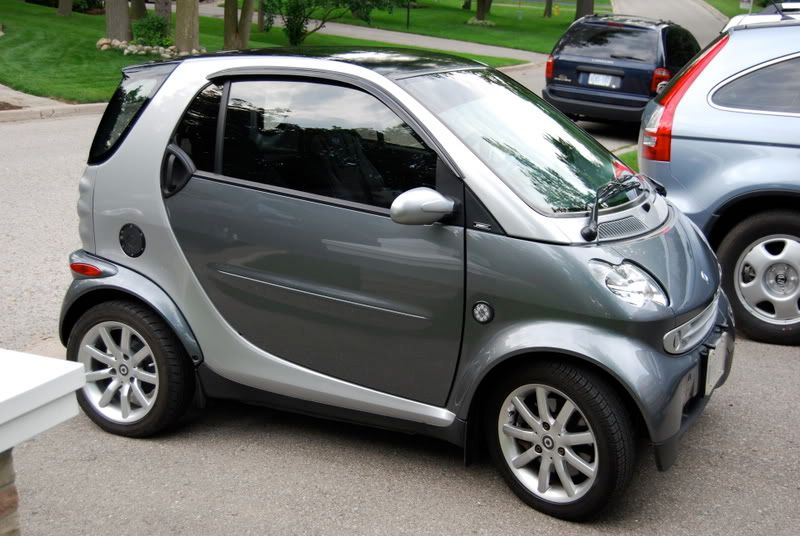 We stayed in hotels twelve nights. We were responsible for paying for the hotel on eight of those nights. The average hotel cost was $150.00. That works out to approximately $1,200.00 on lodging. Plus food and souvenirs bought at Truck Stations across the land ... we probably spent around $3,000.00 on this trip.
Considering this is the first time away Charlie and I have had since Henry was born (and can child birth
really
count as a vacation?), it was worth every dime.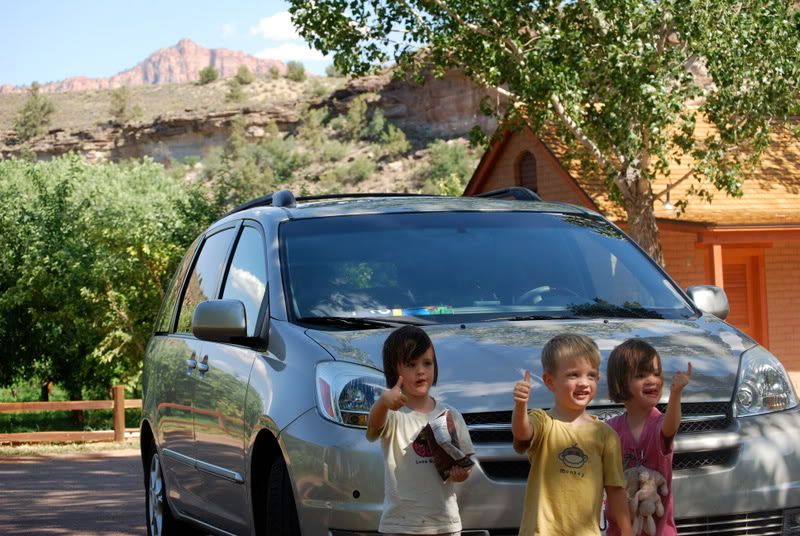 Besides, the memories we created were priceless.