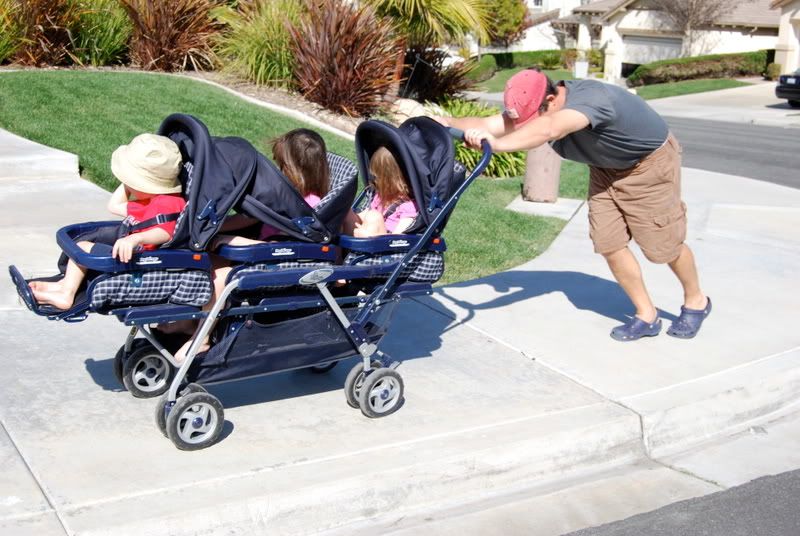 Yesterday, Charlie told me that the things the children do, which really seem to annoy me, don't affect him at
all
. So I told him that if he had so much patience, maybe he should get up with the children this morning, while I stayed in bed nursing Henry.
That was at around 7:00 AM.
By 7:03, I could hear the festivities unfold. Mostly, what I could hear were the sounds of toys being dumped all over the floor and scattered throughout the house. The house that we had spent much of last night cleaning and organizing once the kids went to bed.
Charlie was futilely asking,
"Guys, do you need to do that?"
By 7:08, I could hear the fighting begin.
Charlie was starting to referee.
"Gracie. Elizabeth had that. William, there is more than

one

block in this house. Go find another one."
By 7:11, the destruction began.
My husband was flustered,
"Why are you knocking things off the table, just to DO it?! WHAT ARE YOU DOING?!

STOP

DOING THAT!"
By 7:15, the three-year-old demands began. Everyone wanted something.
"I WANT JUICE IN DA BUTTERFLY CUP!"
"DAT MY BUTTERFLY CUP!"
"NO MINE!"
"MINE!"
"MINE!
"
"AAAARGH, AAAAAAARGHH!! AAAAAARRRRRRRRGGGGGGGGHHHHHH!"


"MINE!"
Around 7:20, I picked up the phone receiver in our bedroom, and called the base, which is located in the kitchen. I could hear it ringing and Charlie let out an exasperated sigh before answering "
Yes
.
Hello
."
He was surprised to hear my voice on the other end.
In an exaggerated sleepy voice, I said
"Hi. I'd like to order some fresh squeezed orange juice and your organic fruit parfait with a side of whipped cream."


There was silence and then Charlie said,
"Jen, my head is about to POP like a zit."
And that concluded my morning of sleeping in.