Someone recently asked if our children only use their small potty chair or if they also use the toilet. Because I do not yet trust the kids to have unsupervised access to the bathroom, they primarily use their potty chairs. Also, our home only has two toilets - and it is often the case that all three of the kids will be sitting on the potty (and sitting and sitting) on or about the same point in time. If, however, I am not busy preparing a meal - or feeding the baby - or doing a host of other things that I am consumed with every day - I will take them in to use the "big" potty.

For the most part, the kids use one of the potty chairs I have lined up along the kitchen wall. This system works great for now and I'm sure that with time, we will adjust to the kids using the bathroom without supervision.
The
only
problem with my current arrangement is that Henry is like a
moth drawn to flame
whenever he sees a potty chair.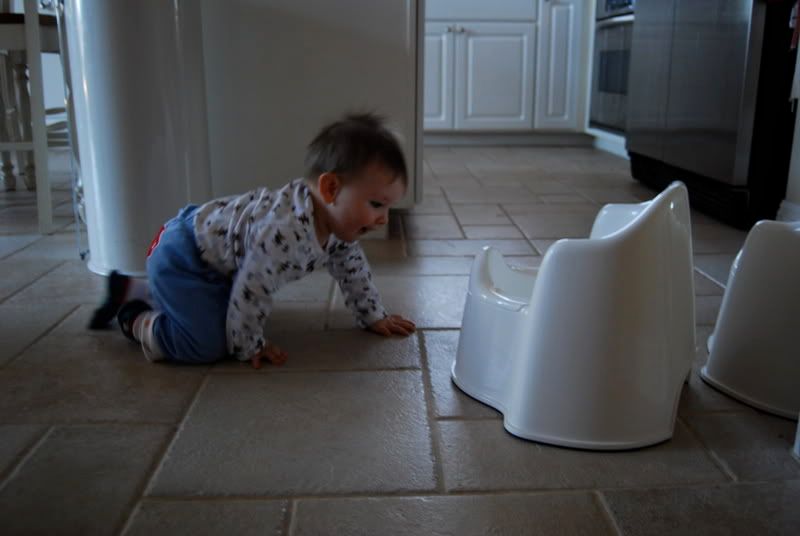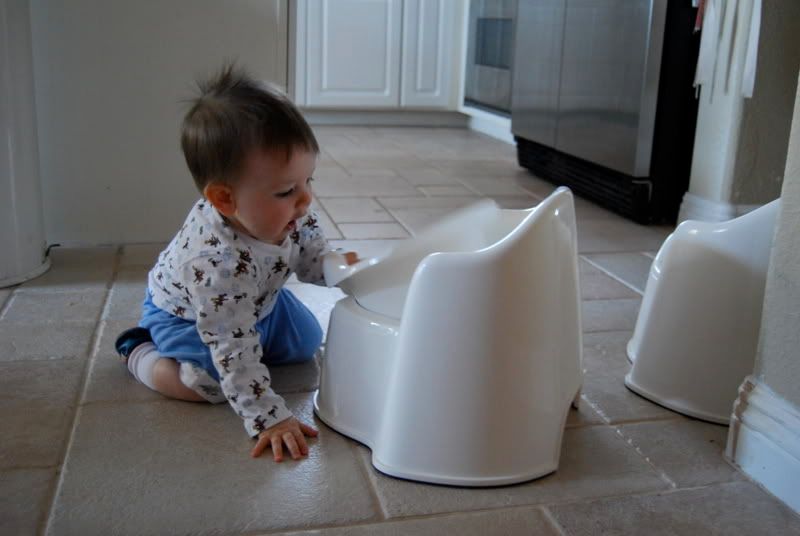 *****
The UV one-piece swimsuits that the kids wear, were a Christmas gift from Alex and Kathleen and can be purchased at
www.outdoorkids.com
. We used them for the first time,
in the pool
, yesterday and they were perfect. They provide excellent coverage and dry a lot faster than if the kids were to wear a t-shirt over their bathing suit.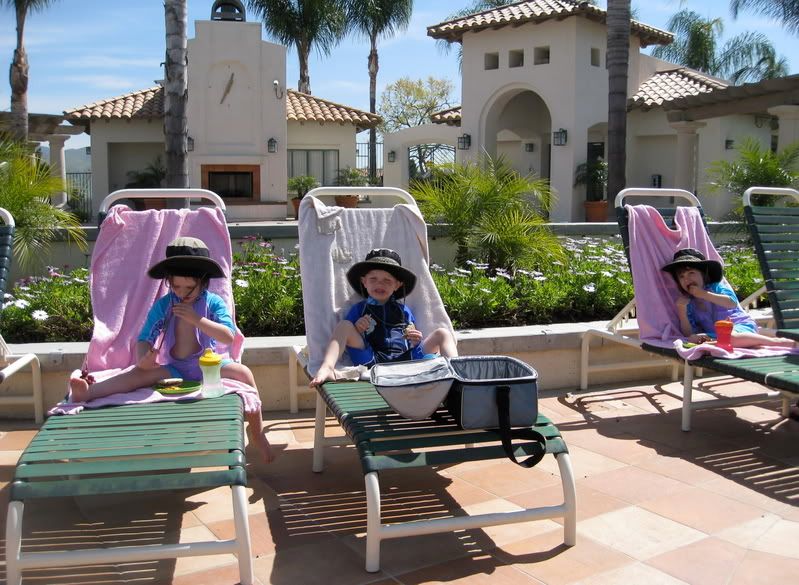 *****
We have two cameras: a Nikon D40x and a Canon PowerShot SD850 IS. I have yet to watch the instructional video that came with either camera. One day soon, I'd really love to take a photography class and gain a better understanding of Photoshop. Until then, I will be taking a lot of pictures that look like this.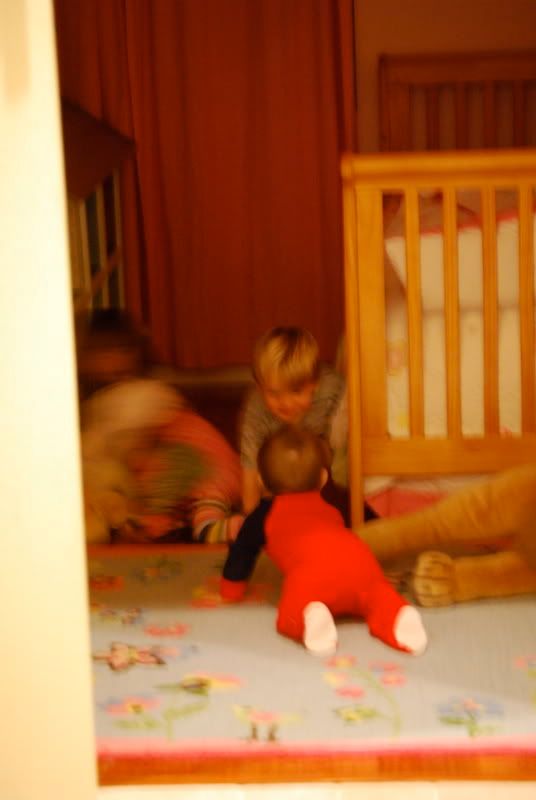 And this.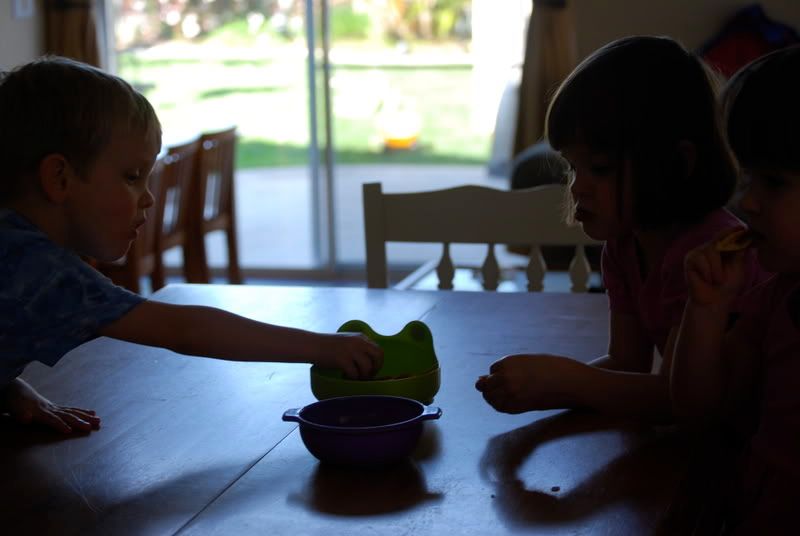 And this.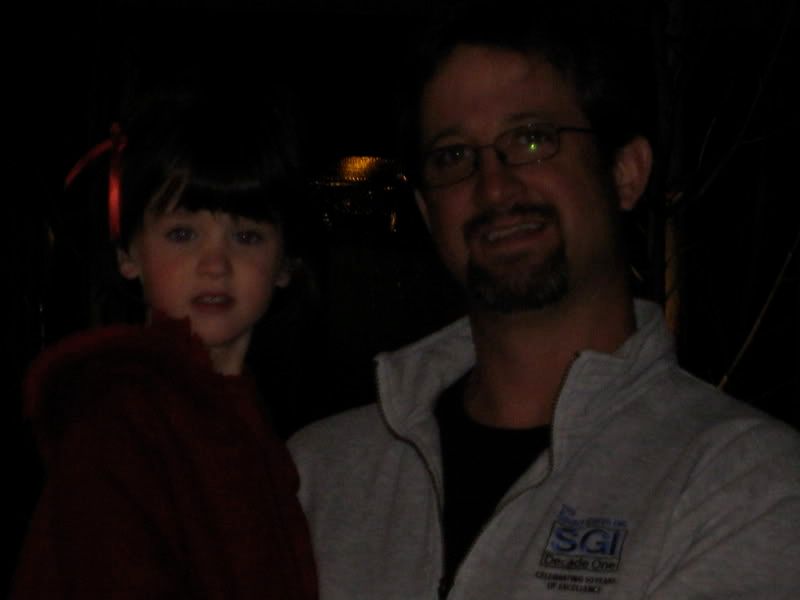 *****

Our minivan is a Toyota Sienna XLE Limited.
I really had a difficult time making the conversion to a minivan, especially since the minivan replaced our convertible BMW and Jeep Grand Cherokee. However, in the four years that we've been drivers of a minivan, I can honestly say it is a
wonderful
vehicle. I am so glad that we went the minivan route as opposed to a larger SUV because parking is never a problem. The sliding doors on the sides make it extremely easy to get the kids in and out - and I never have to worry about finding an oversized parking spot for fear of banging doors against other cars.
The windows in the back can go up and down, the sliding doors and tailgate are remote-control operated, there is plenty of storage space, and the fuel efficiency is considerably better than I ever had with the Jeep. The only drawback is that it seats seven people. Or six - if four of those people are in carseats.
Although, Charlie is currently negotiating for a mini-Cooper, the next vehicle that we purchase will most likely be a 12-passenger van. I suspect that we'll need to get a whole new driver's license to operate such a monstrosity.
*****

I've recently heard that the reason the viruses that are going around are taking so long to combat, is because the antibacterial soaps and sprays people are using on their hands are making those viruses even stronger because they need to survive. And, a large portion of people that start antibiotics do not completely finish them, so those strains of bacteria become stronger, too.
Then, earlier this week, someone sent me a link to an
ABC news segment
that indicates Zicam causes anosmia, which is the loss of taste and smell. I had read about this allegation before, but I thought that
Matrixx's response
regarding "impaired" smell and taste when you have a head cold made good sense.
In light of this new information, I am seriously reconsidering the use of antibiotic hand soaps and sanitizers
at all
. Plain soap and water will do the trick just fine. Although I'm not entirely convinced that Zicam -
if applied on a Q-Tip and not squirted directly in to your nostril
- is harmful, my concern over the safety of this product has been elevated to a yellow threat level. Therefore, I will not be using it until further information becomes available.
In the meantime, I'll be consuming large quantities of wheatgrass and pomegranate juice for my physical well being, and O'Henry bars for my emotional.
*****
On Tuesday night, our neighbors came over to watch American Idol with us. During all of the commercial breaks, we discussed happenings in the 'hood.
We discussed our neighbor and his carpet cleaning business. We discussed another neighbor who rents a room to a boarder - and we think the boarder might be selling drugs because cars show up at odds times during the day and night and only stay for five minutes before speeding away. We discussed another neighbor that spotted her husband's car outside a motel on her way home from work. She convinced the front desk clerk to give her a key and she entered the room only to find her 50-year old husband with a 20-year old.
The neighbor with the carpet cleaning business is now conducting their business, elsewhere. They are allowed to park their vehicles for up to four hours a day in their driveway, but they no longer are discharging to the storm drain (
that drains to the ocean and I

know this

because the storm drain has a dolphin painted on it
) or the sewer, and there are no longer employee vehicles parked up and down the street. Our attention is now turned to our
other
neighbor and her possible drug-trafficking-boarder and the bad-ass neighbor that found her husband with another woman and threw every single one of his possessions on the front lawn before turning on the sprinklers. She then popped his tires with an ice pick and chased him screaming down the street.
Living on a ranch in Montana with no neighbors for 100 miles is starting to sound
really
good again.
*****

Did I miss any questions? If so, please send me an e-mail and I promise to get them next time around.
But now! Here's a question for you!
Last week, in an attempt to get my mind off of falling 32,000 feet in a burning aircraft this coming Tuesday (March 11), I started playing with new blog templates. I also added a new statistics meter which shows the number of hits and geographic location of visitors that come to this site. I am
amazed
that this little blog is receiving almost 3,000 visits a day from people
around the world.

In an attempt to further keep my mind off of falling 32,000 feet in a burning aircraft this coming Tuesday (March 11) ... please (please, please, please!) tell me what brought you here?
And also, what do you think of my new
neon green
format?
Erin Go
Blah
?

(Edited to add: if you missed the blog color that looked like the Hulk threw up on it, consider yourself lucky. The whole screen was the same color as the words in green, above. I've been busy hyperventilating packing all day and will provide an update, tomorrow. But I couldn't go another day knowing that I was causing retinal damage to so many good people.)