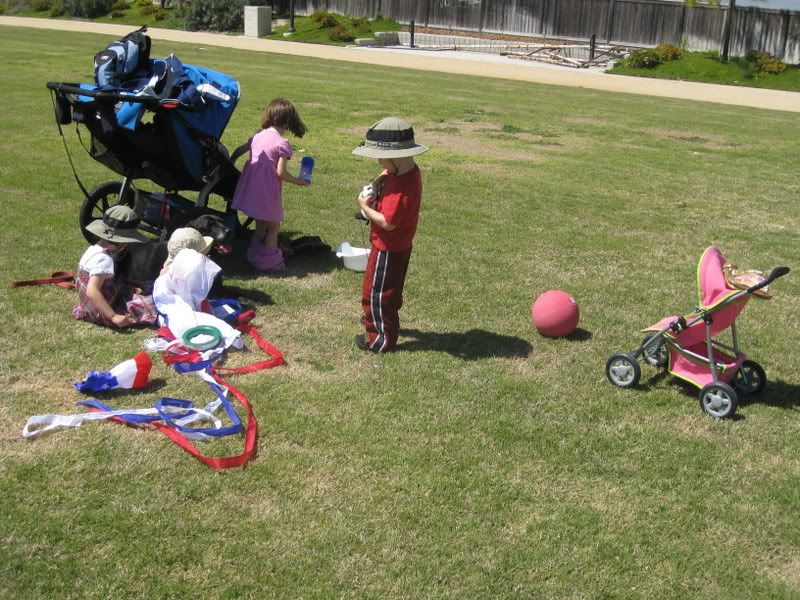 Not wanting to repeat the tough day we had yesterday, I had everyone dressed and out of the house before they were fully awake this morning. Just the me and the four kids walked to a local park with the dog.
We brought a picnic lunch.
Elizabeth's baby carriage.
Curious George.
Two bunnies.
Two baby dolls.
Three balls.
The princess purse.
The potty chair.
William's baby panda that he carries
everywhere
with him.
And our kite.
If the children had their way, they would have brought the
entire
contents of our garage, instead of just the right side of it.
It's only recently dawned on me that the purpose of taking the kids to the park is so that THEY can burn off steam. Yet, usually, I'm the one running around and pushing them on the swings, spotting them on the monkey bars, and helping them climb the rope ladders. When we go home, I'm exhausted and they are pumped.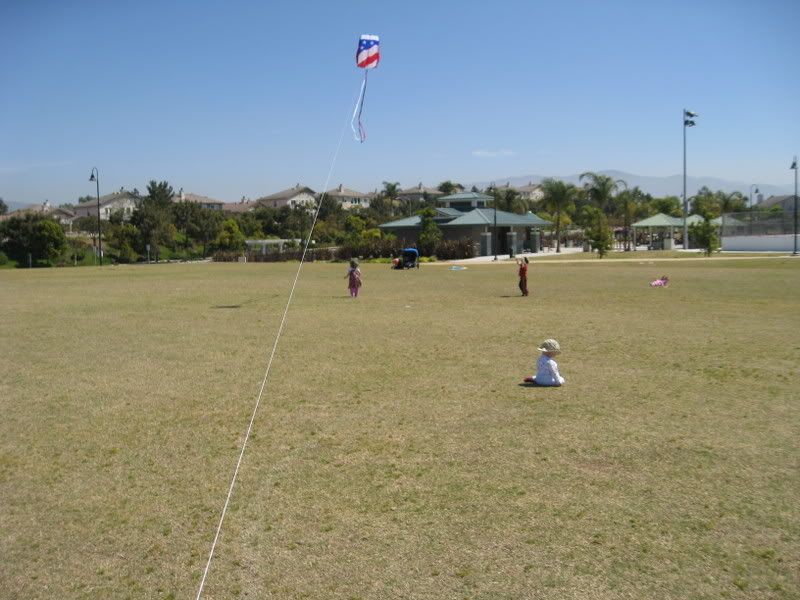 This photo was taken while I was laying on the ground holding the string of the kite and the kids tried to jump up and grab the tail. They were so tired after spending an hour at the park they were
begging
me to go home and sleep.
Now, that's what I'm talking about.
In case you're interested, the
single line parafoil
is one of the best kites I've ever found for children. There are no hard parts that can be broken - or lost - it folds up compactly in to a small bag for transport and it requires little wind. In fact if it's a calm day, just eat a can of beans and you should be set to go.
Charlie came home from work tonight and told me that he printed out vegan menus that he would like to try for the next two weeks. Apparently, he's been listening to NPR on his commute and one of the founders for
PETA
was interviewed, today.
I was a strict vegetarian for years. It was only when I met Charlie and he couldn't cook anything except barbecued chicken that I began to eat meat. Now, my husband (who eats meat at least once a day, everyday) is
really
upset about animal cruelty and is interested in embracing a healthier lifestyle, so he wants to cut out any and all animal products from our meals.
When he came home, he had a snack of prunes and sunflower seeds and declared that he feels completely satisfied. Then he added that since beer is made without animal products, this should be an easy transition. I'm interested to see how he holds up when I have a big bowl of double fudge brownie ice cream while watching American Idol tonight.
Something tells me he is going to crack like wheat when I'm savoring Dryer's and he is chomping on a rice cake.