It's been a while since I've done a Q&A and since I've received a lot of the same questions over the past month, I decided to answer them before I completely forget.
******

Q: Where was that picture of your mom in the
blue dress
taken?
A: That picture was taken at my sister Mary's wedding in ... June (?) ... of ... 197 .... uh ... 7? I've always thought that was one of the best pictures of my mother ever taken. She is absolutely stunning.
Q: How do you do strike through of your text or reference back to previous posts with in your posts?
A: I know very,
very
little about HTML, or that process of being all technical-like with blogging. But, to do strike through of a word or phrase, follow these commands, shown in parenthesis. Type the symbol (<) followed by the word (strike) followed by the symbol (>). Then, type the word or phrase you want to have struck through. Then, type the symbol (<) followed by the symbol (/) followed by the word (strike) followed by the symbol (>).
Peas porridge hot, peas porridge cold. Peas porridge in the pot nine days old!!
Now, to refer back to a previous post, or other website, if you are using Blogger, you can simply click on the icon that looks like a little globe with an infinity sign on it, within your tool bar. Here are the steps ... open a new post on blogger. Start typing whatever it is that you want. Now, you want to link back to a story about your
children learning their colors
(or whatever!) that you wrote earlier in your blog.
Highlight the word that you want linked and go click that little globe icon. (You'll see font, text, bold, indent, color, and it's the very next icon. Sixth from the left on my template.) Then, open a new window and go to the post that you want linked. You need to click on the date/time stamp (at the bottom of the post with your signature), copy that from your URL window, and paste it in to the URL window on from your link icon, and hit OK. Now, when you look at the text in your blog, it will have a hyperlink back to whatever it is that you want linked.
Q: How and when are you planning to wean Henry?
A: I'm not planning anything at this point. I can already tell that he is nursing less since he's been eating solids and if he is anything like his siblings, I suspect that nursing will continue to slow down and taper off around 18 months. I'm definitely not in a rush. I love the nursing connection that I share with him.
Q: Where did you get those awesome
wooden blocks
?
A: I have searched high and low for a good set of wood blocks. I knew exactly the kind that I wanted to purchase, but had never been able to find any that fit the bill. All the wood blocks that I'd seen were too small, or didn't feel durable. As soon as I saw these blocks, I knew that they were perfect. They were a bit expensive, but you get what you pay for. I see toys that are constructed well as an investment because they will last forever and hopefully be something that our grandchildren will play with one day.
With that preamble in mind ... I bought the
Preschool set
of wooden blocks with a
block case
, online at
Community Playthings
. I also bought an entire fleet of
village vehicles
and
wooden trucks
. Including this
big rig
which the children actually sit on and ride around through our house. Almost all the toys that the children received for Christmas (with the exception of the princess bicycle), were constructed of wood. I'll be doing a write up once I get around to it, of some of the truly spectacular gifts they received.
Q: Do you have Henry on any kind of schedule?
A: Yes, I do, but it isn't
nearly
as stringent as the schedule I had with our triplets. For the most part, I'll nurse Henry every morning anywhere between 4 and 6 AM (sometimes between 4 and 6 AM) and then I'll feed him breakfast around 8. I'm working on getting him to nap in his crib at around 9 or 9:30, but this is tricky because we are so often darting out of the house - that those times when I want him to nap in his crib, he
really
resists it. He usually sleeps for only 45 minutes to an hour (whether in his crib or carseat or stroller - depending upon where we are) and then I'll nurse him again around noon.
He takes his second nap of the day around 1 or 2, which is typically the same time I try putting the triplets down for their only nap of the day. This nap will also last around 45 minutes, although one day last week, he snoozed for three hours. I'm also trying to get him to take this nap in his crib, with mixed success. I'll nurse him once more in the afternoon (he might take a 15 minute or so catnap) and then I've been feeding him dinner promptly at 5 PM. He goes sleep in his crib, without nary a fuss, between 6:30 and 7, every night. Then he's up again 4 and 5 AM to start anew....
Q: Have the triplets given any indication of giving up their nap?
A: Yes. If I let them, they will skip their nap, completely. For a few days, I let them skip it and then I realized that life was miserable for everyone when the children didn't sleep in the afternoon.
Life was especially miserable for me.
So, I reinstated the nap. There are certain challenges with having more children then we do bedrooms. I've had to split the girls up - one in our room - one in their room, because they play around too much and don't sleep.
Today I had William sleeping on a couch in the living room while Henry was crying-it-out in his crib; Elizabeth was sleeping in our bed and Carolyn was sleeping in the girls room. Meanwhile, Charlie and I stood quietly in the kitchen and played 15 games of Boggle.
Usually, I'll try and get them down anywhere between 12:45 and 1:30. They will typically sleep for two hours, although William will sometimes only sleep for 45 minutes. It always happens that I no sooner get Henry down for his nap that William is waking up. Although it would be nice to have more quiet time to myself in the afternoon, I really have been enjoying the one-on-one time with William while everyone else is sleeping. I think he enjoys it too, which is why he sleeps so little during the day.
Q: Where did you find that fanantastic sink?
A: Ah, yes, how we LOVE our kitchen sink! It is but one of the reasons we opted not to move in to a larger house last year. I couldn't stand the thought of leaving that sink behind. Someone told me that we wouldn't be able to bathe our children that much longer in the sink, but I respectfully disagree. Heck, if I wanted to - I could take a bath in it. We installed the sink ourselves when we did a kitchen remodel a few years ago. It is a stainless steel undermount manufactured by
Blanco
.
Q: Do you have any recommendations for toys or gifts for children?
A: I have
a lot
of recommendations, but it is late and I must get to bed soon. So, I'll say this. Books are great. Books are awesome. Books are probably my favorite gift to give and to receive. Books are my children's favorite toy. I'll be posting something soon on some of our current favorite books, but in the meantime, here's a teaser... if it says
anywhere
on the book
"Winner of the Caldecott Medal"
it's guaranteed to be great.
If you don't like the idea of a book, consider giving cash. Let the parents decide what the child needs or - better yet, let them put the money in to an educational fund.
Q: Can you post something about how you guys stay organized?
A: Yes, I would love to. I think that we've learned a lot about optimizing our organizational strategies because we are in a rather small house with a rather large family. I'll do a whole string of posts on this very topic because I have a confession to make.
I'm an organizational junkie.
I look at baskets and plastic bins and label makers with the same kind of lust that a druggie looks at crack cocaine.
Or a dieter looks at ice cream.
Or a sleep-deprived mother of four looks at a pillow top.
Before I go, here's a question for you.
How is it possible that children as precious as these...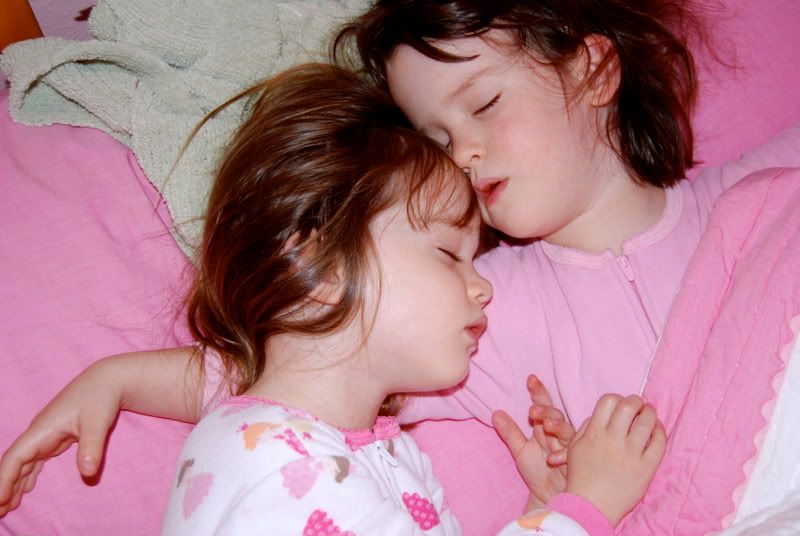 Are capable of turning in to villains that dunk their father's brand new iPod in a glass of ice water, under the premise that it needed a "bath"?