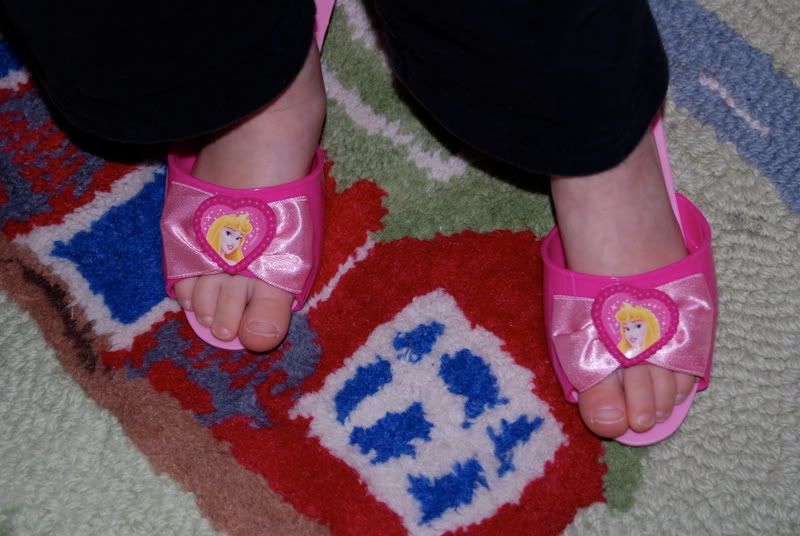 Have you ever seen a pair of shoes and thought
"Those look awesome!"
Only to try them on and realize that they are the most uncomfortable pair of shoes you've ever worn?
Or, although they look good on your friend's feet or your mother's feet or your sister's feet, they look ugly on your feet - and only
after
you've bought them do you realize that what looks good on them, doesn't necessarily look or feel good on you - because you have different styles and your foot isn't shaped the same?
Parenthood is much the same way.
You've got to try things on, walk around in them for a bit, figure out what fits your taste, what feels comfortable to wear and what's in your budget.
You might have read stories about attachment parenting and thought
"That's the natural way to raise up a child!"
until you have a child that is fifteen-months-old and still unable to sleep through the night. Or, you might think that letting your baby self-soothe by crying-it-out is the best way to teach a child to sleep, until you hear your baby cry from their crib and cannot imagine a worse form of torture imaginable for you or them.
So, you develop your own style. You figure out what works for you - what works for your child - and what doesn't. Even though a lot of people, who have raised children before you might tell you
exactly
what you need to do because they have "experience" doesn't make them an expert on your situation. Sure, it's good to listen to their advice and maybe you'll hear something that might help ease your load. But ultimately? You must do what feels right for
you
.
Maybe feeding your children vegan snacks from a burlap satchel is right up your alley. Or maybe, it's feeding them Fruit Loops from a Ziploc bag.
Maybe breastfeeding your baby on demand is the easiest solution. Or, maybe it's serving them evaporated milk and Karo Syrup with a chaser of formula in a sippy cup.
Maybe it's co-sleeping until your child gets married and moves out of the house. Or, maybe it's putting them in their own crib the first night they are home from the hospital.
Maybe it's going back to work full-time and putting your child in daycare. Or, maybe it's putting your career on hold (indefinitely) and staying home.
Maybe it's putting your children in public or private school. Or, maybe it's teaching them from your kitchen table.
Any choice that you make -
or don't make
- when you are a parent is going to be scrutinized by those closest to you. And when you write your thoughts and feelings and post them on the internet? Oh well then, you are
really
asking for it.
After thinking about things for the past three weeks and closely evaluating my mood every day, I really don't think that I have postpartum depression. My OB/GYN, that I spoke with last week doesn't think that I have it, either.
Once I talked with him for the better part of an hour, he very kindly said
"Anyone with four children under four is entitled to feel overwhelmed at times."
And then he added
"I'll be thinking about you."
It surprised me that he laughed as hard as he did and nodded his head in agreement when I replied
,
"Yeah, you'll be thinking, 'Hooyah! I'm glad I'm not her!!'"
I don't want to down play the hormonal surges that follow child birth, because I
know
that they happen and they are
very real
. If not for those hormonal surges, I doubt I would have woken up every night for a month after Henry was born in a cold sweat with a sopping wet nightshirt and fallen in to a crying fit every time I saw a commercial for Johnson's Baby Wash.
But I suspect that the feelings of anxiety that I'd felt mounting for the past few weeks are a result of feeling tired from the holidays, transitioning my baby to solid foods, reducing my nursing, sleep deprivation,
parenting three-year-old triplets
, debating the future of my career, contemplating where we are going to live - if we are going to move - when and how, what the implications will be for my husband's career if I return to work, concern for my father's failing health, deciding what we are going to do with our dog, and how the cotton pickin' heck we are going to get rid of the rodents in the garage.
More than any of that ... there is something
extremely
sobering about the fact that these are
our
children. No one is going to come in and raise them for us, or take away the tremendous responsibility of being a parent 24/7, when we're plumb worn out. Even during that time when I worked and would be gone from the children for several days at a time - when I came home - I was still bombarded by the responsibilities required to raise a family.
Don't get me wrong. It's a wonderfully awesome experience to raise children. But it can be exhausting at times, too. The dog? I can just throw a scoop of kibble in her bowl and make sure she has clean water. Unfortunately, whenever I've tried that with the kids, Charlie gets really upset.
Parenting is tough.
Even if you have a nanny or au pair.
Or a part-time sitter.
Or family that lives nearby.
Or your children are in school.
At the end of the day, these are

our

kids and ultimately, it's up to

us

to bring them up right.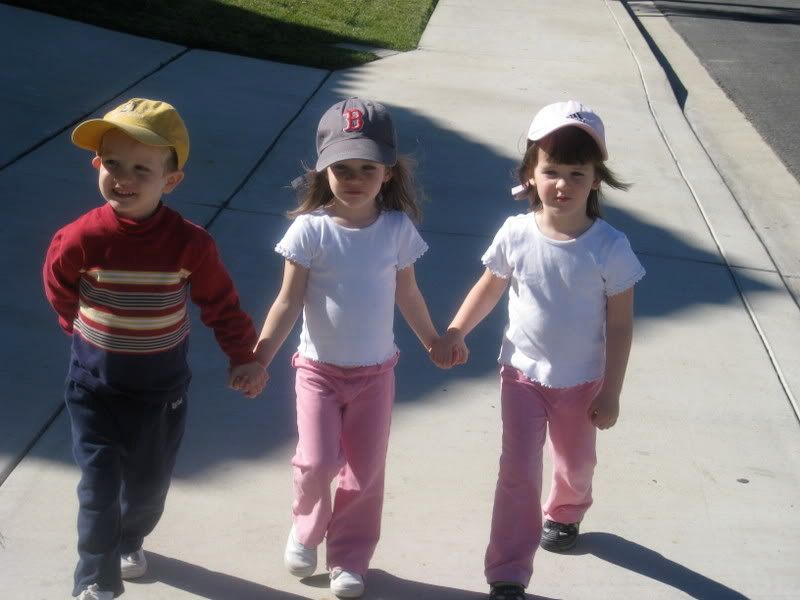 For the past 39 months, Charlie and I have managed to raise our children, just the two of us, by relying on each other - together, as a team.
I
n our situation
, outside help wasn't the right fit. It's not that we haven't wanted help or didn't consider bringing in help, but whenever we tried, it didn't feel comfortable.
My friend Jessica tells me that if I want to hire help, I have to be
seriously
committed because finding good help is difficult and keeping good help is difficult, too. Maybe if I'd forced my foot in to that shoe and worn it around for a while, it would have broken in, and soon I wouldn't be able to imagine my life with out that support. But I've gone so long without it, the thought of dropping our children off somewhere or having someone come in seems about as uncomfortable as wearing flip flops in a blizzard.
Or ski boots on a beach.
When the babies were 10-months old, I interviewed several people to watch the children when I returned to work. As each person entered our home, and I noticed their body piercings and tattoos - or crucifixes and
"I Love Jesus!"
pendants - or plain Jane appearance, I felt terribly uncomfortable with the thought of paying
anyone
to be with our children. Sure we
could
bring someone in to look after them. It wasn't a financial issue. If we were both to work, we would make enough money to send all three of the children to daycare AND have a full-time live in nanny.
But we didn't want to.


That shoe didn't fit me. It was uncomfortable on my foot. It was ugly. It hurt like hell and just looking at it gave me a blister.
Since then, we've had a lot of people judge our decision, but this has been our choice and quite honestly,
we're very happy about it.


*twitch*twitch*
When I had my full-scale meltdown two weeks ago, I felt desperate. I felt like I needed things to change -
immediately
. I discussed with my boss returning to work by the end of the month. I researched preschool and I almost passed out when I heard that the soonest our children could start would be July, six whole months from now.


What was I suppose to do between now and then?!


But since that time, I've recovered. We have things happening almost every day of the week and having activities to look forward to, truly is my saving grace.

Over the past few months, as I've tried to adjust to having a new baby in the mix, a lot of people have told me
"Put the kids in preschool!"

as if I could just blink and they would be enrolled the very next day. Or they'll say

"Hire help!"

as if finding a competent and trustworthy person was as easy as opening my front door and inviting in the masses of qualified, kind, affordable, open-scheduled people that are camped out on my doorstep.


Maybe if I was

committed

to the process, I would already have had our children enrolled in school and I'd have a long list of people we could call in a pinch.

But I'm not there.

Truth be told, the

effort

that it will take to get four children up and dressed and fed and out of the house, so I can drop three of those children off by 9:00 two days a week for three hours, seems terribly great. And even though the financial aspect isn't an overwhelming issue - I am not entirely convinced that they are going to be any better off for the experience. Maybe if they were all potty trained, and could dress themselves, I'd be more open to it.

Or, maybe if I knew that they wouldn't bring home every (if not every-other) virus and spread it through the entire family. Or,
if I didn't have hangups about exposing my precious children to the general population.
Perhaps I'd embrace preschool if they were at an age where their language was more developed and they could tell me if something was wrong.

So where do things stand now?
I am going to put our children's name on the roster for preschool, which starts in July. If it were starting next week, I know for a fact I wouldn't send them because I'm not ready. Maybe I will be ready come July. Or, maybe I won't.
I absolutely don't buy in to the hype that if I decide to skip preschool I am "robbing" my three-year-olds of some vast learning or social experience. At this age, they are learning everything that they need to know (and then some) from me. They are exposed to other children during their weekly triplet play dates and they are learning how to follow instructions from another adult during soccer and gymnastics and the church nursery.
What it comes back to is me and after all this time, I'm
still
trying to find the shoe that fits me best.
I wrote about my nervous breakdown experience because I know that the feelings I had were normal in the grand scheme of things and maybe it might help someone out ...
there
... read how a fellow parent in the trenches handled a really difficult time. And now that I've divulged my inner most thoughts and bared my parental flaws, I'm trying to think what would be another highly personal subject to tap.
Maybe the best cure for hemorrhoids.