I pulled my comment
and
the anonymous comment down that I referenced last night, early this morning. It is insane that I am
awake
when I could be
sleeping
, but my conscience got the better of me when I insinuated the person who left me the comment had less intelligence than a shoelace and in writing that, made the carpet cleaners of the world look bad.
For all I know, the person who left me the comment was the 10-year old boy from the park on Friday. The reason I put comment moderation on in the
first place
is so that I can just delete those comments that would otherwise cause me undue stress. It is for that reason I have chosen to delete the
subsequent comment
I received regarding rscheearch at an Elingsh uinervtisy, [and why] it deosn't mttaer in waht oredr the ltteers in a wrod are, the olny iprmoetnt tihng is taht frist and lsat ltteer is at the rghit pclae.
Gabman, I'm not going to get in to a battle of wits with you because it is a waste of my precious time. And, it's fundamentally wrong to attack someone who is unarmed.
But feel free to check out the annual picture we took with Santa.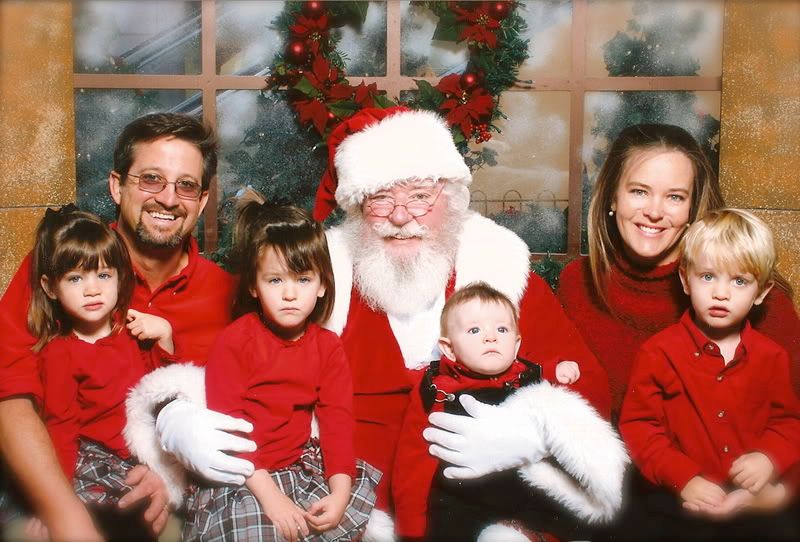 Unfortunately, the children still don't think too highly of Saint Nick. It took us almost 15 minutes to get a picture where the kids weren't crying and actually looking at the camera. It also required me to squeeze my 3-year old son and demand that he look at the person shaking the bells. I suppose that's what a woman who doesn't know how to raise kids does.
*****

We received a package in the mail this week from my
awesome
cousin
Regina
. It should be saying a lot to say that words escape me. Anyone who not only offered to rescue my family from the wildfires and bring them to Fenway Park to see the Red Sox play in the World Series... and then, clothes my offspring in
official
Red Sox paraphernalia is right up there in my book of greatness.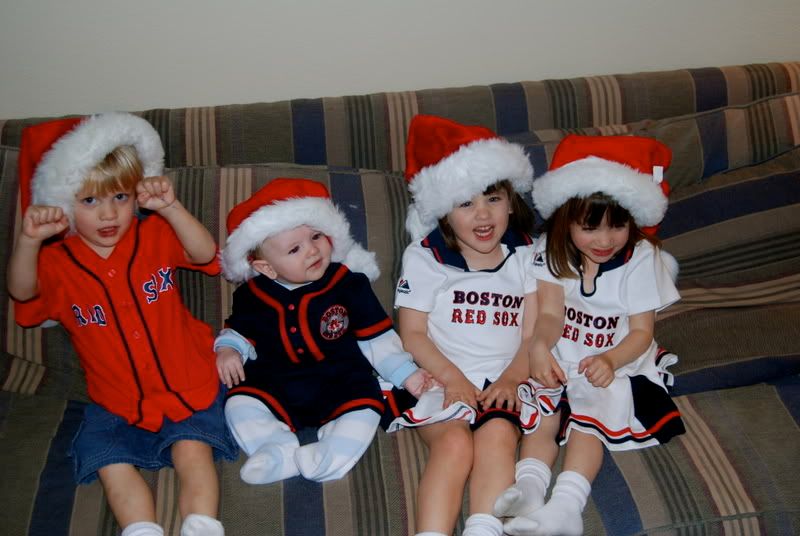 And, she's a good dancer.


*****

Because Elizabeth is almost
completely
potty trained, my mother sent her a pair of Princess shoes earlier this week. When William and Carolyn questioned where
their
shoes were, my mother sent them the following postcard, in the mail.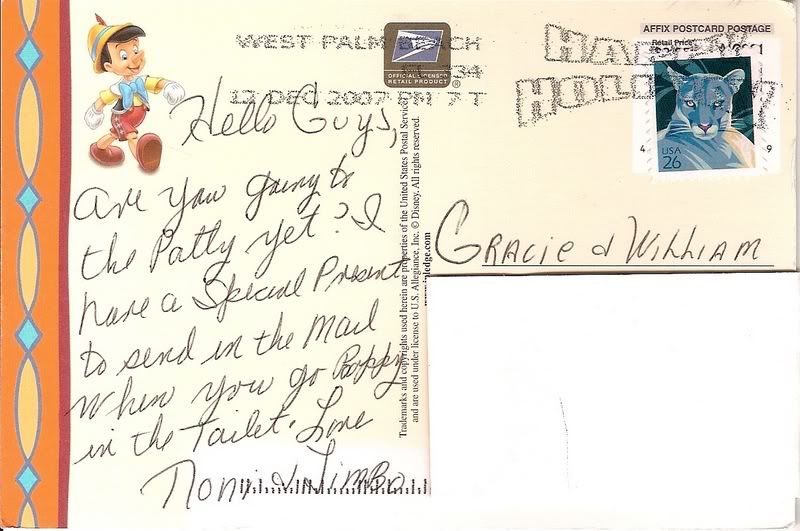 If anyone at the USPO happened to read this card while it was en route to us, who do you think they would have thought the recipient was?
*****
Yesterday, I went to get my hair done. This is the first time I've been to the salon in ten months, so when the children saw me, my hair was eight inches shorter and had been expertly highlighted with blonde in contrast to my brown roots.
When I walked in the front door, William cast his eyes upon my head and said
"Mommy. You look bweautiful."
Then he added,
"You have stwipes. Just like a zebwa."


And to think, it only cost me $120.00 to look like an animal from the zoo.