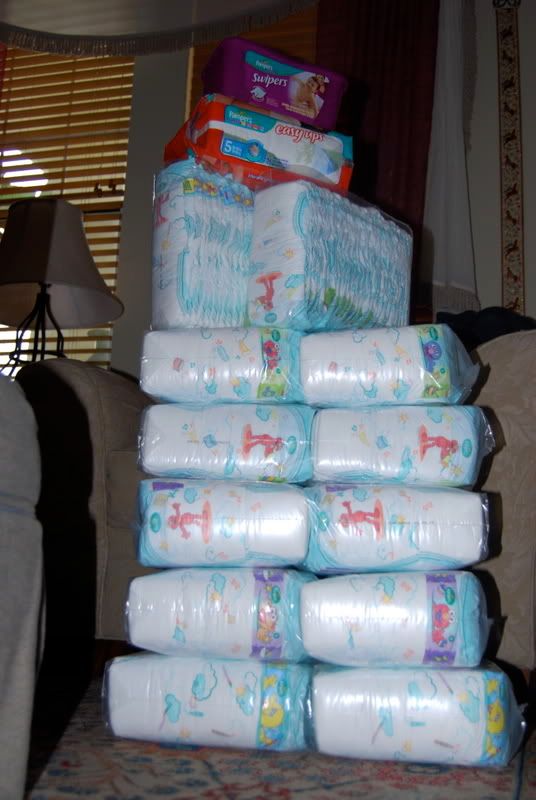 A month ago, I was contacted by a company asking if I would be interested in participating in the Pampers Stages campaign. Because I
love
Pampers and I also
love
receiving free stuff, I wholeheartedly said "YES!"
Within a week of my response, we received several BIG boxes in the mail. Within those boxes there were a variety of diapers in a variety of sizes and a variety of wipes in a variety of styles. A person who is organized and on top of the game, would have immediately taken inventory and written down the quantity of everything that was received.
But well ... I'm going to pull my
"I've got four children under the age of four"
card here, and emphasize that three of my children think that a cardboard box is the greatest invention
ever
and they will stop at
nothing
to climb inside and play. In the time the box was delivered to my door and I peeled it open to peek at the contents inside, and then ran off to use the bathroom for 7.4 seconds, the box had been flipped upside and completely emptied.
The boxes of free diapers were then mixed with my monthly shipment of several
more
boxes that I had received on the exact same day from
1800 Diapers
. Suffice it to say, there were enough Pampers in my living room to cover our entire 1,600 square foot house in baby soft protection.
Since I didn't order Cruisers, Easy-Ups, Swipers or Clean 'n Go from 1800 Diapers, I'm going to go out on a limb and write that those were the diapers and wipes I received from the Pampers Stages campaign.
So, let's review. Shall we?
Baby Dry are my all-time favorite Pampers diaper. Although I have purchased Cruisers before, I always veer toward Baby Dry because you get more diapers for your buck. On average, the cost of a Baby Dry diaper is approximately $0.05
less
than a Cruiser. When you go through 100 diapers a week (give or take 20), that can add up over the years.
The Cruisers that the Pampers Campaign sent for me to review were in a size 3, for my little Henry. These diapers held up just fine during the day when I would change him every 3 to 4 hours. But every night when he would go without a diaper change for 8 hours or more, he would be absolutely saturated and require an outfit change before we were up for the day. Henry was bumped up to a size 4 diaper at the end of November. But even when I had him in a size 3 Baby Dry, he didn't have breakthrough that would require new pajamas at 4 AM.
I'm really not sure what the advantage is with the Cruisers over the Baby Dry. My opinion is that they cost a little more and have less absorbency. When our triplets were babies and just starting to "cruise" I never had a problem with them leaking out of the Baby Dry, nor have we ever had any kind of diaper rash, so I'll continue to stand by those diapers that have worked best for us.
Moving along.
Easy-Ups. These work just fine although I have to admit I like the Pull-Up velcro siding better than the tear-a-way with Easy-Ups. If your child is overly ambitious whipping off their diaper (as mine are), there is an excellent chance that the Easy-Up will be a one-time use product because the sides are destroyed. The Pull-Up with velcro siding, however, can be used again and again if the diaper is dry, or, if you are the kind of parent that doesn't see a problem with keeping your child in a slightly damp or semi-smeared poopette diaper.
I cast no judgment.
I'm going to caveat the statement above with my opinion that I no longer think that diaper-like-underwear are the way to go with potty training. My children have become just as proficient pulling a regular Baby Dry diaper up and down as they are any of the diapers that are specifically designed to be reused. Considering Easy-Ups cost on average $0.08 more than Baby Dry ... or $0.03 more than Cruisers ... I see no advantage for the extra cost.
However, I have yet to try Feel n' Learn and
might
see a benefit with those. Considering I have a particularly willful child that is adamantly opposed to going on the potty and has no problem walking around in underwear that are dripping wet, these might be a good alternative. Or, I could just put a pair of plastic training pants over his underwear and save my money for the therapy that I am surely going to need if he doesn't get the hang of this whole toilet gig soon.


Next on the docket: Wipes.
I've tried just about every kind of wipe on the market. Once upon a time, a long time ago,
before
I realized that we could get
Gifts to Grow
points with wipes, I thought that the Pampers wipes were too thin. But then, I got used to them. And, I accumulated more Gifts to Grow points then if I wasn't using them.
For the most part, I have no preference in the Pampers wipes that are marketed. I see no benefit with Sensitive over Baby Fresh (Aloe or Lavender) and that is coming from someone who had premature babies with highly sensitive skin. The downside is that unless I want to lug around a plastic tub with me, the small packets are not resealable and will dry out in my diaper bag. I'm also not fond of the hard travel pack because the wipes dry out too soon which is probably a function of their thinness.
Pampers' answer to
thicker
wipes comes in the way of their new product, Swipers.
These are noticeably thicker than the other Pampers wipes and have a fragrance that is positively lovely. Because I have become used to using thinner wipes, I hadn't planned on changing our wipe variety. But I just did a little cost comparison and in the event I want a thicker wipe - or one that is aromatically pleasing - I can purchase Swipers for approximately the same cost as Baby Fresh.
Or, the same cost as Clean n' Go.
This is another new product by Pampers. My opinion of Clean n' Go wipes is that they are great for no other reason than the travel pack is soft sided with a resealable plastic lid. Just because diaper wipes are marketed for cleaning a babies bum, that doesn't stop me from using them for anything and everything. Once my free stash runs out, I plan to purchase more of these wipes to bring with me in my diaper bag and keep stocked in my car.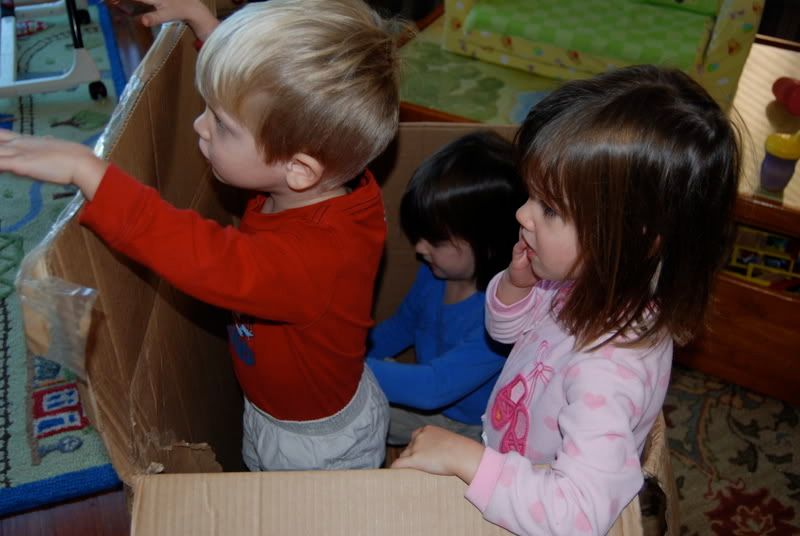 In summary:
Baby Dry diapers are the best. Wipes are wipes are wipes. But because Pampers now makes a thick wipe and a good travel case wipe, you can buy all of your diapering products from Pampers and
collect points
to earn cool toys for your kids or a Blockbuster movie night with your spouse.
Or
, you can donate your points to such charitable causes as March of Dimes, Unicef, or the Today Show Toy Drive.
That concludes my review.
Now if
Sandals Resort
would like for me to do a review, I've got January and February wide open. But do you think I could just ship our children in a cardboard box that they love so much - or would I need to bring them on the plane?