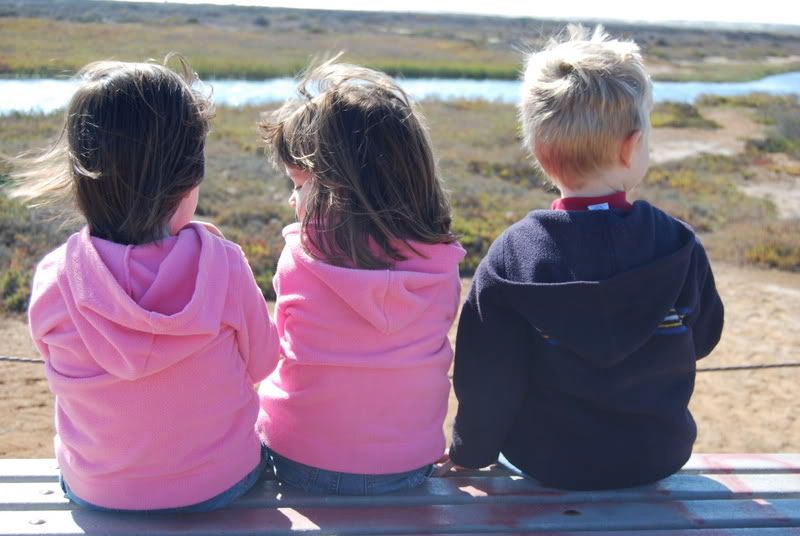 If not for Henry's ability to eat while vertical - and his need for me to sit still - this blog would be non-existent. This past week has found me insanely busy and there is no end in sight.
Because of
mountains
of laundry.
And Christmas shopping.
And picking up the ornaments that have been scattered all over the house.
And the 200 pictures I will be sending out to friends and family of the children with Santa.
Once I take the children to see Santa.
And I write my annual Christmas letter.
One thing is for sure, unlike
Clement Clarke Moore
, the creatures in our house
are
stirring.
Especially the mice.
Charlie is coming up with new and ingenious ways to capture the rodents that are penetrating our home.
He is on a killing spree.
This morning he trapped a mouse under the sink and yesterday he trapped a huge rat in the garage. He also noticed that two traps were activated without snagging a long-tailed trespasser, so he has multiple traps set up - side by side - loaded with peanut butter and salami. Last night at 2 AM, he shot out of a dead sleep to tell me about some kind of shallow bowl trap that he dreamed about that will capture multiple vermin.
He's going crazy thinking about all the ways he is going to catch rats and mice.
I'm just going plain crazy.
I think that my days suddenly seem so chaotic because Henry has started eating solids. I never realized just how delicate my well-oiled schedule machine was, until I had to carve 20 minutes out twice a day to feed my baby rice cereal and some organic vegetable. Who would have guessed that adding solid food in to my baby's diet would cause the collapse of civilization?
This minor tweak to our daily regiment and my house is filled with savages.
The kids out of control behavior might have something to do with their refusal to nap. Or, I should say - they go and lay down and after an hour of tossing and turning, they will fall asleep for an hour. I've started giving them a nap every-other-day because although
they
might not need the downtime, I do.


More than the air I breathe, I need our children to nap.
The advantage of no napping during the day is that when we put them to bed at 7:00 PM, they are asleep within 5 minutes. As opposed to putting them in bed at 7:00 PM and they are completely wired until almost 10:00 PM. Some people might suggest giving up the nap altogether and question if the two hour break in the afternoon is really that important to me.
To those people I say why yes.


Yes, it is.
And then there is potty training.
My mother tells me that I can't get discouraged with William. But seriously, I put him in FIFTEEN pairs of cotton underwear yesterday, not all at the same time - although I probably should have.
I know he knows how to go.
He's done it before.
Yesterday, I tried to be upbeat and positive when he would stand in front of me and say
"Mommy!! Look!! I go pee-pee on your sock!!"
but after he sprung numerous leaks in various parts of the house, I was ready to wring his neck with the soggy underwear.
Speaking of William. Not sure what to do with the lad. He is incredibly bright but he is also hell on wheels. Our pediatrician tells me that he is advanced for his age. His language skills far surpass those of his sisters and I swear he's verging on the ability to read.
But he's become aggressive. Really aggressive. Yelling and screaming and hitting. Most of the time, I can tell that his behavior is provoked. He will be playing with something and someone will want it. Or, his sisters will continually pester him when he is trying to focus. Then, he'll explode like dynamite.
I'm trying to teach him that he needs to relax and not yell when he gets angry. Sometimes, I can see myself intervening and I think
"Wow, great way to handle that situation, Jen!!"
and then there are those times where his behavior infuriates me to the point that I'm ready to toss him through a window.
Yesterday at the park, he karate chopped a 20-month old because the little boy made the mistake of toddling too close to him. It's bad enough when he behaves poorly with his own siblings, it's something altogether different when he acts that way with a non-family member.
What I wanted to do was pick him up by his arms and throw him in the car. What I
did
was have him apologize before putting him in time-out for three minutes. And then, we left. That time out was more for me than it was for him. While he stood in the corner, I was taking deep breaths and repeating
"You love your son. You stood vigil by his side in the NICU. Don't kill him."


This crazy behavior isn't just limited to the boy.
One night last week once the kids were in bed, I heard Elizabeth scream. When I ran in to the girls' room, Carolyn was kneeling on top of her, with her thumbs jammed in to her sister's eyes. Just a little bit more pressure and I'm convinced they would have popped clean out.
I pray that this psychosis is just a function of their age and that they outgrow it soon. Maybe these are primitive survival tactics they are exercising because they certainly aren't learning this stuff from any PBS television shows they are watching or stories that I'm reading to them. Unless there is some hidden martial arts message that I'm missing in "Green Eggs and Ham."
With three at three, it's like a mutiny all day, every day over here.
I have said
"Let's go wash our hands"
one million times if I've said it once. The same applies to
"Don't hit your sibling. Play nicely. Eat your lunch. Drink your milk. Don't throw food. Leave on your clothes."
They hear perfectly fine, but they don't listen. But oh, are they smart. They'll tell me something that happened three months ago like it was yesterday.
Thankfully, they do have their endearing moments. Like when they are asleep. Although, they just woke up. So now I've got to get ready for round two.
Ding! Ding!