In a last ditch effort to get the kids to use the potty, I promised that I would give them marshmallows and a special toy (or coveted book) to play with, whenever they went on the potty and threatened that I would take away their most beloved possessions on this planet,
their loveys,
if they continued to go poop in their diapers and/or underwear.
Because, come on!!


They know how to use it, right?!
Elizabeth, being the most incredibly defiant three-year-old in the
entire universe
said
"OK, Bye-Bye bunny!!"
before pushing out a gargantuan poop in her nighttime diaper. She went to bed with out so much as a tear and instead was snickering at me. (This from a child that was completely day potty-trained for a solid two months.) I could actually see the wheels turning in her mutinous toddler head
"Yeah good luck old lady. You are NEVER going to make me do something I don't want to do. Bwahahahaha!!!"
Elizabeth woke up at 4:11 AM, screaming for her bunny.
In doing this, she woke up Carolyn who pooped. And because my little Gracie is anything but rebellious, she collapsed in to the worst state of despair over losing her
deety
. With tears running down her face, she kept repeating
"I so sad!! My deety all gone, now!!"
William woke up - and after walking around confused - threw a fit that he couldn't eat the marshmallows I had left on the kitchen counter.
The ruckus woke up Henry who remained awake for the next two hours and proceeded to pull out all of the hair in my temple region, while he squirmed around next to me in bed and I desperately tried to shove a nipple in his mouth - if for no other reason to keep him quiet so I could sleep.
I have now resigned myself to the fact that our children will be in diapers until we are in diapers. Which might be very soon, because we are aging at an alarming rate.
****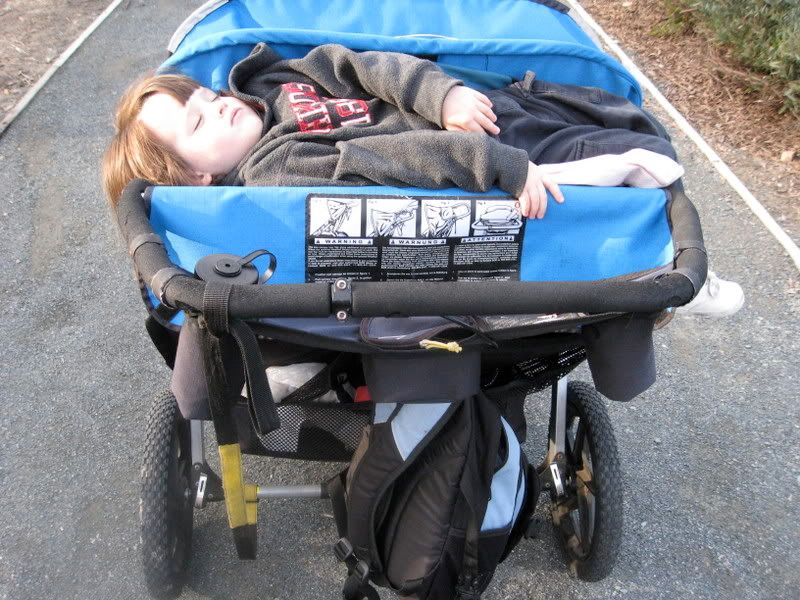 The BOB truly is the most awesome stroller. I'll bet nobody is getting their money out of this product like we are.
I recently discovered that the top makes a great cot. I don't think that the stroller was designed to hold a 36-pound child on it's sunshade per se, but I did a safety analysis and determined that the risk associated with hiking in the dark was greater then taking a chance that the top of the stroller would break. I certainly wasn't going to trust my aging body to piggy-back a kid out, while pushing three other kids in a stroller.
You know, I never considered that my body was "aging" until I talked to my mom last week and she told me that at almost 37, I'm no longer a spring chicken. Ever since we had that conversation, I'm convinced my right knee is going out. So no more Joe-Joe's and no more ice cream (after I finish the 1/2 gallon of chocolate in the freezer that I've been hand churning organic peanut butter in to).
I've got to get to the gym.
At the rate I'm going, I fear I'll be wearing Depends and walking with a cane come spring.
Although, that may be an excellent way to test my theory on the children being potty trained.