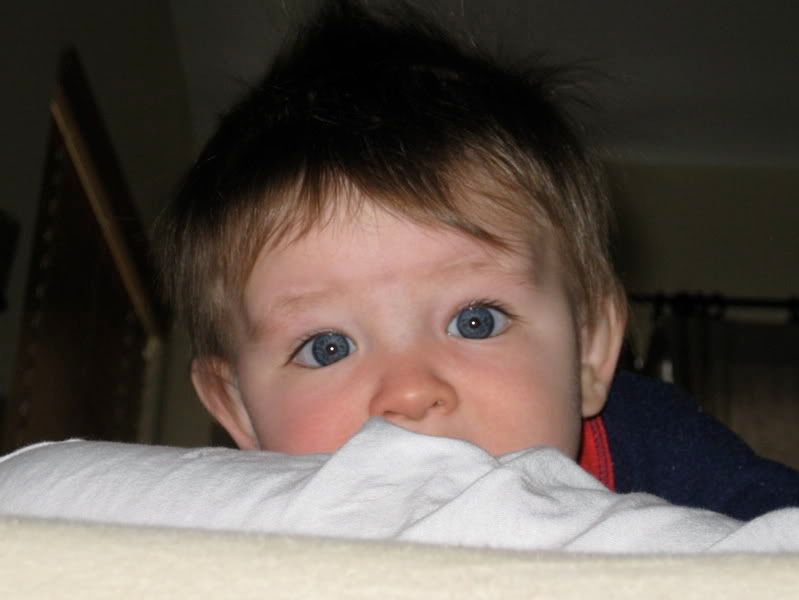 Henry is a bona fide graduate of sleep school.
Last night, he was in bed by 7:15. He stood in his crib laughing hysterically at William for about 10 minutes and then laid down, by himself, and was asleep by 7:30.
He woke up this morning at 6:15. I nursed him in bed for 45 minutes. He ate breakfast at around 8:00 and went down for his first nap at 8:45. He cried for five minutes, before I picked him up, nursed him for five minutes, and put him in a slightly drowsy state back down in his crib.
He slept until 10:45.
While Henry slept at home under Charlie's watchful eye, I went to the doctor's office. This respiratory infection that I've had for the past three weeks, which had started to wane - came back strong. This is so typical for me. I'll be sick for a month before going to see the doctor. It's like running a marathon and giving up at the 24-mile mark. I suspect that if I can just hang on a little longer I'll make it, but I always throw out the white flag.
I was given a prescription for an antibiotic, but I didn't get it filled because I
know
that this is a viral infection and eventually - it will run it's course. I just needed to hear the doctor say that I wasn't going to die. Until then, I'm going to keep up with my Zicam and vitamins and consumption of 10 gallons of water a day. And, I'm going to try and get more than four hours of sleep at night. Surely that might have something to do with why my immune system is so weak. I also had an uncomfortably fun conversation with my doctor about the effect of nursing on a woman's libido. Maybe once I feel well enough to have a glass of wine - or am hit with a huge amount of courage - I'll write about that.
For now, back to Henry.
Yesterday, he napped from around 12:30 until 3:00. What I figured out is that although he naps exceptionally well in the morning, he wakes up after 30/40 minutes with his afternoon nap, unless I give him a pacifier. So, when I put him to bed yesterday with his pacifier, he slept for 2.5 hours.
Today, I put him down for his nap when the triplets went down at 1:30. Again, he stood in his crib laughing at William for a few minutes, before grabbing his pacifier, popping it in his mouth, and falling to sleep. (He woke up at 2:45 just as I was getting ready to publish this post).
I have a lot of reservations on sleeping with pacifiers. Primarily, I don't think that a baby sleeps as
deeply
when they have one, because my experience has been (with the triplets) that whenever the pacifier falls out, they wake up crying. But, if Henry needs a pacifier to extend his afternoon nap from 30/40 minutes to an hour or more, so be it. I think the reason he needs the pacifier in the afternoon is because up until recently, he would sleep in the Bjorn and sporadically nurse while I updated my blog. That's my opinion and it makes sense.
I know that not all days are going to be the same with Henry's nap schedule. Maybe he'll nap better in the morning than in the afternoon or vice versa. But consistency with his routine - getting him to bed in good time - and recognizing his sleep cues will all be important.
While I'm on the topic of naps...
The triplets are doing considerably better with nap time. A year ago at this time - when they were still in cribs and jumping out every 10 seconds - I thought I was going to go insane. But once we transitioned them to big beds, and more specifically, ever since we split them up in to different rooms, they fall asleep within five minutes of laying down and typically sleep two hours, if not three. They still go to bed at around 7:30 or 8:00 every night and they sleep until around 7:00, every morning.
I love my children with all of my heart and soul.
But I can honestly say that I love them EVEN MORE when they sleep well.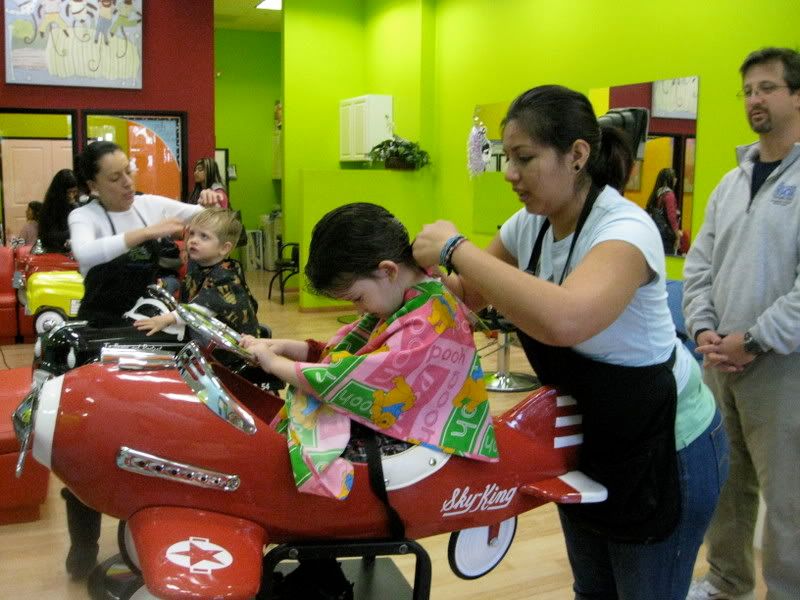 We took the children to get their hair cut yesterday. Charlie has finally convinced me that I have no idea what I'm doing with scissors and it really is best that we let trained professionals provide this service for us.
While we were there, one of the stylists mentioned that she has a son that turned three-years-old last month and he doesn't sleep well.
Every night, she has to lay down with him in bed and usually, she falls asleep waiting for him to fall asleep. Of course, this completely shoots her night and she has no time for herself or her husband. She said that whenever her son does take a nap during the day, he will be awake until 1:00 AM.
When I told her that our three-year-old triplets take a two-hour-nap during the day and sleep around 11 hours at night, I thought she might cry. When I told her that there was hope for her, I thought she was going to hug me.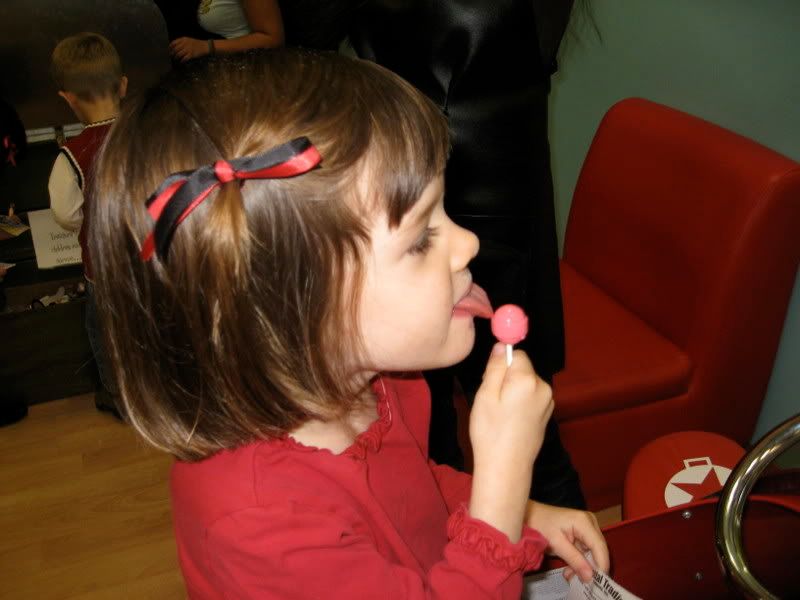 THIS is the very reason that sleep training is important at an early stage. Children need to know how to go to sleep on their own and they need to know how to sleep
in their own bed.
When you are looking at a beautiful, chubby-cheeked baby, it's almost impossible to imagine them as a demanding preschooler that INSISTS you lay down with them or they WON'T go to sleep. And dammit, they won't.


They seriously won't.
Those poor sleep habits that developed while they were a beautiful, chubby-cheeked baby, will absolutely wreak havoc on your life.
If you don't believe me, just watch
Super Nanny
.
Someone left me a comment regarding their baby that wasn't sleeping well because of colic. When babies cry incessantly early in their lives - it's usually because they have something happening with their digestive system. It could be reflux, or maybe an allergy. Or, as
Michele
wrote about, it could be the improper colonization of bacteria. William was lactose intolerant and we didn't get that figured out until he was several months old. He would scream every day, morning, noon and night. Once I made a few changes to my diet - and the formula I was supplementing him with - he was a different child. The girls both had reflux. We got them on the appropriate medication and they were different children.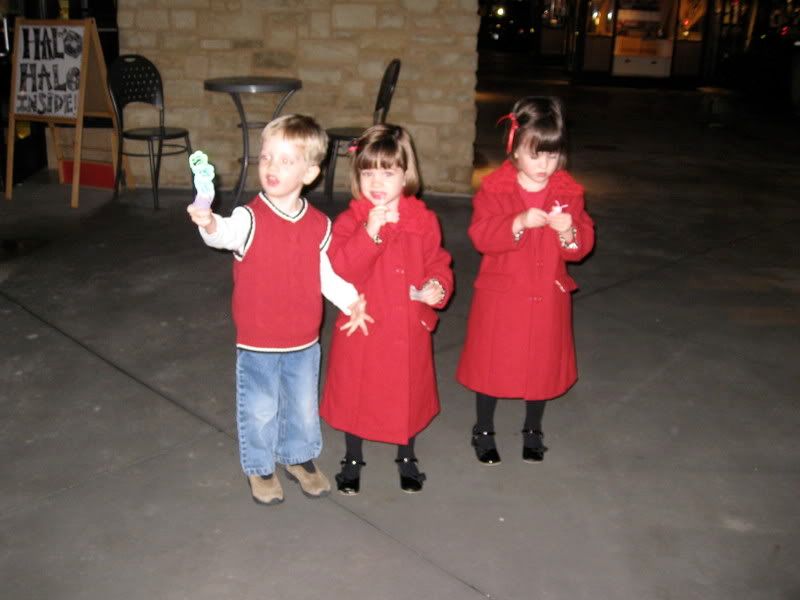 If your baby is crying uncontrollably - there is something going on that shouldn't be.


Babies

do not

cry for no reason.
The point of this long-winded post is that if I can lovingly sleep train a seven-month-old infant with three-year-old triplets in a 1,600 square foot house (without a basement and not what could really be considered an attic), with sick children sleeping together in rooms that lack doors, and a barking dog, and a mother that calls in the middle of nap time to tell me to watch Oprah ...
anyone can do it.


I cannot however, snack on an apple when there are a tray of O'Henry's in the fridge.

Because I am

weak

when it comes to chocolate.