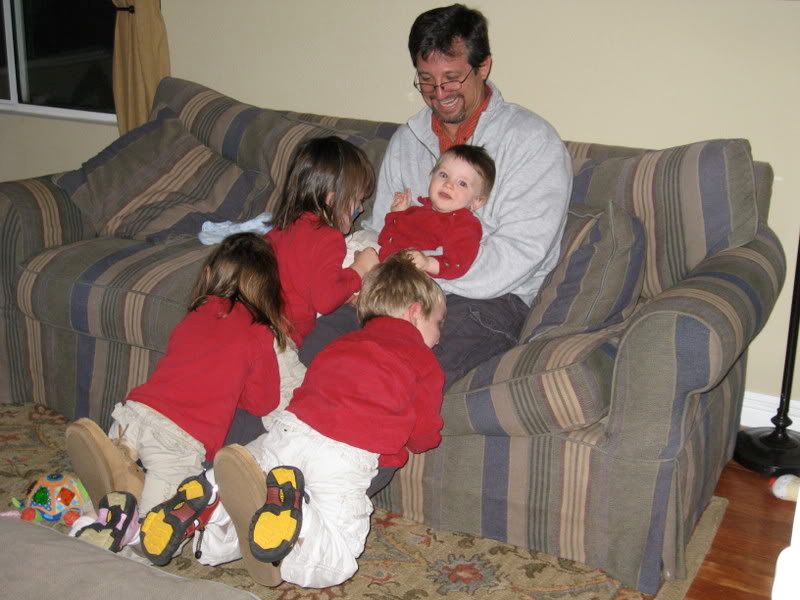 Dear God, Father in Heaven.
It's me again.
I'm not entirely sure what happened but yesterday afternoon - and all day today (minus that one wake-up call at 3:07 AM by a child screaming and frantically searching for her bunny that woke up the
entire
house), our three-year-old children have been
awesome
.
They come when I call them and they actually listen to me. And then, as if that wasn't enough, they have been sharing with each other - and so full of compassion - one might think I had little Peace Corp recruits in training.
So for all of that, a
huge
thanks.
But, now I
really
need Your help with something else.
Yesterday, when I was feeling a little overwhelmed after the tough morning I'd had?
Well, I decided that I needed a vacation. So, I went online and without really giving too much thought to what I was doing, booked a couple plane reservations to Florida to visit my mother and Jim.
In less than two weeks, I'm due to get on a plane with my seven-month-old son and my three-year-old daughter (the one that usually drives me crazy but I really think that she needs some one-on-one time with me) and fly all the way across this great country ... stopping once in Texas ... and arriving in Florida nine hours later. And then after a week, I'm getting back on a plane ... flying all the way across this great country ... stopping once in Texas ... and arriving in California 10 hours later.
While I'm visiting my mom and Jim, Charlie is taking our other two children and driving 10+ hours north to San Francisco for a week to visit his family - and hopefully - attend his father's 80th birthday party.
As I was purchasing the tickets, I was so nervous the sweat was actually dripping off my hands and splashing on the keyboard. Because, seriously!!
What was I thinking?!
I'm scared to death of flying - and now I'm doing this
by myself
with my TWO precious children?!!
My mother thinks the reason that I'm so nervous is because I'm lactating. I think the reason that I'm so nervous is because someone told me that I was going to DIE in a plane crash. Either way, whenever I think about getting on a plane with my two babies, I feel like I am going to throw up. Moreover, whenever I think about my husband driving 10+ hours in a car,
on busy California freeways
, I feel like I am going to throw up.
Because the fact is?
It seems that I am terribly afraid something is going to happen to one of us. Or, one of our kids. Or, all of us, and maybe the best thing is for us to stay home and have a vacation "camping trip" in a tent set up in our backyard. Then, I just have to hope that a plane won't crash in to the house or that an asteroid or satellite doesn't race through the earth's atmosphere and kill us. Because, I seem to worry about that kind of stuff, too.


Lord, what's happened to me?
What happened to the person that would take risks? The person that once actually wanted to get their pilot's license and fly planes? The person that would kayak and snorkel and dive off boats in the middle of the ocean and not once, think
seriously
about the man-eating-beasts that live just beneath the waves?
These days, my idea of risk is driving to Blockbuster at night.
In the rain.
So Lord, please help me to relax a little. Or, at least send me a sign that Charlie and I will live long enough to see all of our children pay off their mortgages, our grandchildren graduate from college, an end to premature births and hunger, and peace on earth.
And then, please help me to mentally survive a 3,000-mile plane trip with two little ones. I'm not really sure why I thought that leaving a place where it's 85-degrees and there are palm trees blowing in the breeze so I could FLY someplace where it's 85-degrees with palm trees blowing in the breeze would be a "vacation", but I think I ate too many M&M's and the sugar caused a short circuit in my thought-processing-apparatus.
Thank you. Amen.