Sleep is really quite simple. You lay down. You relax. You close your eyes. You slip in to a blissful slumber. In my book: you stay that way until a child hovers over you and tries to wipe their nose in your hair.
When we first arrive in this world, we don't know how to fall sleep by ourselves. The fine art of falling asleep unassisted is a process that must be
learned
and until a person knows how to go to sleep on their own, the whole "sleep/bedtime" thing can be a terribly stressful event for
everyone
involved.
Take for instance, my seven-month-old son Henry.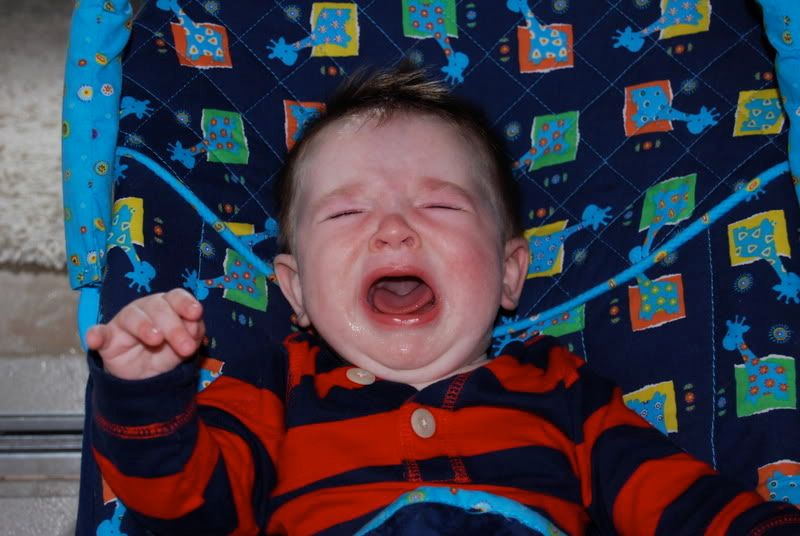 When he came home from the hospital, he slept in a bassinet next to our bed. He would wake every two hours, give or take an hour and a half (usually, take) and I would nurse him. I would then return him to his bassinet where he would continue this sleep / eat pattern all night and throughout the following day. Gradually, he began sleeping for longer stretches and I could see a rudimentary nap pattern developing.
Although he is sleeping for a longer period at night and taking naps during the day, he is still not sleeping
nearly
as much as he should be for his age.
The reason that Henry is not sleeping very well at the moment is
primarily
a function of our small house. He is rooming with his big brother, William, who still takes one nap a day. When Henry wakes up crying from his afternoon nap, or in the middle of the night, I will rush in and pick him up because the
absolute last thing
that I want to have happen is for Henry to wake William and ruin his sleep. Because then William will wake up Carolyn and Elizabeth and with four tired children, I am quickly on my way to hell in a hand basket.
When I rush in and pick Henry up, he is not learning how to self soothe and fall back to sleep unassisted. As a result, I have an overtired and fussy baby. However, if I don't rush in and pick him up, William's sleep is inevitably interrupted and my exhausted son can usually be found with his pillow over his head; or - will call out
"It's OK Henry. It's OK. You go sleep now. OK?"
More recently, as Henry has grown older - and hence louder - William might come staggering out of his room with his blanket in hand and say
"Mom. Dad. Henry is hurting my ears. Can I please sleep on the couch?"

It is during these times that I have seriously entertained thoughts of installing sound-proof padding all over the walls of our tiny laundry room and moving Henry in there.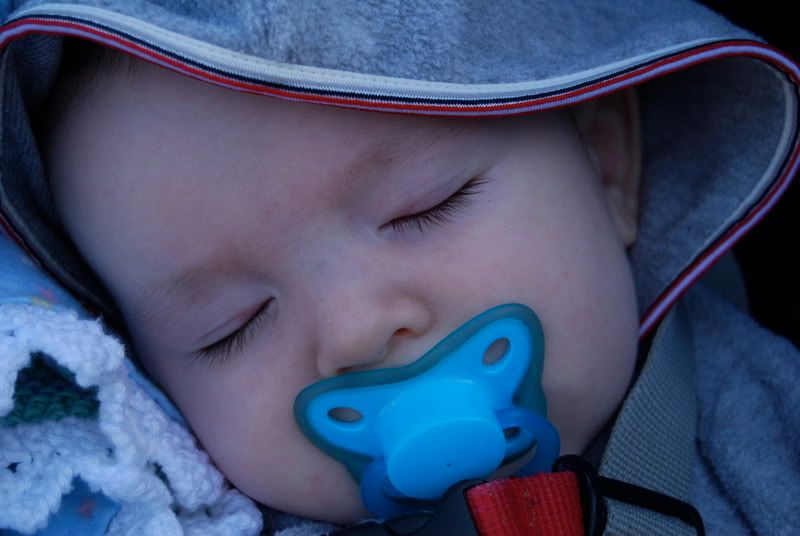 Currently, Henry goes to bed at night around the same time as our triplets ... which at around 8:00 PM, is too late for the little guy. This is my fault, but he is always content (and I love to watch him) crawling around on the floor until his siblings are all tucked in to bed.
He will typically wake up at exactly 5:15 AM, although some mornings he wakes up as early as 4:00 AM. Either Charlie or I will bring him in to bed and I'll nurse him back to sleep.
He is up for the day by 6:30 AM.
His first nap - that he resists - is around 9:00 AM, and generally lasts between 30 and 45 minutes.
His second nap - that he resists - is around 1:00 PM, and usually does not last more than an hour. When I pick him up from his crib, he will nurse and then fall asleep in my arms. But if I even THINK about putting him back in his crib, he is wide awake and cranky.
His third nap - is around 5:00 PM, and usually lasts for 15 minutes.
He goes down to every nap crying and wakes up from every nap crying. The only exception is if he fell asleep in the Bjorn with a boob next to his face and woke up in the same position.
What his sleep and behavior pattern tell me is that he is overtired and sleep deprived. I know this because with our triplets - who were on the most regimented sleep schedule imaginable - they would nap for a solid two hours during the morning and afternoon; around 45 minutes in the late afternoon, AND they would sleep for a solid 12 hours at night. (Elizabeth might have woken up to be nursed in the middle of the night, but she was a
tiny
baby and when she was Henry's age - she weighed about as much as one of his thighs.)
Our triplets would go to bed smiling and cooing and fall asleep without nary a peep and they would wake up happy and laughing. They were doing this from the time they were four-months-old and they are, for the most part, still doing that now. Especially since I've split everyone up in to separate rooms at bedtime.
Henry, the happy baby that he is - does not do very well sleeping. I think it's because he is overtired, but also, as he has grown older, he resists sleep that much more because he doesn't want to miss a thing and instead, wants to be a part of the action.
There's a lot happening in this house.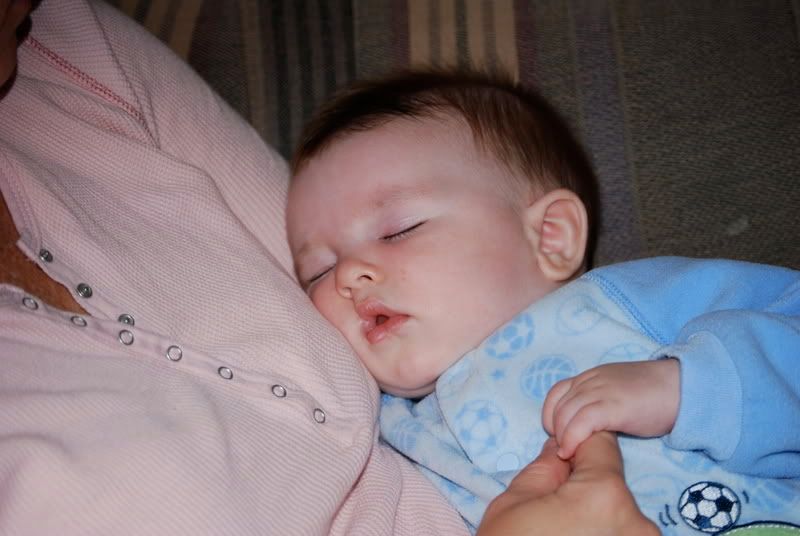 But I
know
that once we get his sleep issues dialed in, he is going to go down without resistance, sleep better, sleep longer, and wake up happy.
Me, the happy lady that I am - am getting
really frustrated
that her bouncing baby of loving joy is depriving her of precious sleep at night and wreaking absolute havoc on her nerves with his abbreviated naps during the day.
So, here's how this thing is going down.
Henry is in his crib for his morning nap by NLT 9:00 in the morning. If he wakes up before a solid 45 minutes of restful sleep, I am not going to pick him up until he either 1) goes back to sleep or 2) cries for an hour.
Henry is in his crib for his afternoon nap by NLT 1:oo in the afternoon. If he wakes up before a solid 45 minutes of restful sleep, I am not going to pick him up until he either 1) goes back to sleep or 2) cries for an hour.
Because his late afternoon nap is so short - and close to bedtime - he typically falls asleep while he is being nursed in the Bjorn as I prepare dinner, or chat with Charlie when he gets home from work. I then transfer him to his crib where he will sleep for around 15 minutes. Status quo on this front, because this nap is so short and will disappearing soon, anyway.
Henry will be in his crib for the night by no later than 7:00. If he wakes up before 6:00 AM, I am not going to get him. Because, I
know
babies program themselves to wake up at a certain time every day. Just last month, Henry was programmed to wake up at 1:00 AM. It took two nights of him crying before he stopped waking up and sleeping through until 5:00 AM. The first night he cried for a solid 45-minutes straight. The next night he cried for less than 5 minutes.
Until we get our little guy sleeping better at night, I will move William on to an air mattress in our room. This might sound crazy - or cruel - but I think it's crazy and cruel that our whole family is suffering from sleep deprivation because Henry is waking up prematurely from naps and not sleeping through the night. I also know that this isn't going to become any easier as Henry gets older. If anything, it will become more difficult to teach him that sleep is a
good
thing.
Although this is the routine I'm planning to implement, I will watch for Henry's sleep cues. I will do my absolute best to not keep him awake for more than two hours between naps and I will do whatever I can to make sure that he sleeps in his crib and not his carseat. So help me, this baby is going to sleep well - even if that means our lives revolve around his schedule until his sleep patterns are better established.
I feel justified in this approach. Not just because I did this same thing with our triplets and it worked, but because I just re-read
Dr. Weissbluth's book
and I was reminded that everything he writes is fact.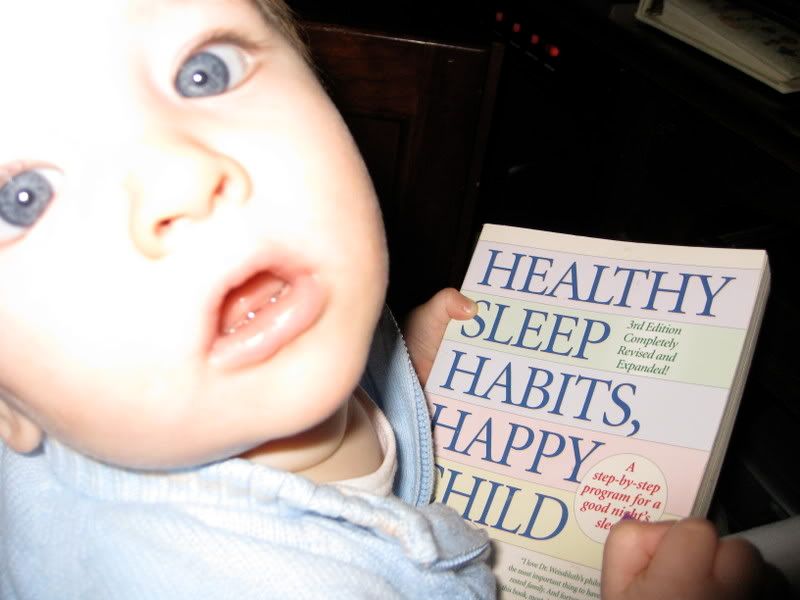 Now, I've just got to persuade baby blue eyes who sat on my lap while I wrote this
entire
post because his afternoon nap was only 30 minutes and I didn't want his squawking to wake up William.
But get ready Henry.
Sleep school starts
tomorrow.


Edited to add: William has been sleeping in the same room with Henry during nap time because I have been splitting the girls up >> one sleeps in their room, the other sleeps in our room. One day last week, I moved William out to the couch for his nap because he is the best sleeper in the group and even though I'm doing dishes or folding laundry three feet away, he will take a solid nap. I can't have him sleep in our room because it would defeat the purpose of splitting the kids up and nap time would (again) turn in to social hour.

Once sleep school starts, I'll move William out to the couch as necessary. Henry will stay in his crib. Carolyn will be in the girls room. Elizabeth will be in our room. And that pretty much takes up every room in the house.

Except - the laundry room.

Or the bathroom.

See? We've got room for two more children!