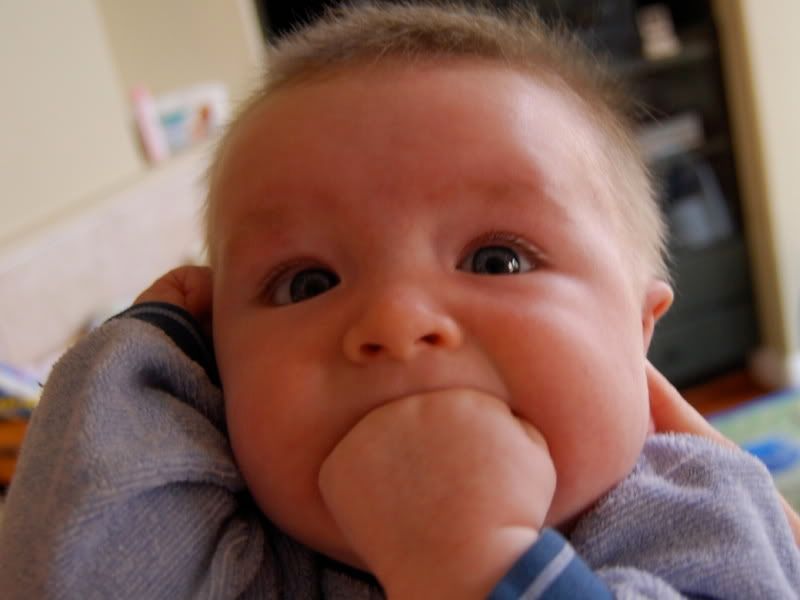 Greetings from the War Zone!
We are still at home and doing well, although I use that phrase
very
loosely.
If you think it looks bad
outside
our house, you ought to see it on the
inside.
It's incredible the destruction that three pent-up three year olds and a fussy three-month old are capable of inflicting on furniture AND psyche of their weary parents.
This whole experience has been surreal and quite the nail biter.
I stepped outside today briefly and looked at the sky which had an ominous orange hue. Chunks of ash were drifting all around and although there were cars lining the streets - it was completely quiet - because everyone was inside, glued to their televisions.
Schools have been canceled for the entire week and most businesses have closed. Air traffic arriving in to San Diego has been re-routed to the north. Our internet was down for much of the day and unless you go to the higher cable channels, the only thing you can watch on television is "BREAKING NEWS" coverage of the wild fires.
A big thanks to all the people who have left comments and offered their prayers. A big thanks also to those 50 or so people who have called to check in on us and inquire if we were crazy for not leaving. The reason we didn't leave has
nothing
to do with bravery. It does, however, have something to do with the small amount of common sense we possess.
Many of the roads leading out of the area were closed, and the ones that were open were backed up with evacuees,
and
emergency personnel were strongly requesting that
unless you were evacuated
you remain off the roads
. Since our neighborhood was never evacuated, we didn't want to be away from home, with four small children and a dog, aimlessly wandering in our minivan.
We are packed though, so if we are asked to leave, we can do so quickly.


The picture that I posted last night was taken from our backyard, but the flames were approximately three miles away. It looked a lot closer, but that just shows how
fabulous
my new camera is. I was up almost all night tracking the progression of the fire and watched as it headed north away from us, over San Miguel Mountain.
Today, for the second straight day, I had the television on and was in frequent communication with our neighbors while Charlie worked.
And then,
around noon, my husband suggested that he leave and drive a half hour north to meet with one of his co-workers and finish a project they had started.
I told him that was a
fantastic
idea and I'd be sure to tell my SECOND HUSBAND how committed my first husband had been to his career, before he perished in a fire.
That moment of insanity aside, rest assured, if I
thought for a moment that our life was in jeopardy - we would have been in the car and heading for the hills.
Or ocean, so to speak, since all the hills around our house were on fire.


At the moment, things are looking
a lot better
although the air quality in our area is still bad. We think the wisest and safest approach is to hunker down and stay inside. However, if the air doesn't clear up within the next day or two, we will load up the entire family ~ and the dog ~ and take a road trip.


Again, we aren't in danger.
But if it wasn't for Molly, we probably would have left already.
Ever since Henry arrived, we can no longer fit our entire family in our Toyota Tundra, which for the past several years, has been our designated "dog-mobile". Loading up four children and a 90-pound dog in a seven-passenger minivan would be a tight squeeze. Despite what many people have suggested, in good conscience we
cannot
leave our dog at home, by herself, or under the care of neighbors that still might have to evacuate if the winds pick back up and shift.
The thing that amazes me the most during these times of crises, are the heroes that emerge.
There has been a
tremendous
show of heroism over the past few days. There are the fire fighters that are working tirelessly to put out the raging infernos, the volunteers that are giving of their time and energy to help those who have been evacuated, the businesses that are donating critical supplies, the reporters that are flying in from all over the country to help cover the story and give our local reporters an opportunity to sleep, the strangers that are grabbing a garden hose and valiantly attempting to squelch a fire that is threatening someone's home.
And then ... there is my awesome cousin, Regina.
Not only does she have tickets to the World Series, she has offered to take
us
with her. If things don't get better soon - or if the news continues to show only fire footage - we just might have to load up the van with our children ~ and the dog ~ and drive straight back to Boston.

After all, Game 1 starts tomorrow night.