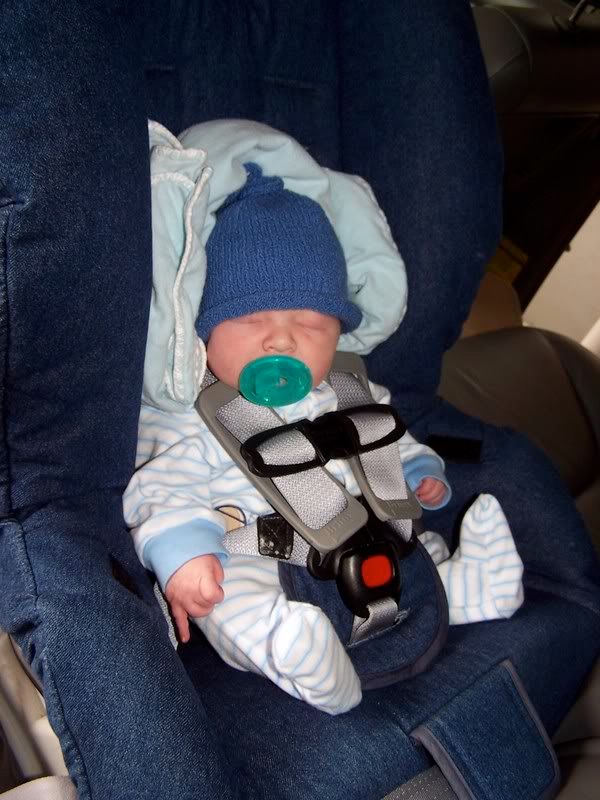 By the time I was being checked out of the hospital yesterday, we still hadn't come up with a name for the baby.
As I sat in my room, all of the bags were packed, my prescriptions were filled, the breast pump rental was in hand, the baby was dressed in his "going-home" outfit ... and I felt absolutely
pitiful
that we couldn't make a decision on what to call our newest addition.
Charlie would have been happy with the several selections we had in mind.
But like always, I was the final hold out.
Although we had two weeks to make our choice, I didn't think our decision would become any easier with time, so I promised myself that we would have a name selection by the time we left the hospital.
See, I really believe that there is
a lot
that goes in to a name. This
one
decision that we have been tasked with as parents, will be with our child for their entire life and it's not something that I wanted to make lightly.
So, as I was waiting for my wheelchair ride to the lobby, and on the verge of tears because I couldn't decide, I reached out to the first person that walked in to my hospital room. Who just so happened to be the woman who came in to clean our bathroom.
When she walked in to the room, I was sitting in a chair holding the baby. Charlie was sitting on the bed. It was obvious that I was distraught. I was weepy. Hormonal. Irrational.
I looked at the cleaning woman - looked back to Charlie - and just as he was shaking his head and saying,
"No, Jen.

NO!

"
I asked
"Excuse me. Could I please ask you a question?"

The woman turned to me and said,
"Si?"

Taking a deep breath I inquired
"Which name do you like the best ... Robert Henry ... Robert Coleman ... Henry Coleman ... or Henry David?"
She looked perplexed and asked
"Que?"
I repeated slowly - while pointing to the baby,
"Which name do you like the best ... Robert Henry ... Robert Coleman ... Henry Coleman ... or Henry David?"


After mulling the question over for a moment, she brightly replied
"Ohhhh. Henry David. Muy bonita!!"

That sealed the deal and wouldn't it figure, that was the
exact
name I was leaning towards, too. Here's why...
I've always
loved
the name Henry.
There are a few Henry's on Charlie's side of the family ... a great uncle, possibly two, and a cousin. Although there are no Henry's on my side of the family, we do have
O'Henry bars,
and that's close enough.
I also love the name David, which means "beloved".
To this day, I have yet to meet a David that I haven't liked. All the David's I know are fun, outgoing and gentle.
Having been born and raised for the first part of my life in Concord, Massachusetts, I grew up knowing the name
Henry David Thoreau
. So I thought it is was somewhat fitting to have a tribute to my hometown and one of the many authors who made it famous.
Moreover, on July 4, 1845, Henry David Thoreau began his two-year simple living experiment by "entering the wilderness" at Walden Pond. This was the same day, 162 years later, that our little Henry David "entered the wild" by being born the fourth child to a family with 2.5-year old triplets.
See the parallel?
Last night at 4 AM, after having been awake with our baby for six hours, Charlie asked if I remembered what the name "Henry" meant. I groggily nodded and said
"Yeah. I think it means 'House Ruler'".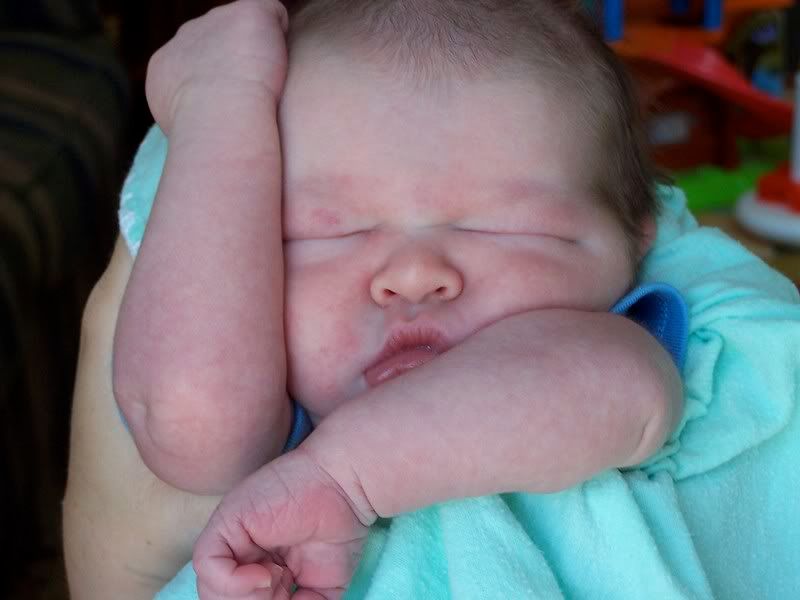 Charlie snorted and said,
"I really think we should have named him something that means 'To embrace sleep' because as far as I can tell, his first rule is 'Ye shall

not

sleep between the hours of 11 PM and 5 AM.'"
He is nocturnal.
He is our new house ruler.
He is Henry David.
And he is extremely beloved.
*******
If you are the praying type, and even if not, please keep baby
Austin
in your thoughts today. He is two years old and the fourth child - also a "surprise" baby - born to a family with triplets. I have never met Austin's family except "in the computer" and have really come to admire Austin's mom, Michele.
Recently, little Austin was diagnosed with severe hydrocephalus as the result of a brain tumor. He is going in for brain surgery on Tuesday 7/10. From my own personal experience with our children and the struggles that they faced in the NICU, I have come to believe that you can derive great strength from the knowledge that people are holding you in their hearts. Even people that you've never met before.
We'll certainly be holding Austin and his family in our hearts today.