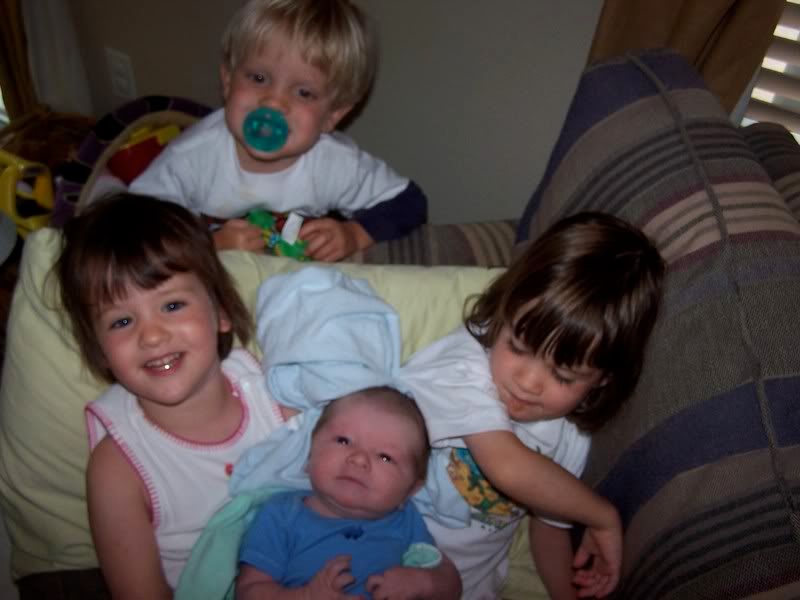 I started this post two days ago. Hopefully, I'll finish it today. When I was writing it, I was in the midst of making these really great sweeping over generalizations - like how EASY one baby is, compared to three and how I hardly noticed that we had a newborn in the house, because he was so quiet and low maintenance.
Since I wrote those words, they have come back to bite me.
I have been nursing Henry almost nonstop since Saturday. Remember how I said I had a more than sufficient milk supply? He's ingested
everything
that I've pumped and
anything
that I had intended to pump.
The child is a bona fide eating machine.
Yesterday I had to pluck him off my boob to make sure that 1) my nipples were still there and 2) my newborn hadn't sprouted teeth. I thought for sure there would be two bloody little stumps on the end of each breast.
Why is it, again, that God couldn't have made nipple skin as tough as say ... our elbows?


I've decided that if it were not for a woman's ability to "forget" the discomforts of pregnancy, labor, delivery, recovery ... engorged breasts ... and a ravenously hungry and needy newborn, the population of the world would never break
100,000
100.
Anyway. Enough complaining. I'll do more when I have a free moment, maybe in December 2010.
This
is what I set out to tell you on Saturday...
Last week, when I was still in the hospital and we were undecided on a name, we ran all the names by the children that we had in mind.
The girls love to sit and take turns holding "Da baby." When I ask them if they know his name, they'll nod and respond "
Dis is baby Henwee
."
When I ask William if he knows his baby brother's name (as he gallops by pretending that he is riding a pony on his way to "feed awygators at da zoo") he'll stop only for a moment to say "
Dat's baby Robby
."
If I correct him and say "
His name is
Henry
" he'll shake his head and say "
No Mommy. Dat's baby
Robby
" and then he'll gallop away.
Apparently, William thought Robert was a better name than Henry.
Whatever they call him, the children are
completely
smitten with their baby brother. Everyone wants to hold him, they'll hover during diaper changes, feeding and have been giving me a play-by-play commentary during the day.
"Mommy, baby dis ASWEEP!!"


"Oh, Mommy!! Baby dis AWAKE!!"


"Baby dis eating. AGAIN!!"
Our pediatrician told me during our first checkup on Thursday that Henry is considered "LGA" which means "
L
arge for
G
estational
A
ge." I thought it meant "
L
ikes to
G
uzzle
A
lways" because there will be stretches throughout the day where it seems the child eats
constantly.

Considering Henry's birth weight was almost more than our triplets combined ... it makes perfectly good sense that he can eat more than all three of them combined.
The pickle is - he eats and promptly falls asleep. And then, five minutes in to his slumber, he has a HUGE blow out poop. Which of course requires a diaper change. Which of course wakes him up. Which makes him hungry and the cycle starts anew.
Last night, between the hours of 2 AM and 6 AM we changed
six
diapers. Because we were so bloody tired, Charlie didn't realize that he had been stockpiling the dirty diapers on our bed. Just as the sun was coming up and Henry had finally fallen asleep
(moments
before the triplets woke up), Charlie put his head down and with one hand tucked beneath his pillow asked
"What the heck is this ... a plush toy under my pillow?"
before he realized it was one of Henry's nappies.
I know that my greatest challenge ... once we are doing this on our own ... will be to keep the baby safe from his loving brother and sisters. With all the extra sets of eyes and hands we have helping us right now, someone is always holding or watching over the baby. But even with the extra help - Saturday, I caught Elizabeth trying to feed her 10-day old brother a carrot. Not to mention the countless times they've tried to climb in to his crib, pick him up and cover his face with blankies.
I suspect that when life returns to "normal" we'll be wearing Henry in a
Baby Bjorn
carrier for the better part of the day. Otherwise, I don't see how I'll get anything accomplished.
The other great challenge is how I will be able to keep up with breastfeeding a baby that eats 22 times a day. I know that this will slow down, at least that's what people keep telling me and what "the books" say. But I think it's outrageously funny that even as a "veteran mother" I went running for my parenting books at warp speed.


"Is it NORMAL for a baby to eat 22 times a day? My gosh, is he starving?! Is this a growth spurt?! He's got lots of wet diapers and I know I'm capable of producing a gallon of milk - but is this what a full term baby needs? IS IT? OH MY GOD. IS IT?!"


I keep reminding myself that Mother Nature knew what she was doing when she made Henry a larger sized baby.


He'll need the weight to protect him from his posse.