There has been a lot of
joyful
noise coming from our house the past few days.
First and most importantly, it appears that ALL of our four-year-old children are now using the potty in the manner for which it was intended,
for any and all business operations
, between the hours of 7 AM and 7 PM.
Some of our four-year-old children are even going so far as to wake up in the middle of the night in order to use the potty. The only thing that would make me happier is if they didn't feel the need to wake
me up
from a sound sleep and inform me of their great accomplishment, opting instead to save their awesome news for the morning.
Now I just have to figure out where I'm going to fit a pony in our backyard.
***


Keeping with our tradition of opening a new Christmas book every night, last night the children opened a book about the nativity. Charlie and I were in the middle of cleaning up from dinner when we noticed that the girls had draped receiving blankets over their heads and William was hugging his Baby Panda and saying,
"Welcome Baby Jesus! WELCOME!"
The children stopped their rejoicing just long enough for William to ask, "Mom, how did Jesus get out of Mary's tummy? Do you have a picture of that? I want to see a picture of the baby coming OUT of her tummy.
CAN YOU SHOW IT TO ME?"
I told him that we have
a lot
of Christmas books but I can pretty much guarantee I don't have
anything
in our collection that shows a picture of that -
exactly
. But that was a great question, and when did it happen that he became so filled with inquries and observations I'm not yet prepared to discuss?? What about, "Why is the sky blue? Why are trees green?"


Why are Joe-Joe's so yummy?
***
This coming Saturday, Elizabeth, Carolyn and I will be joining two of my fellow triplet moms and their daughters on an outing to see The Nutcracker. Charlie will be taking William on a father-son outing to see the famous ballet, the following day.
In an effort to teach the children a little about the story ahead of time, I bought them The Nutcracker Christmas book, we have been listening to the soundtrack and I have shown them various scenes from the ballet on YouTube. When we were at a store this past weekend, I also picked them up a variety Nutcracker ornament pack so that they are familiar with the character.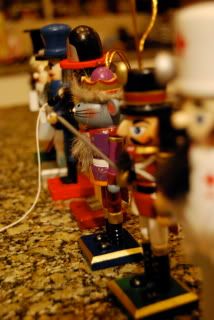 Last night, after Charlie and I had a glass of wine, we sat down and looked at these various ornaments in closer detail and I thought I'd jot down some of our observations.
Our assumption is that this ornament is Mail Carrier Nutcracker. The theory is supported by what appears to be a mailbag that the children have broken off.
We have no idea who this Nutcracker is supposed to be. Perhaps College Graduate Nutcracker? Or maybe Working at the Voting Poll Nutcracker? We can't tell if that white thing he is holding in his hand is a a voting box for ballots, or a diploma.
This is surely Rat Nutcracker. He lost his arm less than five minutes out of the box. That's the price to pay for coming home to a family with four-year-old triplets that want to see if he can do a cartwheel.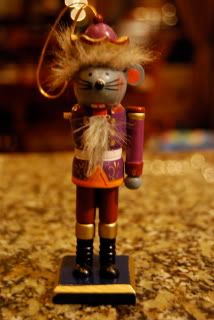 Charlie and I are divided on whether this is Doctor Nutcracker or Nurse Nutracker. My original assumption was doctor; Charlie's was nurse. His argument is that doctor's don't wear hats with red crosses. My argument is that nurses don't wear pagers. But maybe they do? Either way, I'd be slightly frightened if this medical professional ever came in to my room carrying a needle.
My assumption was that this was Fire Chief Nutcracker. Charlie's assumption was that this was S&M Nutcracker.
"Bark! Bark like a dog!!"
And this ornament had us both laughing so hard we couldn't even talk.
The poor girl. Or boy? Or boy dressed as a girl and posing as a ballerina?
The girls love anything that wears a crown and carries a wand.
So we've named it Princess Pat.