In the midst of my
tough day
last week, I called and left a message for my sister, Eileen, who lives in Michigan. When she came home from work, she heard me casually explaining on a voice recording, that it was "my" expectation that in "her" role as Godmother, I can call on her at
any
time to help with raising our children.
So, she should keep her eyes peeled because within the next day or so - she would be receiving a large cardboard box from California and she needs to open it promptly because the children inside will probably be hungry.
Today, I received this Christmas card from Eileen.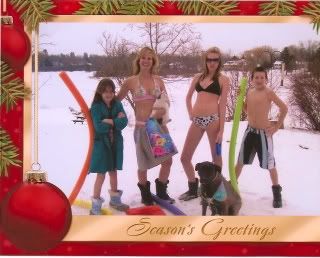 It read, "Wishing you a warm holiday season and a HOT New Year!"
Notice how they are wearing their bathing suits.

IN THE SNOW.
I think our children would fit in perfectly fine with Auntie Eileen.
Charlie went shopping today at Trader Joe's. He took two of the children with him, while I stayed home with the other two and tried to made a dent in the 14 loads of laundry that have piled up since we've neglected everything in an effort to get our Christmas cards finished.
Apparently, he no sooner stepped foot in the store and the kids started to have meltdowns. It was just around nap time and they needed to use the potty and they didn't want to walk, they wanted to RIDE in the cart and an innumerable list of other preschooler issues were fiercely working
against
my husband.
So he ditched the well thought out shopping list I had crafted and bought only those items that he knew he couldn't come home without. Those items which we absolutely
need
to survive until one of us could get back to the store later this week.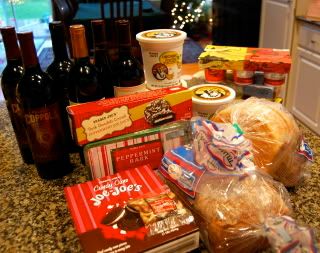 Two loaves of bread.
A gallon of yogurt.
Six bottles of red wine.
A box of candy cane Joe-Joe's.
A box of chocolate covered candy cane Joe-Joe's.
And a box of peppermint bark.
It's cool though. I think the kids had fruit last week.