This is my favorite time of the year.
I love the Christmas holiday.
I love sharing in Goodwill.
I love decorating the house.
I love listening to and singing carols.
I love traditions.
This year, for the first time ever, the children
really
understand what is going on and they have been taking turns each day, placing a toy from our Advent Calendar over a date, indicating one less day remains before the great Holiday.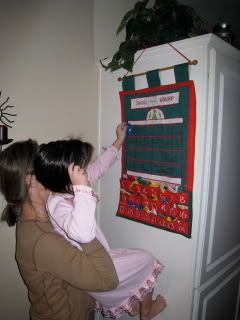 Adding a twist to the Advent Calendar countdown, is a relatively new tradition that our family has adopted. For the past few years, I have been picking up Christmas-themed books whenever I have seen them. Our collection of 25 books ranges from
The Nutcracker
and
Mr. Willowby's Christmas Tree
to
Tonight You Are My Baby
and
Room for a Little One
.
(Unfortunately, I cannot remember all of the books that we have in our collection and because I didn't write down the titles
before
I wrapped them, if anyone is interested, I'll post our full list after Christmas. I suspect that each year I may opt to add or remove stories from the lineup, as the children grow older and the books grow wearier. Or, we find new stories that we might enjoy.)
Each night, after we count down one more day to Christmas on our Advent Calendar, I will read one story from our
Advent Storybook
, before one of the children is allowed to open a Christmas-themed book that I have wrapped up and placed in a large basket.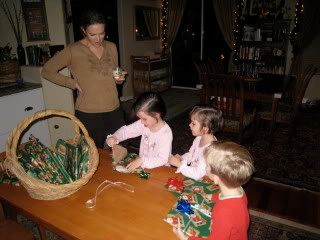 Once the Christmas holiday has passed, I will take all of these special seasonal books out of circulation and put them away until next year, when they will again be wrapped up in festive papers and decorated with bows. But for right now, I am
loving
this new tradition and the children are
loving
the significant increase to their library. Almost as much as they are
loving
the ritual that one person gets to open a present ... every night.


A PRESENT!!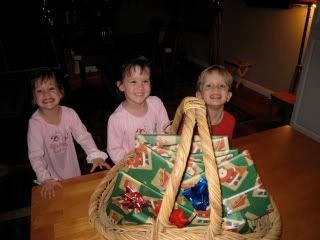 And while the children are ecstatic over all their new books, I am ecstatic that when Charlie went shopping the other day, he brought
me
home a present.
(Actually TWO presents).
This really
is
the most magical time of year.
What holiday traditions do you have that are a
favorite
in your family?