So. Yesterday morning, Charlie called the school and told the Director that December would be our final month and as suspected, there were a lot of questions, talking and concern. And then moments after he hung up the phone, there was a lot of self-doubt because WHAT are we doing?!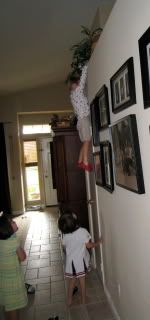 We sat in on Elizabeth's class on Tuesday and she was doing
great
. The observation went very well and we were impressed with the overall performance of the teacher and the classroom environment.
Our children love the school.
They seem to be thriving.
And yet we pull them out less than 24 hours after our very first parent-teacher conference.
We must be crazy.
There are a few preschools near our house that I might look in to, but as of right now ... come January 1st, it will just be me, my four children, and a pink tower that I ordered off a Montessori supply store. I also plan to have them in swimming lessons, gymnastics and music classes.
Carolyn wants to play the violin.
William wants to play the drums.
Elizabeth wants to play the tuba.
My friend Michelle sent me an e-mail wherein she asked if I really thought I could handle being home with four children by myself? She suggested that if I thought I could handle this monumental task, that I needed to go back through my archives and look at some of my blog entries from this past summer.
Like the one where I had fantasies of
abandoning the children in Mexico
, perhaps. Now, add preschool music to that dynamic and I might be jumping off the closest bridge.
I know that I am swept up in the ideal of teaching our children at home. I love the idea of having complete freedom to do whatever we want each and every day. I love the idea of learning alongside them. I love the idea of watching them change and grow and experience the wonders of the world. I love the idea of not exposing them to the "socialization" that I hear people talk about being so important, but I think is
totally
over rated.
Just tonight, when I went out with my fellow triplet moms, I was talking with one of my friends who recently started her children in kindergarten. The first day of school, a boy told one of her daughters that she was the ugliest child in all of the school. And the next day, someone else told her that they hated her. Her little girl cried for
two weeks
straight.
I think back to one of the classroom birthday parties that our children had and when I was passing around a picture of Gracie as a baby, a boy in her class exclaimed "That's not a girl, that's a BOY!!" and while Gracie sat looking sad for a moment, William declared, "That is MY Gracie and she is a BEAUTIFUL princess!"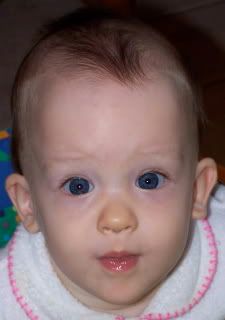 Which was a much better response than what I had in mind. Because surely my yelling, "HEY KID, I am going to put you DOWN like a bag of chips!!" would have raised a few eyebrows.
Yesterday, while I was swept up in the romance of teaching the children from home, my boss called to tell me that come May 1st, a mere five months from now, I am expected to return to work full-time. And just when I'm thinking that come May 1st I'll quit my job and stay home with our children ...
they go and offer me a raise.
So, of course that makes the situation a lot more complicated because although it's "only" money, for me to leave my career seems like a terribly irresponsible decision for our family, from a financial perspective. Especially since my contribution to the family fund is greater than 50%.
I told Charlie that if I really wanted to continue working part-time, then my only hope is to go on another maternity leave. And that's when I realized that my life is way too full of drama and reading this blog is probably much like watching a train wreck in slow motion.