The children have been going through a "less is more" clothing
phase.
Which means, they will begrudgingly wear clothes whenever we go out in public, but as soon as they are home again, they like nothing more than to run around in their skivvies. They call it
"Being Tarzan!"
It takes a lot of effort (emphasis on the word A LOT) to get the children to wear clothes. Even when they go out and they understand that they have to wear clothes, they resist something fierce. I don't understand it. These are
little
people with
far less body fat
than me.
And I'm cold
.
One day last week, the girls wanted to wear their gymnastics leotards to school with their plastic high-heeled princess shoes.


"But why?!"
they moaned at me, when I held pants and long-sleeved shirts up for them, instead.
"Because," I replied, "It is
December
. And although that doesn't mean much to you, it means that it's nearly
winter
to me. And although we live in Southern California, it is fifty degrees today and
raining
. And even though I know that you would probably be perfectly fine wearing a sleeveless leotard to school all day under these weather conditions, I would feel a little
negligent
dropping my children off for school wearing the equivalent of a
bathing suit
when it is so cold I can see my breath."
Whenever I do drop them off to school in their short sleeves, and I see all the other children are wearing jackets and hats, I feel like shouting, "I tried to get them to wear a coat!
I tried!
They ransacked the summer clothes that I had tucked away in the GARAGE and insisted on wearing tank tops!!"
So what does it say about me that I'm more concerned that the
other parents
will think I'm irresponsible, than I'm worried about my children freezing their hinnies off?
If the truth be told, I'd like for them to be uncomfortable so that maybe,
just maybe
, they will realize that their mother -
that lady that just gabs and gabs and gabs
- perhaps she really
does
KNOW WHAT SHE IS TALKING ABOUT.
Tonight when I didn't turn the heat on in the house and instead bundled myself and Henry up in sweaters and hats, Elizabeth decided that maybe it was a
little
chilly.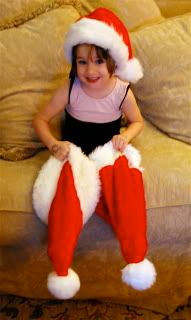 So she fashioned herself some leg warmers.